I remember being so enchanted with Edward Scissorhands as a child because of its message, sometimes even deeper ones, buried beneath its stylized surface. My favorite scene is the introduction to Edward, Tim Burton and Caroline Thompson's story come to life, where the shift of who Peg is happens to welcome Edward into her home. Let's open up the script, shall we?
As with all of my movies that I do Anatomy of a Scene on, make sure you've seen this movie before reading! Edward Scissorhands is a beautiful movie both visually and story-wise, unique as it is darling and you will do yourself quite the favor. And here we head off in to Tim Burton's little neverland…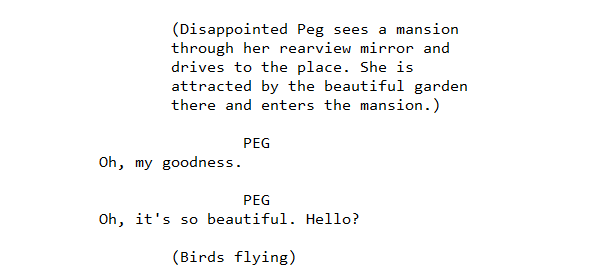 Here, we find Peg stumbling onto the large and oppressively dark castle that rests just beyond her rather suburban and brightly colored neighborhood. As an Avon representative, she's probably used to stepping in to some interesting places but this one? Well, even your most seasoned Avon lady would never step foot near these creaking gates, let alone up to the door. This shows, however, that Peg has an almost precocious curiosity that some of us can definitely relate to.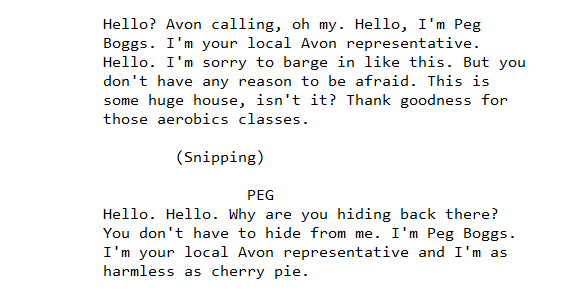 As she walks in, calling out along the castle you start to realize just how abandoned it truly is. Looking so slight in such an expansive gothic palace, Peg wanders up the stone steps and speaks aloud with very little trepidation in her tone. Sure, she entered without anyone's permission and finds herself in the attic which sports quite the hole in the roof. Upon realizing someone sleeps up there, an array of newspaper and magazine clippings, she still doesn't seem shaken. Perhaps, once upon a time, Peg was quite the adventurous spirit and enjoyed investigating but as she got older and started a family, she hasn't quite had the opportunity. Peg shows us, all through the movie, that she's a kind force to be reckoned with and has dozens of facets to her.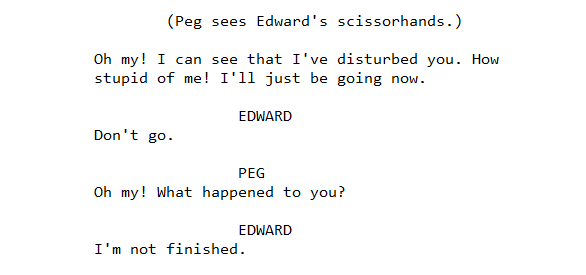 As the soft snipping is heard, Edward seems bathed in shadow and it almost appears as if he had heard Peg and hid in the furthermost part of the attic. In this moment, you realize that Edward may appear rather terrifying to someone who would stumble across him but in this moment? Well, Peg was the intruder. As she hears him approach, his snipping continues and his face comes into view which gives us our first moment of a fearful Peg. It doesn't seem to last too terribly long though, as she re-centers herself upon viewing his face and asking him to halt — he does and it gives her a second to take the scene in. Peg's delicate matronly sensibilities boost up and she holds her palm up for only a few moments before approaching Edward, who is looking quite startled. Peg, in this moment, shows her biggest strength: a lack of judgment based on appearance.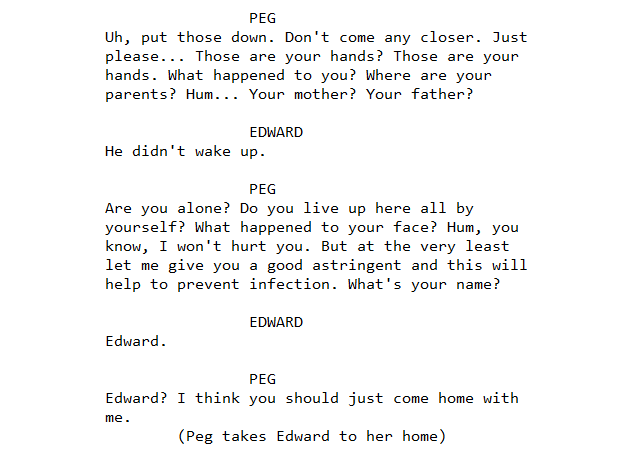 While most people would probably have turned around and fled, not even giving a second glance to soothe our preconceived judgment, Peg absorbed the energy Edward was giving off. He exuded fear, concern and even his own gentle curiosity. It is then that Peg has warmed Edward up to letting her not just speak to him but to dab an astringent on his face before deciding to take the abandoned Edward home. Does she oogle the scissors that make up his fingers? Does she gawk at his clothing? No, she merely fusses over the wounds on his face and urges him to follow her to the bright yellow car waiting outside.
This scene touches me on a beautiful level because it shows that, while yes this movie is about Edward thus the title, it's also a story about Peg. Peg, a woman who has so much kindness as to look past an outward appearance to help another person who is quite obviously distressed. She doesn't question, pry or even accept the idea that he is different but just that he is in need. That, to Peg, is what is most important. Does she even call her family to warn them? Perhaps expect that Edward will have difficulties blending in or acclimating? It doesn't appear so. Even as he tries to put on clothes, she doesn't approach until she realizes he wants help. She doesn't talk down to him nor does she fuss over him even as he eats at their dinner table. She kindly patches up his clothes but gives him enough respect as to let him come to her if he wants help. Sometimes, letting someone try on their own is to give them the reassurance they need that you don't think they're incapable.
Peg is a delicate side of Edward Scissorhands that shows the complete difference between being kind and non-judgmental towards others in comparison to the neighbors and children that gawk and fuss over how different Edward is. If the lot of us would put up a palm, give themselves a second to view a situation, before leaping to kneejerk emotions — think of how much we could do for one another?
---
There you have it! If you're as in love with Edward Scissorhands as I am, you can grab yourself an amazing EXCLUSIVE in this month's Loot Crate DX as long as you get in before the 27th! We can't promise your very own scissor-fingered houseguest, but it's the next best thing!