We've all got our favorite scenes in movies and we become obsessed with certain scenes as they touch on something we're familiar with and love. One such movie for me is Ghostbusters and one of the first scenes in the movie and our introduction to Peter Venkman. There's a lot of humor but also, well, some reality – so let's dive in!
If you haven't seen Ghostbusters, well, none of this will make sense and if you can't quite recall the scene I'm going to dive into — here's a little video clip of it. Take a look at it and then we'll proceed into why this scene is rather telling about people, their desire to be special and what kind of people feed on that. Think of our beloved Peter Venkman as, not just a quick-witted hero-type, but a cautionary tale of what happens when you let boredom overwhelm your empathy.

So, as you see, the scene starts in with Venkman running a paid experiment utilizing both a sophomore male and a 'coed' female as his subjects. Now, Venkman does this by holding up cards and asking the subject to tell him what the large playing card with shapes on one side will show. He doesn't necessarily show the cards, but has obviously made the subjects aware that if they get the answers wrong – they will get shocked.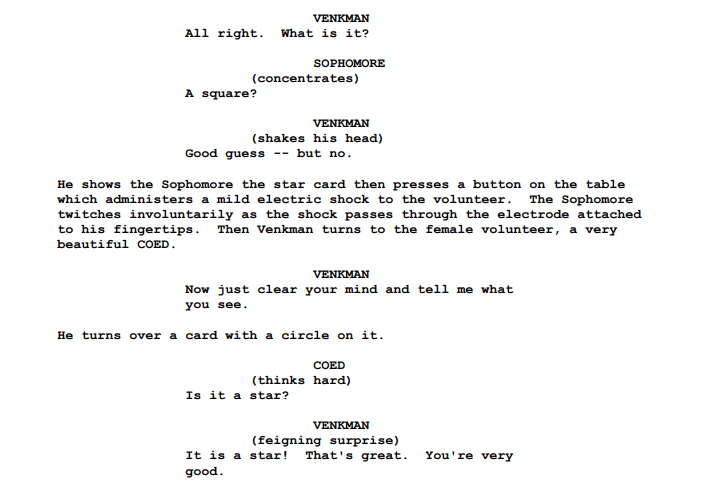 Now, it's apparent at this point that Venkman is lying about the cards and what is on them. One could say that it's about his attraction to the female subject and how he would rather her not be shocked but that comes at the expense of the male subject. He continues to compliment and talk-up the female which encourages her to continue on with the experiment even though the male beside her is being shocked whenever he gets one wrong. Venkman, at this point, has not shown that the ones the female gets right are on the card and just places them down.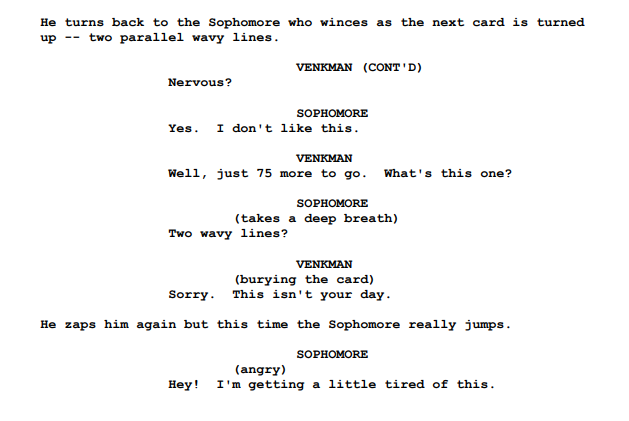 And here we get to the real interesting bit where the male subject is getting weary of being shocked and getting them wrong. Venkman, realizing that he can manipulate the situation, then reminds the male that he's being paid for his participation. This is where the con-man side of Venkman really shows. See, I've always seen Venkman as a rather creative and brilliant mind but he's bored. Boredom and a curiosity to be driven towards something that will entice his mind is why he works within the paranormal sector with his friends. However, a mind like that can also lend to a narcissism that will take away empathy for many people and thus the poor Sophomore just becomes a target of his boredom and the Coed becomes a challenge.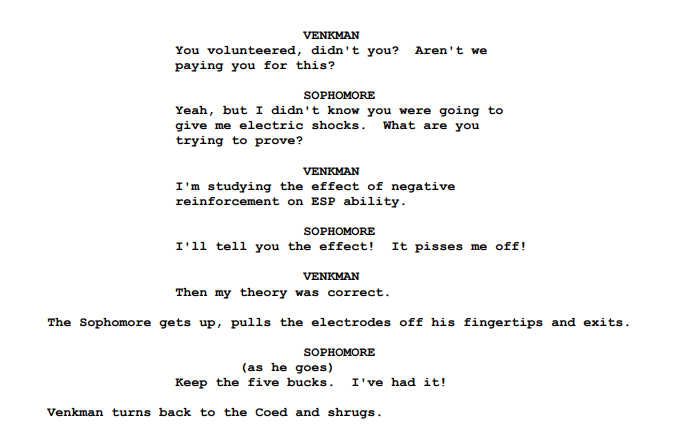 Eventually, the sophomore is over this whole experiment and would rather lose the money he was being paid than continue with it, but the issue is it all but plays into exactly what Venkman was going for all along. Now, the coed beauty believes absolutely what she is being told about her 'gifts' and Venkman leans into her being considered special as the person who does not play into the game leaves. Negativity is reinforced by statement and the coed now feels included despite the fact the social experiment changed or was always about finding clever ways to pick up women. Honestly, the pathing is manipulative in how it is shown but Venkman plays coy through the whole thing until he's interrupted.

Now that the coed and Venkman are alone, he can solidify the concept that she is special and has a gift of telepathy. See, she's not the stupid female she is played up to be in the acted out scene but more or less she is looking for something to connect to. She, much like many others, seek answers to who they are by the offerings of people who may possibly prey on their search for being special or unique. In the same way that sometimes 'experts' in psychic reading or those that promote 'speaking to the Other side' can convince those who have lost their loved ones, we're all seeking something. It just takes one expert or even a so-called expert to feed us words that make us feel special and we'll follow that until we're finally either convinced otherwise or we find the footing to stand on our own.
Venkman is a wild-eyed daredevil of a genius but in that comes the fault of such brilliance: the stasis and monotony of becoming idle. Using your mind becomes a challenge and sometimes convincing others of something fantastical can feel empowering. Sure, it's all just a fun little scene to show that Venkman is capable of toying with people and he's clever enough to get his way – but is that something good? The reason this takes place in the beginning of the film is to show where Venkman's mind and body of work was at before the oncoming events. He needed something real to drag him out of his manic and harmful doldrums. What's important is that we see this figure as not just this funny and clever hero but as a human being that we're all capable of being if we're not careful. Human beings have this propensity to be either be the easily manipulated coed, who wants to hear from someone – anyone – that they're special and we sometimes overlook the reality, or we have the possibility of becoming the one who creates drama in order to relieve boredom.
Within this scene we see three interesting character types: The sophomore who eventually sees an unfair outcome and would rather take on a survival instinct and leave a situation, a coed who would desperately like to feel special and unique and the expert genius so bored that they've woven a narrative in order to toy with people and get away with it. I think it's interesting to know that all of us have been each one of these types in our life and sometimes even all in one day. When we subtweet something catty on Twitter, we're toying with narrative in order to entertain ourselves. When we engage with like-minded people and let echo chambers build around us, we start to take on the starry-eyed look of a person who wants to believe the hype. Yet, at the end of the day, we see the trouble for what it is and we close down our social media for the evening and survive in our real world.
Which one of these folks are you right this second?
---
---
So, there you have it! A little breakdown and thought ramble about a scene that happens so fast in Ghostbusters that most people don't think twice! If you love this movie as much as I do, you're going to want this rad Ghostbusters EXCLUSIVE in Loot Wear this September! Don't miss out and wear that 'Busting pride with you wherever you go!