What is up NEETS? I bet you are wondering what that means… well I'll tell you. The term N.E.E.T.is an acronym for "Not in Education, Employment, or Training", and refers to a person who is unemployed and not receiving an education or vocational training. I'm not calling you guys NEETS, I'm sure you're all very well educated, driven weebs. OK SO WHAT'S THE POINT? you may ask… Today I wanna talk about one of the most highly underrated, undervalued, unseen but MOST AMAZING josei anime ever: Recovery Of An MMO Junkie. 
Recovery of an MMO Junkie, subtitled "Recommendation of the Wonderful Virtual Life" is a Japanese manga series by Rin Kokuyō released as a webtoon on the Comico app. An anime television series adaptation directed by Kazuyoshi Yaginuma and animated by Signal.Md aired from October to December 2017.On June 30, 2018, it was announced that Comico has ended the manga due to Rin Kokuyō's failing health. Prior to this, Recovery of an MMO Junkie had been on a hiatus since 2015.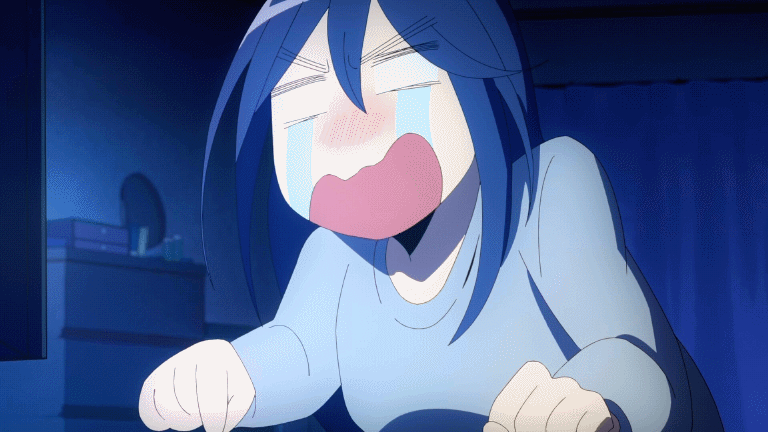 This is Morioka, Moriko. AKA Hayashi. AKA all of us during COVID.
Moriko Morioka is a 30-year-old successful career woman who decides to quit her taxing corporate job and become an elite NEET (there's that word again) and find a more fulfilling life. She joins an online MMORPG Fruits de Mer and creates a male character named Hayashi as her avatar. In the game, Hayashi meets another character Lily, a high-level player who helps him learn the game. Hayashi and Lily becomes close friends and he joins her guild, @HomeParty. Meanwhile, in the real world, Moriko has a chance encounter with a handsome elite company employee, Yuta Sakurai, who may have ties with her online life. Seems like your everyday josei anime, right? WRONG. The comedy in this anime is unbeatable and so relatable I literally say "that's me" atleast 10 times an episode.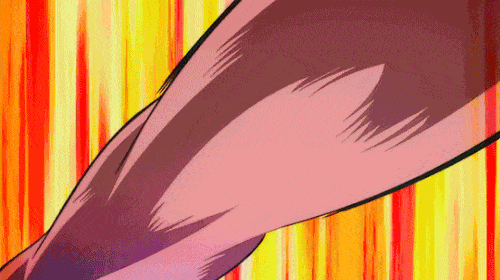 After straight up schmacking Moriko in the face, a (very handsome if I do say so myself) man by the name of Yuta Sakurai, (a young businessman and Lily's player. He is half-British and is an elite employee at his trading company. Outside of work, he is socially awkward and has a hard time communicating with others) magically pops up in Moriko's life and becomes intrigued with her after seeing realizing she may be the one his MMORPG character, Lily, has fallen for in Fruits De Mer. We then see Yuta struggle to express his feelings all while remaining cool around Moriko and not try to overstep her boundaries. I feel like  shouldn't give too much away because you guys will be mad. Also, you should really give this anime a try so I will keep hush-hush.
The anime does a great job of seamlessly switching between fully animating the MMO world Hayashi lives in and Morioka's freak-out sessions at her keyboard. The contrast is hilarious, and if you've ever played an online game, what Morioka goes through is completely relatable. Oh no! This person opened a chat with me! What do I say?! There's also tons of fun callbacks to other MMOs that every gamer will appreciate.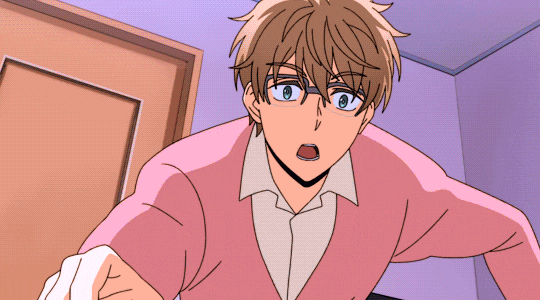 What I love especially about Recovery of an MMO Junkie is the theme. At first glance, you might imagine the anime is about someone addicted to online games (guilty) and quits so they can return to normal life. In actuality, Morioka quits her life in the real world. It's through her online friends she finds the courage to be present in real life. Recovery of an MMO Junkie celebrates the idea of meeting people you care about online and adds some wonderful twists of fate into the mix. When Morioka meets some of her online companions in real life, they immediately accept who she is despite her awkward social skills.
So, if this show seems so wonderful, why is there any doubt as to whether someone should like it? Unfortunately, Recovery of an MMO Junkie is plagued with controversy, and it isn't the kind that's normally associated with anime. A month or so after the anime finished its seasonal run, tweets posted by the series director, Kazuyoshi Yaginuma, began coming to light. His tweets were anti-Semitic and conspiratorial in nature and posted in both Japanese and English. "Have you looked into whether Anne Frank's diary is real?" Yaginuma asked in a tweet. (INSERT FACESLAP)
The controversy lit up the anime community with fans honestly asking themselves, "Is it okay to like this show?" For some, the answer is yes. Even though the beliefs Yaginuma spews are conspiracy theories and anti-Semaitic, the original source material is a web comic written by Rin Kokuyo. And while a series director is responsible for the overall tone of a show and its art direction, series directors aren't usually involved with the writing. For other fans, the answer is no. Despite Recovery of an MMO Junkie being a collaborative effort with separate source material, watching and buying the anime still supports the series director. Even if there are no anti-Semitic views in MMO Junkie, the anime's success increases the director's likelihood to be hired again, where his views may get an opportunity to seep into whatever he's working on.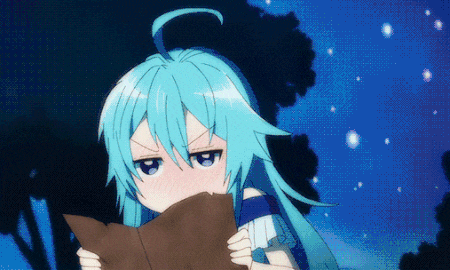 My personal opinion? It's perfectly okay to like this show. To not like the show is to deny credit to the rest of the talented individuals who made it a reality. I would hate to discredit a show this good because the director should have also kept hush-hush. Besides, no-ones perfect.
ANYWAYS, off the heavy stuff. I HAVE SUPER GOOD NEWS! Recovery Of An MMO Junkie is in this month's Crunchyroll Crate! Even better news? FOR YOU BLOG READERS, I HAVE A VERY SPECIAL PRODUCT REVEAL!!!!
(DRUMROLL PLEASE)…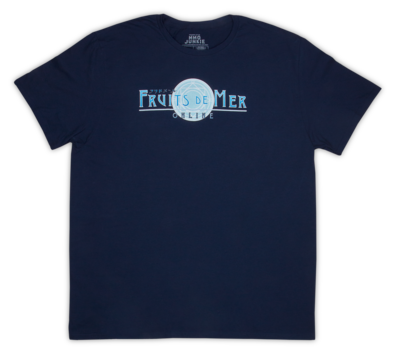 WOWWWWWWW remember how I told you in the anime the MMORPG they play is called Fruits De Mer? Well we did, and then we built a cool shirt around it. So, you're welcome. Want it? It's in this month's Crunchyroll Crate!
That's enough for today. I hope I have convinced you to watch Recovery Of An MMO Junkie! You won't regret it. As always, thanks so much for reading my blogs and be sure to click on my face below for more anime and Hello Kitty related content!
CLICK HERE TO WATCH RECOVERY OF AN MMO JUNKIE!