Anime Expo returned this year, and like every year thousands of anime fans made their way to the Los Angeles convention center! 357,178 attendees to be exact. This year was even bigger and better than the previous!
With one exhibit hall, one entertainment hall, endless panel rooms spanning even to neighboring hotels, 450 booths, 150 special guests, an EDM concert featuring Neon District, the return of the summarized World Matsuri, six world premiers, three US premiers, and three dub premiers… this is the destination every fan dreams of.
Normally the entertainment hall is a little underwhelming but this year it was even fantastic! It included the normal rows of cosplayer signing tables, cosplay photo sets, and arcade but it also had the Blizzard store, a Nintendo Switch booth, a VRV game and prize booth, VR set ups, a meet and greet with Lemon & Sugar, and more!
We also saw a ton of announcements this year! I was very lucky to be able to attend the FLCL panel and the Studio Trigger panel.
The FLCL 2 & 3 panel gave us our first trailer for both new seasons. Even if you didn't attend you get to see it here:
It features a brand new track from The Pillows who are back to score both seasons! We also see the return of Haruko but there were no other confirmations of past characters returning. The story will revolve around new characters in the same world of FLCL going through the ups and downs of adolescence. They couldn't speak on the cast just yet but they did say they sourced staff from One-Punch Man, My Hero Academia, Naruto, and more!
As for a release date they couldn't give us an exact one but they did give us windows! FLCL 2 will air in early 2018 in both the US and Japan and FLCL 3 will air in late 2018 in both the US and Japan.
…Oh yeah…
…One more thing…
…Are you ready?!
They confirmed an FLCL 2 & 3 manga! No other details were shared but we know it will be rad! Want to see all of our FLCL panel updates? Check out this Twitter thread!
Now onto to Studio Trigger! To start the panel the creators shot us with Trigger money guns and the bills were exchangeable as autograph tickets for the creators!
#Trigger panel its starting! The creators have shot us with money guns!!!!! pic.twitter.com/v8gnXprIvQ

— Loot Anime AX #4111 (@lootanime) July 2, 2017
They started the panel by thanking the Western fans for their support of Little Witch Academia but they gave us no conformation that they will be able to do another season but they said they would really like to do another! So… fingers crossed! They did show us some original character art and how the characters evolved into the characters they are now as well as clued us in on the back stories for several of the characters which can be found summarized on our Twitter thread.
They also announced three new titles!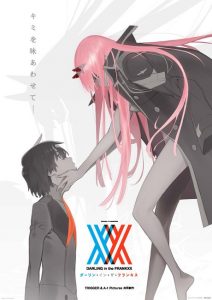 First, a project with A-1 Pictures (SAO The Movie, Black Butler: Book of the Atlantic, Fairy Tail The Movie, and more) called Darling in the Frankxx. They released key visuals but not much more information.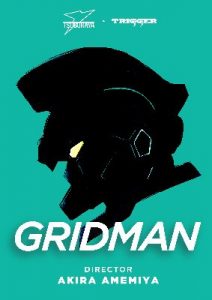 Secondly, Gridman which is an anime version of the show Superhuman Samurai Syber-Squad! They are making this with the people behind Ultraman!
#StudioTrigger let us take one photo… we present… #PROMARE!!! pic.twitter.com/tF6DnT8MZY

— Loot Anime AX #4111 (@lootanime) July 3, 2017
Lastly, a new series by Hiroyuki Imaishi and Kazuki Nakashima called PROMARE! This is the team behind Gurren Lagann and Kill La Kill. The series will feature a male protagonist and they shared one piece of key art. It's been a while since we've got a pure shōnen title from these guys and I cannot wait!
The last thing I want to share is some information about Tokyo Ghoul live action film! We were very lucky to catch the screening of the world premiere! I don't want to spoil anything but I will say that you will want to catch this when Funimation releases it in theaters in the USA! It is sooooo amazing and it sets a whole new bar for anime live action films! It also featured music from one of my favorite bands the RADWIMPS who scored the film Your Name. Check out the trailer below!
I hope you enjoyed our live coverage of the convention on Twitter and Instagram!
---
---
FLCL is also featured in the current Loot Anime ACTION COMEDY theme, along with more of your favorites; sign up by 7/27!