Welcome to the latest chat with the folks behind the scenes here at Loot Crate!
Our in-house Production Team is filled with some incredibly talented individuals that write, produce, direct, perform in, and edit an impressive amount of awesome content each and every month. Our own Adam Murray is a huge part of that rock star team.  Despite the fact that he's a Philadelphia Eagles fan, he's a pretty awesome dude and I had a good time chatting with him for this interview!  Give it a look:
Josh: Hey Adam!  Why don't we kick this off with a little introduction to what you do with us here at Loot Crate, and how long you've been doing it?
Adam: I'm a Content Producer on the Production Team, which really means I do a little bit of everything. Directing, writing, editing, filming, sometimes I'm on camera. Mainly for interviews. And I've been with Loot Crate for just over two years.
What were you doing before you joined us here at Loot Crate?
Adam: Before Loot Crate I was working as an animator and character designer for several different shows. Stuff on Adult Swim and Netflix mainly. And in my spare time, I was directing and writing personal live action shorts.
How long have you been involved in film, production, etc?
Adam: I went to film school in Philadelphia and graduated in 2012, and moved to Los Angeles pretty much right after. I've been working in film and television for close to eight years.
What drew you to working at a company like Loot Crate?
Adam: I was getting burned out on animation. It's fun work, but it can easily grind you down. And I wanted to return to doing live action material, and Loot Crate came around at the perfect time.
What would you say are the most rewarding parts of the work you do here? The most challenging?
Adam: Whenever I get to direct and write a theme video is the most rewarding part of the job. It gives me the ability to do what I love while providing me the tools to do it, which is a struggle for a lot of filmmakers. The most challenging thing is trying to adapt and predict the future of YouTube. It's an ever-changing platform that I've been trying to get to the core of for years.
Have you had any favorite projects that you've been a part of since you joined us?
Adam: I really loved writing and directing the Horror theme video that came out last October. I also just started directing and producing my own personal short, Jo and the Pirates, at the same time I first started working at Loot Crate.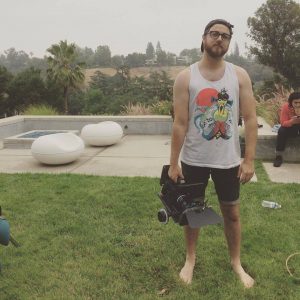 You recently were the man behind the camera for the MYTHICAL Theme Video, how did that process work?
Adam: It was pretty painless. Normally on set you're always running out of time, money, or energy. Thankfully none of those happened. We shot at the YouTube space, which made the whole process way smoother. And our cast was absolutely hilarious, and easily grasped the material and dialogue. So a lot of the day was spent doing extra takes to see what other jokes we could get out of the script that weren't originally written.
What do you geek out on when you're not making the magic happen at Loot Crate?
Adam: Mainly movies and the film-making community. Venture Bros. when a new season comes out every six years. And I'm a pretty dedicated Overwatch player.
I know that you're quite the movie buff, so what's your favorite film? (I know I sometimes have a hard time choosing just one, so feel free to choose more than one!)
Adam: My number one is Ghostbusters. Some recent favorites from the past year have been Green Room, The Handmaiden, Hell or High Water, Hunt for the Wilderpeople, and Brigsby Bear.
If you could create one thing for Loot Crate that hasn't been done yet, what would it be?
Adam: It's been a running joke between myself and a few other people at work, but a Criterion Crate would be great. But that's so pretentious it makes me cringe when I think of it.
I hope you are as intrigued as I am by this so-called "Criterion Crate", and if you want to challenge him at Overwatch you can find him on PS4 – atomtic_kid002!  Thanks for the chat Adam (Go Cowboys!)
---
---
Stay tuned for more Behind the Crate interviews with the awesome folks over at Loot Crate, and don't forget to check out our new MYTHICAL Crate for October! Make sure you get yours squared away before the 19th of October and take advantage of all the exclusives we've got on the ready!