Welcome to our latest chat with the folks behind the scenes that help make the magic happen here at Loot Crate!
We've talked a lot in past Loot Crate employee interviews about the amazing and impressive work that folks produce here for Looters all over the world – from product design and licensing, to the technical user experience of our website and the assistance from our customer support and community teams.  However, there tends to be one constant when it comes to all of these things: someone has to help design the images and assets you see on every page a Looter visits, every link they press, every email they receive, and so on.  That's where the brilliant work of Eddie Espinoza comes into play!  I got to sit down and put together a little interview with Eddie recently to ask him about his experience with Loot Crate, not only as one of many talented designers but also as one of its longer-tenured employees – give it a look!
JB: Thanks for taking time to chat with me, Eddie! Before we get started, why don't you tell us who you are and what you do here at Loot Crate?
Eddie: I am a graphic designer on the Marcom "Marketing Communications" team at Loot Crate. I design the emails and outbound marketing materials. I also recently started collaborating with the curation of the WWE Slam Crate.
What were you doing before you joined Loot Crate?
I was a graphic designer at multiple other small startups.
So, clearly you were familiar with the startup mentality – But what made you want to bring your talents to Loot Crate, and what sets it apart from other companies you've worked for?
I really liked the concept of the company. Putting fandom in a box sounded like an amazing concept. Being that my entire career has been at startups Loot Crate really sounded like it would allow me to challenge myself as a designer to wear multiple hats in different departments. What sets it apart is the amount of collaboration that goes on here, as a digital designer being able to explore the product side of the business has been such a great experience for me. Knowing that a product that I envisioned going into the hands of thousands of Looters is such an amazing feeling.
As far as graphic design is concerned, it's a pretty small team that handles a massive workload – how are you and the rest of the designers able to produce such high-quality work with so few people?
It starts with good leadership. Our Creative Director of the Marcom team, Julie Arnold, has been amazing! We all divide and conquer so that we can maintain high-quality work no matter what the job throws at us. Also having a great attitude goes a very long way, especially in a tight deadline oriented place like Loot Crate. Being able to have a good time no matter how heavy the workload has really helped.
You're coming up on your third year with the company this winter, so you've been a part of a lot of change and growth here. What's been the most exciting part of working at Loot Crate during that time?  The most challenging?
The most exciting part of working at Loot Crate has definitely been the people and the projects I've been able to work on. Being able to work with our partner WWE which was a major part of my childhood has been amazing. Truly a dream come true.
The most challenging has been the experiencing the change in staff over the past few years. As with any new startup, things will always be changing and responsibilities will shift as the staff evolves over time. So I would say the drastic shift in workload when those changes have happened is the most challenging.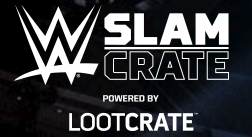 Now, I know we can't spoil anything that might be coming up, but can you talk at all about any of your favorite Loot Crate products or franchises that you've done graphic design work for?
Oh man, this is going to be a shameless plug but in the current WWE Slam Crate there is the first product I've ever made/developed. It's special to me because it's the first physical product I've been a part of to ever come to fruition – I almost cried seeing the sample for the product.
Are you a big pop culture fan yourself?  If so, what's it like getting to be a part of creating such awesome design work for pop culture fans around the world?
Since I started working here I've come to realize that I'm a casual fan at best. Working with such awesome partners has been a great learning experience and being able to give the Looters out there the best possible crate every month has been amazing.
If there was any company or franchise, or even a specific character, that you'd like love to design something for, what would it be?
Even though I'm already doing it currently with the curation of the WWE Slam Crate?  But… If I had to choose it would be Speed Racer or Interstellar hands down.
And now, for my go-to final question for each of my Behind the Crate interviews:  If you could create your very own product line for Loot Crate, what would it be?
Oh wow, that's a good question!  Hmmm I would say a Magic The Gathering crate, there are so many form factors that I don't think have been explored for that franchise, so I think it would be amazing to make products for them.
I see Eddie and several other employees rocking the Magic the Gathering pretty frequently here in the office, so I feel like if anyone could help lead the charge for a hypothetical MTG Crate, it'd be them – and you best believe I'd subscribe!  Thanks for taking the time to chat with me Eddie, I really appreciate it!
---
---
Stay tuned for more interviews and Behind the Crate content coming your away all throughout 2018!  And if you want to see some of Eddie's work in action, then click the link below and give our awesome WWE Slam Crate a look!