The Loot Crate Capsule Collections are limited run crates that focus on pop culture favorite games, shows, and movies. The recently launched Fallout "Vaporized" Capsule Collection is a set of four T-shirts that lets fans show off their Fallout love through these exclusive and specially designed works of wearable art.
We spoke with designer Chase Anast about his work on the Fallout collection, his design process, feedback from fans, and the coolness of the Vaporware style when it comes to finalizing the look of the shirts. Enjoy!
How did you get interested in design?
I've always been interested in drawing from a young age, and this blended into my interest in high-end streetwear fashion labels that I've studied over the years, so designing clothes with a focus on illustration was a perfect fit for me!
Who are your biggest influences?
My biggest influences range from acclaimed mangaka, Hirohiko Araki to the designer brand Sanrio. I think they make stunning work that always stands out from that of their peers.
What was the first item you designed for Loot Crate?
Hmmmm… I think it was a pair of undies themed around The Walking Dead? Yeah.. With weapons and stuff I remember now, it was pretty cool!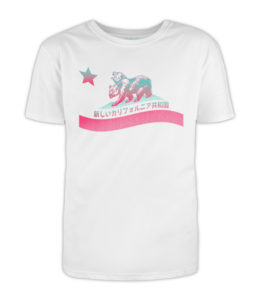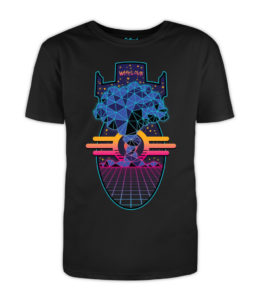 What was your design process like for the Fallout Capsule Collection?
Well, I started out by vibing to some classic Vaporwave and Synthwave albums, and brushed up on my Fallout lore. I then threw together a bunch of sketches inspired by the aforementioned aesthetics and picked the ones I thought would stand out the best on printed tees!
The Fallout Capsule collection shirts you designed have a retro feel to them. How influential was Fallout's game design in your take on this collection?
I think Fallout's dingy, defunct aesthetic paired perfectly with the ideology behind Vaporwave, which is a modern, twisted look back at the lie of excessive capitalism in the 80's and 90's, much like how Fallout is a more cynical take on the peaches and cream propaganda of the 50's. I was a huge fan of Fallout 3, so I was able to visualize everything very easily thanks to my experience with the franchise!
Did you get any feedback from Fallout fans on what they'd like to see in a Capsule Collection before starting?
Without giving anything about the project away, I did ask my partner who is a MASSIVE Fallout fan what they'd like to see in the world of Fallout apparel! It was super helpful and I love them for it!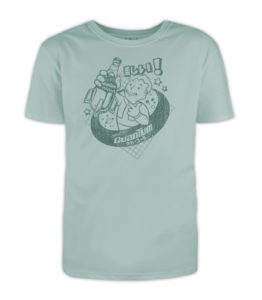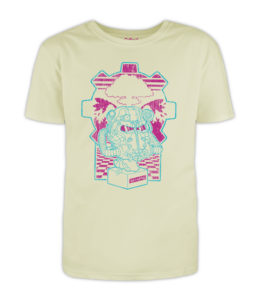 Which of the four designs was the hardest to nail down for you, as far as the look and style?
I think the outrun inspired one with the mushroom cloud was a bit of a challenge, I'm more accustomed to Vaporwave stylings, which are more pinks and teals, a lot more up my alley, but I really love the end result!
What pop culture properties, whether it's games, movies or comics, do you get excited about?
I completely love Nintendo, specifically Super Mario and Animal Crossing, they never cease to amaze!! Also anything involving my favorite Anime properties like JoJo's Bizarre Adventure or Pop Team Epic, I can't get enough!