The best ideas can sometimes come from an indie studio or a group of friends developing something new. With E3 2018 over and after catching up with some much needed sleep, there's now time to reflect on some of the games that deserve a little more attention. 
I tried my best to avoid the temptation of waiting in some of the 2-3 hour long lines on the convention floor to play the AAA games. While many were at the Sony booth waiting to play I was an indie heaven – Here are some of the games and experiences that were just slightly to the side of the biggest games of E3:
From Ivan (Itch.Io)
Sean Bouchard, Martzi Campos, Will Campos, and Kyle Laporte have made something really special. From Ivan is about greeting cards and life choices. Tonally, From Ivan feels like it comes from the same vein as VA-11 HALL-A and Papers, Please. This game has an interesting approach to character and narrative where you don't select from a list of dialogue choices or traits; instead your choice in greeting cards influence what people think about you and ultimately the outcome of the game. Actions speak louder than words. Replay-ability is great, as there are many endings to this story.
I would love to see this approach to narrative in other games and look forward to seeing more releases from this team! Check out their page and name your own price to download.
Killer Queen Black (Switch, Steam)
I went back in line about 4-7 times to play this, again and again. Killer Queen Black is a 4v4 multiplayer action/strategy platformer: A mix of Joust-like controls if you're playing as the Queen, platforming and point collecting if you're playing as a Drone, and whatever genre it would be to ride a snail to victory. All three victory conditions are on the screen at the same time. Sometimes the difference between winning and losing is not placing enough or too much priority in path to victory, and each round can be frantic while never crossing over into frustrating. Easy to learn, and hard to master. This would be in the running for best games of E3 2018 if it were up to me. Hella fun!
Black Future '88 (Steam)
This is a procedural shooter platformer with a cyberpunk feel and a synthwave soundtrack. Indie developer Good Shepherd Entertainment is going after my heart by making me feel like a synthwave playlist was spilled on my download of Soldat. You have 18 minutes to defeat all the bosses the tower before your heart explodes. Power-ups are available by spending the cash you collect, the occasional Blue Obelisk for a free perk, spend against the remaining time limit for a perk (with consequences), and by defeating a boss. There were so many different weapons available in the demo I played that I didn't get to use all of them.
Visually and aurally stunning, I think I played for about a half hour uninterrupted without realizing. This game has that "Just one more try" feeling after you die; if this sounds awesome to you be sure to check them out. 
Desert Child (Switch, PS4, Xbox One, Windows PC, Mac OSX, Linux)
Want to play as a dude trying to save enough money to move to Mars. You can here, blending together the rotoscoped looks of Another World, lo-fi music, the strategies from RPG survival games, and finally racing. Earth is dying. Indie developer Oscar Brittain managed to make his pixelated aesthetic look about as dirty as the Los Angeles in Blade Runner.
In my playthrough I found that the best way to make money was to win races. In order to make money between races to upgrade your bike you have to take jobs whether legal (deliver pizzas) or extralegal (rob banks). You also have food factored into the budget; hunger is also important as they can have an impact in races and job performance.  
V-Rally 4 (PS4, Xbox One, Switch, Windows PC)
If you find normal or AAA racing games too easy or unrealistic then look this game up! In the best way possible the controls in this racing game are unforgiving. Any small mistake can lead to spinning out or crashing into everything; I probably hit every wall and every other racer possible. In order to succeed you have to balance out speed, breaks, and momentum – definitely closer to a simulation than an arcade game.
I got to play this on their ultimate racing setup with a racing seat with dynamic movement and 3 monitors. The common home experience may not be as intense as playing on this racing setup but that doesn't mean that it will be any easier.  Or I just suck.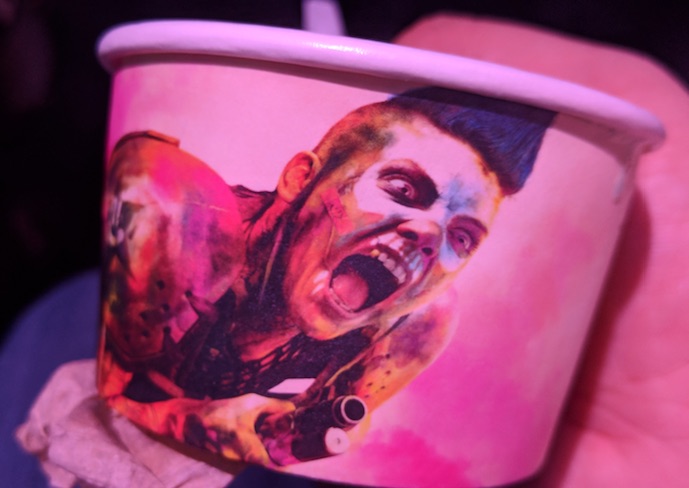 Special AAA Game Mention: Rage 2
While some people were waiting in line for the Fallout 76 experience I wanted to spend time waiting to actually play something. I was also on the fence about this game and wanted to try it for myself. I get that this is one of the biggest games with one of the bigger ads at the convention center, but it did have a short line.
Verdict? Pretty good. The demo I played focused more on a shooty bang bang section fighting the Goons (shown in trailer) rather than the open world exploration or driving. Gameplay-wise I found myself running into the middle of the action using the shotgun and new special abilities instead of my normal silent rogue approach. Easy but engaging.  I'm also in love with this current trend of bright colors in ultra-violent games. They also gave out yummy ice cream before the demo, which is pretty much all I ate that day.
---
---
Speaking of sweet be sure to grab some GRUB themed goodies in this month's Loot Gaming!