Here at Loot Crate, we have had the pleasure of working with some amazing artists and creators. Our latest collaboration is no exception. We caught up with illustrator and tattooist Dave Quiggle and chatted about where he began as an artist, some of his influences, and our collaboration on the new Edward Scissorhands Capsule Collection.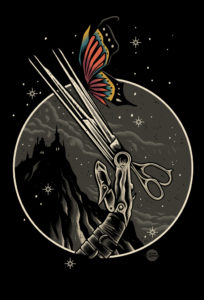 Tell us a little about yourself. Where are you from and how did your journey as a creator begin?
My name is Dave Quiggle and I'm originally from Erie, PA but have lived the past 16 years in California. I haven't stopped drawing since I was a kid. I didn't pay attention at school and just kept to my little world by constantly drawing and pulling things from my imagination. In college I started a hardcore band and so I designed our shirts and album art. Then I made art for my friends and their bands. It sort of spread out from there naturally until I was designing for the larger international indie / hardcore labels. For years I exclusively created artwork for hardcore, punk, indie, metal bands and record labels. At a certain point I decided to spread out beyond music and ended up creating pieces for Disney's WonderGround Gallery and the phenomenal pop-culture art gallery, Gallery1988 in LA.
How did the collaboration with Loot Crate come about?
I've done a few projects in the past with Loot Crate and I've also done some Edward Scissorhands art pieces. I think it was just one of those things that just made sense to do.
How did you arrive at your signature style? Which artists, or aspects of popular culture, would you consider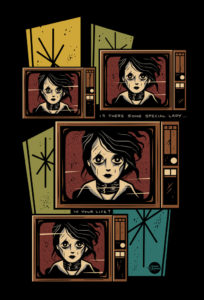 your influences?
I don't know that I've arrived at a style because I'm always pushing it or discovering new things that I want to try or do. I'm sure I do have some sort of style but it's hard for me to articulate it or know exactly how I arrived there. I've been illustrating and designing for many years and so I think the overall process is sort of what accumulated into whatever my current style would be described as. My most formative influences growing up were art nouveau, comic books, American traditional tattooing, heavy metal album art, etc. Those influences create a filter of some kind for whatever I try to do whether consciously or unconsciously.
Can you talk about the design process for the Edward Scissorhands apparel? Are you a fan of the film?
I'm a long time fan of Edward Scissorhands. One of my favorite moments is the silent pause when Edward is asked on TV about there being anyone special in his life. Seeing him on the TV and almost looking through the airwaves and into Kim's eyes is the heart of the movie for me. I've always wanted to do some kind of art tribute to that moment and so I was happy LootCrate approved of that idea. My process for selecting design concepts was to do a re-watch and catch any sparks that flew.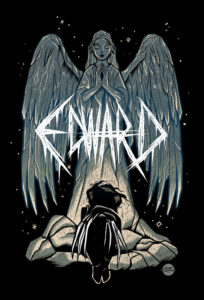 Outside of illustration, you're also an amazing tattooist. How does the design process differ for you when designing and creating with skin as a canvas?
There are some similarities between designing for tattoos and for print illustrations but they are definitely not interchangeable. The approach to one or the other is very different. When someone requests a design I've done for print as a tattoo, the first thing I have to tell them is that I have to adapt the art to become tattooable. There's the scaleability issue where you can't simply just enlarge or reduce the size of the design as you would for print. The details of the design change based on the size and proportions. It's pretty much a requirement for me to know what I'm designing for at the outset in order for me to get the balance right.
Any advice you could give to aspiring or up and coming artists?
Keep creating art regardless of whether it has a utilitarian purpose or is making you money. Do it for fun and try not to be too self-restrictive. Because of social media there is a pressure to compare and feel like you're always trying to measure up. Find your individual voice by trying to tune out the noise.
If you'd like to learn more about Dave and see more of his work, check him out at his website or on Instagram!
AND DON'T FORGET TO ORDER THE LIMITED EDITION EDWARD SCISSORHANDS CAPSULE COLLECTION!