Originally launching in February 2010, Star Trek Online is now one of the longest running Star Trek series in the history of the franchise…
The game offers one-hundred-and-sixty-one episodes, three major expansions and fourteen full seasons of playable content.  For Trek fans, the MMORPG is a huge opportunity to deep-dive into the fandom they love. We sat down with Thomas Marrone from the STO team at Perfect World to discuss the ins and outs of designing ships for the broader universe of the game, as well as his own deep-seated love of all things Trek!: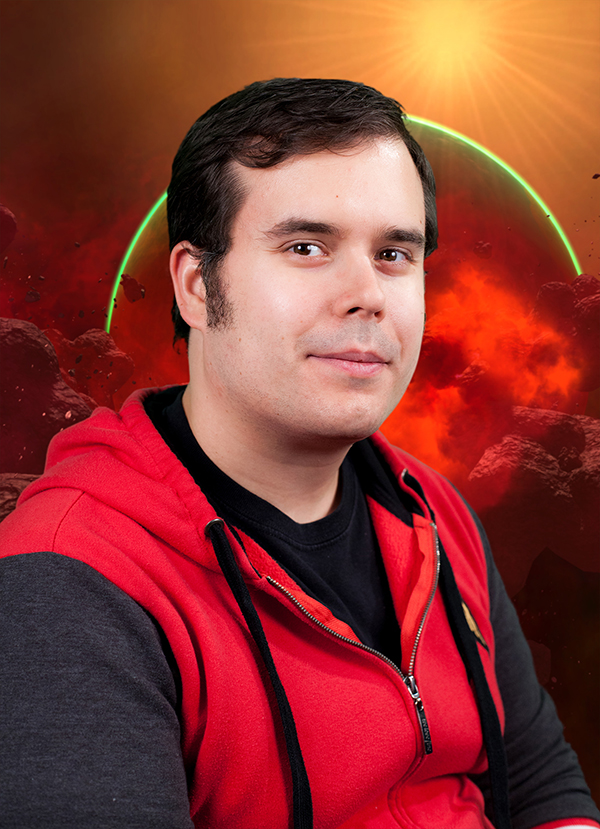 Hi Thomas! Thanks for chatting with us. To start, tell us a bit about your position and what you do at Star Trek Online.
Thanks for the opportunity! I'm the Lead Artist for the Ship and UI Art teams on Star Trek Online. I manage the team that creates the 3D models for the starships in the game, as well as oversee the UI artists who work on the game's user interface.
How did you pursue a career designing for video games, and how did your education trajectory look?
I had grown up playing video games and watching Star Trek, but never in my wildest dreams did I think that could become a career. I always loved to draw and when I learned how to use graphics programs as a teenager one of the first things I did was try to recreate the look of the LCARS interfaces seen in Star Trek: The Next Generation. This early experimentation led me to a degree in Visual Communications from Truman State University, with the intention of going into marketing or Web design.
After I graduated, I landed a job working at Southeast Missouri State University, eventually becoming the webmaster there. In 2010, Star Trek Online was released and I was one of the first people in line to play the game – a way to experience the Star Trek universe first hand, sign me up! As I began playing, I got inspired with ideas of how the gameplay might be improved with some simple minigames. I put my professional graphic design skills to work and made some mockup images of what these games might look like in STO's UI and posted those images to the game's official forums.
Long story short, the developers saw those mockups and liked them. There was an opening in the web marketing department, and I was initially hired there, working on websites for STO's publisher (Atari at the time) and moonlighting by doing some UI art for STO.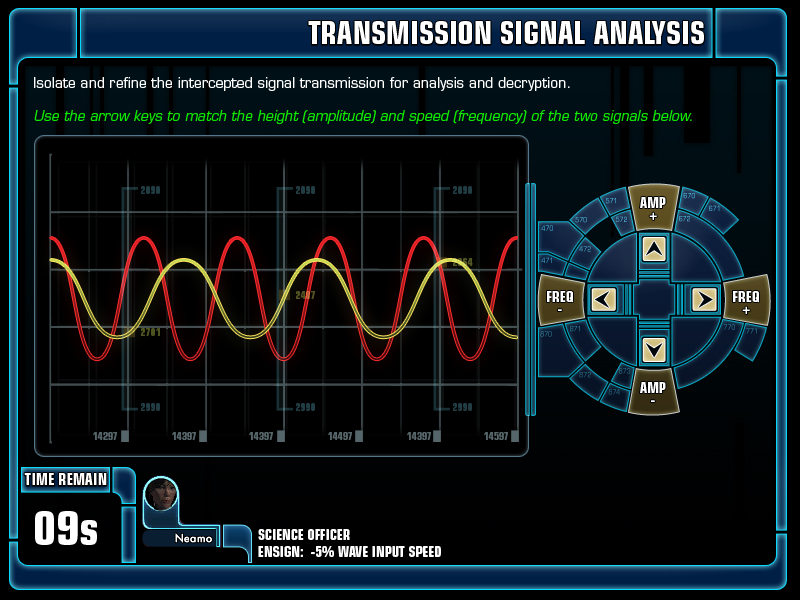 Eventually, there was an opening on the STO team for a User Interface artist so they moved over to work on the game full time. I had a non-traditional path to get my foot in the door, but the takeaway is that if you are passionate about what you love and can harness that into a creative and professional skill, opportunities abound!
You describe yourself as a life-long Star Trek fan; what's your earliest memory of the show that really stuck with you all these years?
I grew up watching both Star Trek: The Original Series and The Next Generation with my parents – my mom was the one who introduced me to Star Trek. She even made matching Starfleet uniforms for Halloween one year! But it was an important bonding time for the family, and I remember when "Unification," the two-parter where Spock appears on The Next Generation aired – that was an event for our household. Seeing Spock deal with the loss of his father as well as working against all logic to bring hope for a better future with the Romulans made a huge impression on me.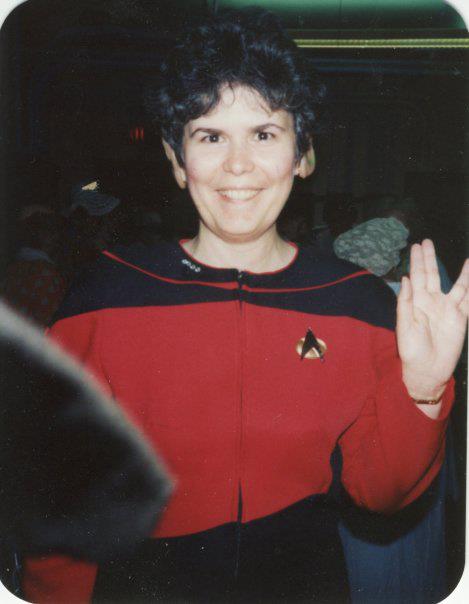 Do you have a preference for a particular show in the franchise, or certain favorite characters?
My real introduction to Trek was The Next Generation, and that is definitely my favorite. The crew was like a family to me, and I admired them for their competence and how much they cared about one another. In an age of dark television dramas full of anti-heroes, I think there is still something to be said for The Next Generation, a show about competent people who respect one another working together to do impossible things.
What other TV shows or films feature spaceship designs that you love?
I love the aesthetics of classic science fiction artists like Chris Foss and Peter Elson, and that love was inspired by the seminal PC game Homeworld, released in 1999. Homeworld took those old science fiction novel covers and brought them to life in a fantastic way, and it has some of the best starship designs in science fiction, period.
I'd also like to mention The Expanse – that universe's hard sci-fi take translates to some really interesting designs and fantastic action sequences that still have some scientific credibility.
When you are designing for an MMORPG like Star Trek Online, what considerations go into how you can expand on the design of such a well-known franchise?
It's always a constant tension between offering something new versus giving people what they already love. Star Trek Online can be described as a virtual Star Trek theme park. If your favorite show is The Original Series, we have missions and ships tailored to your taste. If you like DS9 or Voyager, we've got these other ships and missions designed around that lore… and so on. Over the course of the game's eight year lifespan, we've added so many of the "canon" ships that are seen in the various shows, so we've got plenty of content for people who want to fly the exact same ships they fell in love with on the screen.
For people who want something new, we can leverage the setting of Star Trek Online's story. STO takes place in the 25th century, over 30 years after the events of Star Trek: Nemesis. Against this setting we have had many opportunities to iterate on the classic shapes of iconic Star Trek starships like the Enterprise or the Defiant. Usually we will take one of those original designs and make it more sleek or break up the silhouette somehow. In some cases, we've made several new ships based on an existing Star Trek design. In those cases, every new version tries to break the mold in some way, while still feeling like it fits in the "family" of the original ship.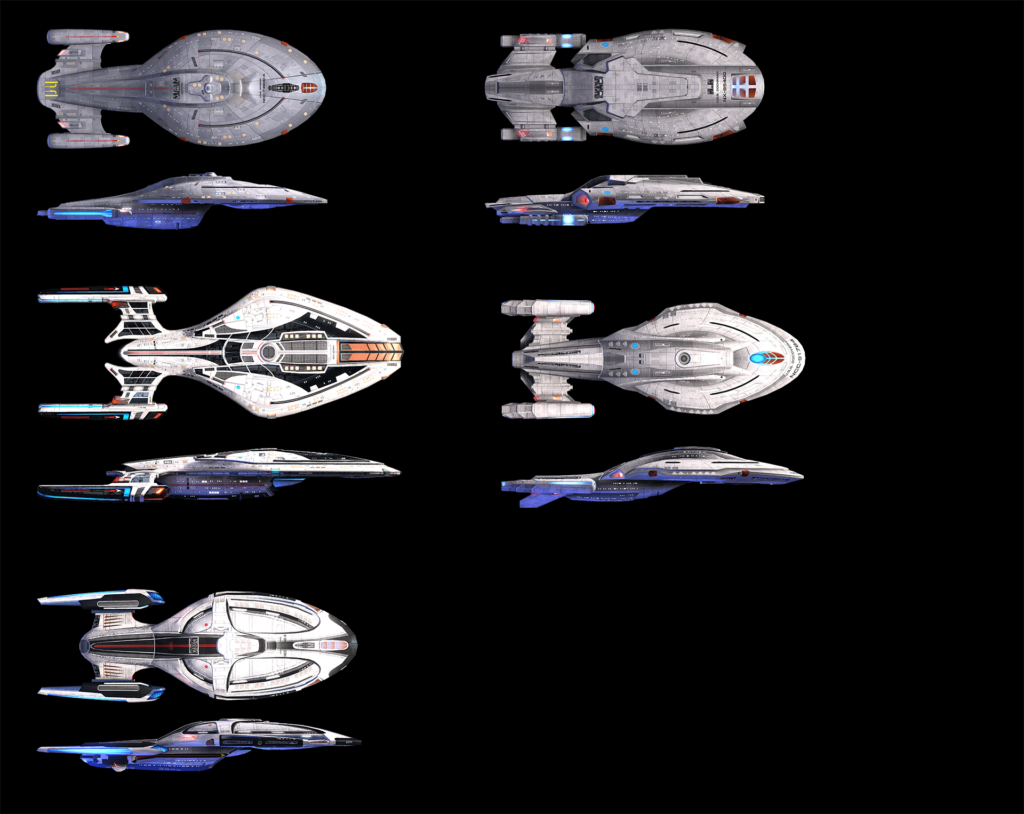 What are some of your favorite designs that have put an original spin on the ships and other tech that were established in the Trek shows and movies?
We've done so many great designs for the Federation, Klingon, Romulans and Jem'Hadar that it's hard to narrow it down too much. For the Federation, I'm proud of the Andromeda-class exploration cruiser, which was a design based on the Galaxy class starship, but stretched forward so it feels like it is getting ready to hit warp speed. It has a constant kinetic energy to it that adds an interesting twist to the stately presence that the original Enterprise-D had.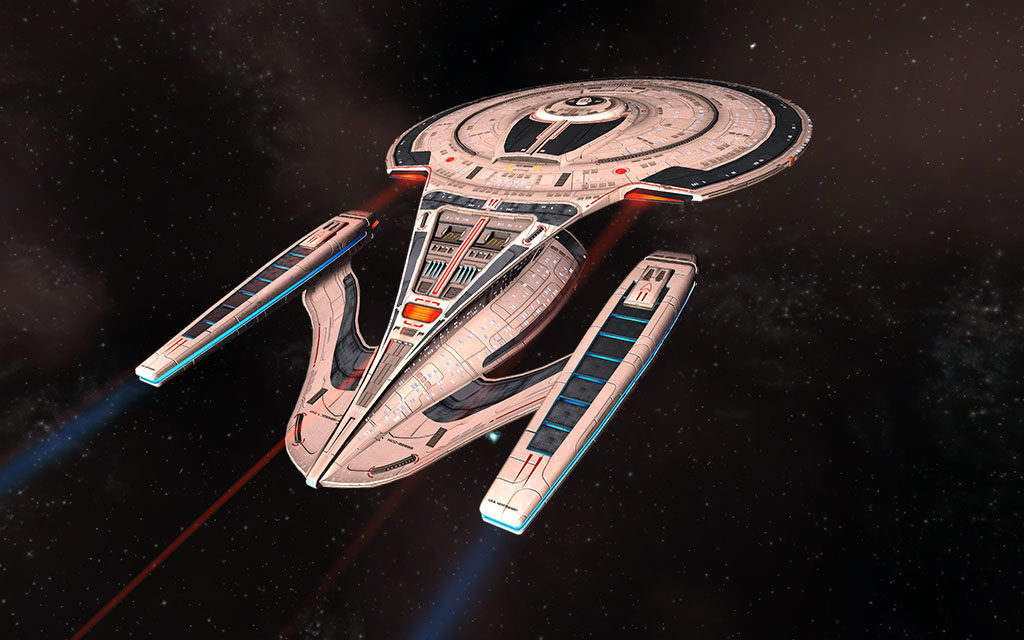 For Klingons, one of my favorite "Cryptic-special" designs has to be the QeHpu' Light Battlecruiser. This ship, designed by Hector Ortiz and modeled by Ian Richards, is an aggressive piece of work that takes the traditional raptor-inspired Klingon design language and does something new with it, with a very forward-heavy footprint that looks extremely aggressive.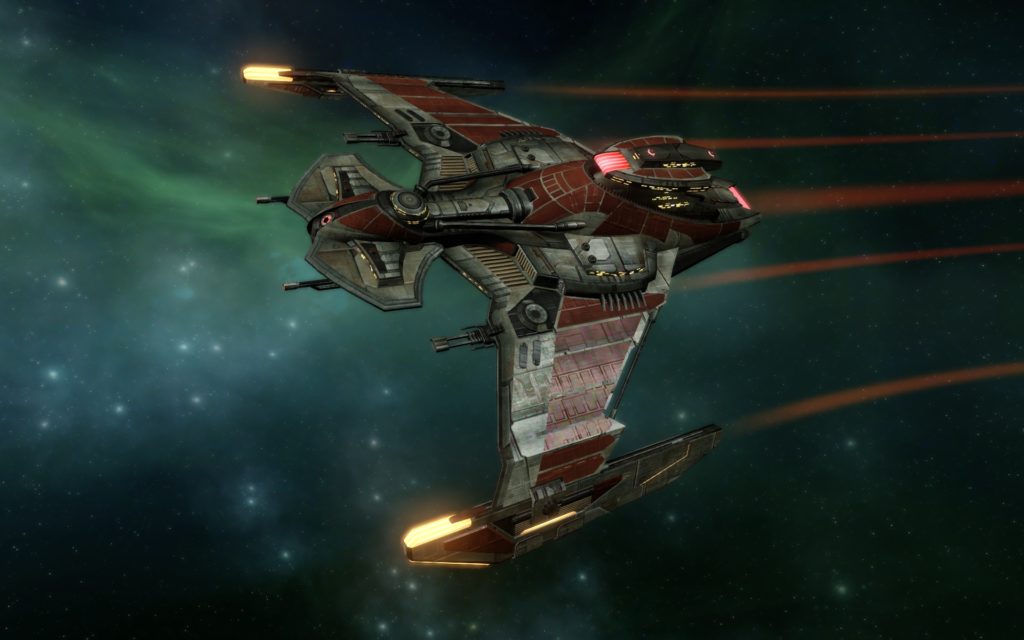 If you had to choose, which race or culture in Star Trek – across the entire franchise – has the coolest looking spaceships and/or vehicles?
I've always been in love with Federation designs because of the ideals they represent. Star Trek was originally meant to depict a possible future for humanity. Not some distant heroes in another galaxy, but it was an optimistic view of what our civilization could become if we learned how to work together and prioritize cooperation and discovery. So, in Starfleet ships I see that dream made manifest, and I love how they seem like they could be real machines that people could actually construct someday.
The current expansion, Victory Is Life, leans heavily on the characters and designs of Star Trek: Deep Space Nine. Tell us about some of the exciting new storylines and designs in this expansion.
The main focus of Victory is Life is the ability to create a new Jem'Hadar captain. As a Jem'Hadar, you serve the Dominion and are tasked with repelling an invasion from an ancient menace: The Hur'q. For the Victory is Life expansion, we worked hard to expand the visual language of the Jem'Hadar, creating new starships, uniforms and equipment for them. Our new designs were, of course, inspired by what we saw on the show, but advanced 30 years and re-focused to feel more tactical. Their ships have sharper edges and more blunt angles, taking inspiration from modern tanks and stealth fighters.
The other challenge was developing the look for the Hur'q, an alien race only mentioned in the show, but never seen, and creating a whole visual language for them. To do that was a whole team effort – every artist on the game contributed to the look and feel of the Hur'q, and they turned out simultaneously beautiful and terrifying. Star Trek is about more than just blasting monsters, and with the Hur'q and the story of Victory is Life, we had to walk a fine line of creating an imposing alien menace, but "rounding out the edges" so that the players wanted to dig deeper and uncover the mystery surrounding these creatures. Because, as always, there is more to the story than it first appears…
What do you find the most rewarding about the work you've done, and the way that STO players have responded to them?
Recently we have partnered with Mixed Dimensions to allow players to order 3D prints of their starship from Star Trek Online. In STO we have over 600 ships and dozens of materials and paint patterns, so everyone's ship is truly unique. Of course, I had to order one of my favorite ships to fly, the Manticore Class Heavy Destroyer. The model turned out incredible and it was a surreal experience to hold in my hand a physical manifestation of a ship that I had modeled myself.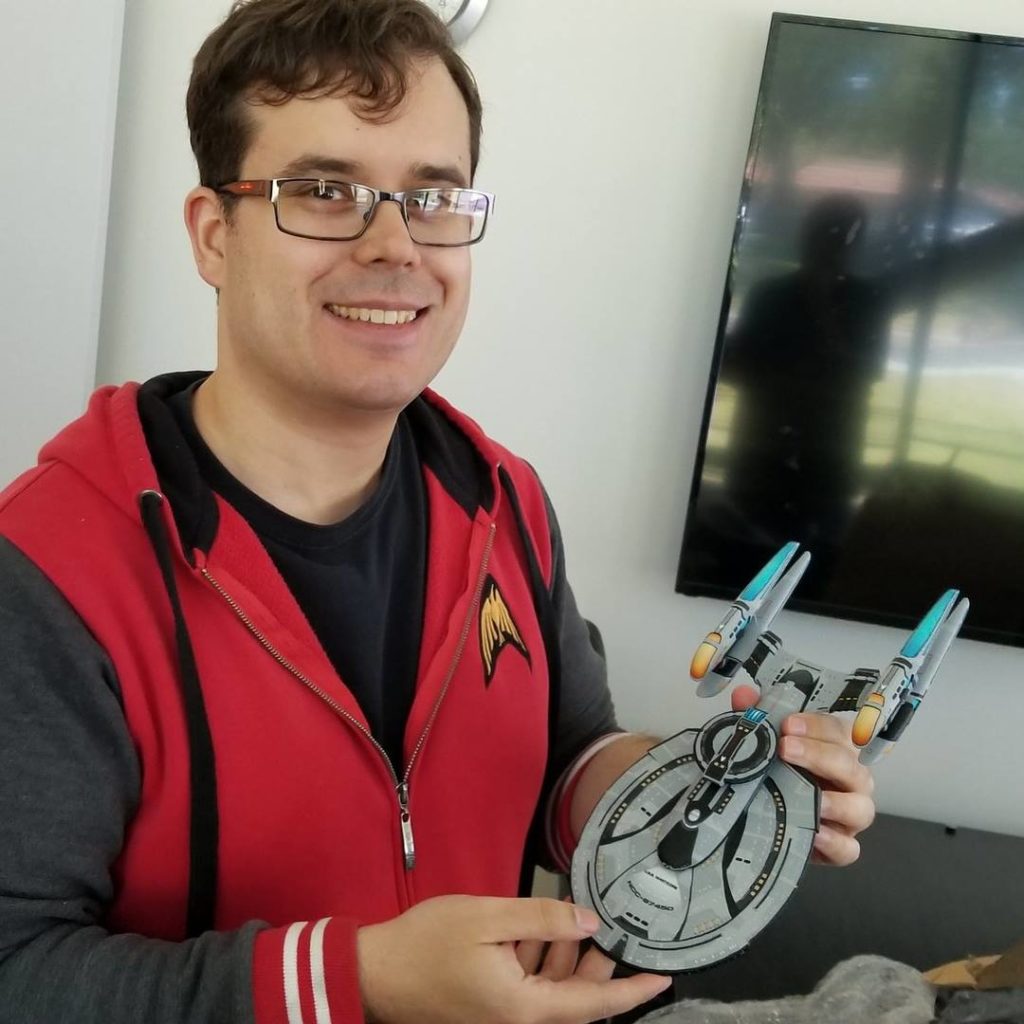 My personal passion for Star Trek is the starships. In many ways the ships that anchor the various shows and films are characters in their own right. To be able to recreate players' favorite ships, as well as create my own entries into the pantheon of Star Trek, is a childhood dream come true for me. For our third expansion, Agents of Yesterday, I had the honor of building the original starship Enterprise, and to be able to do that for an official Star Trek game was an incredible opportunity.
Ultimately, it is a true joy to see players react when they get to fly the ships we've made and connect emotionally with the missions we've built. Every time we announce a new ship that I've worked on, it feels a bit like Christmas. I love seeing how people react to a new or remastered ship, or see their excitement to finally get to fly that one ship we haven't added to the game until now. It's always a rush and very fulfilling to be able to boldly go into the final frontier with an amazing team of developers and a fantastic community of gamers and other Star Trek fans!
---
---
Thanks so much for chatting with us Thomas!
Star Trek Online's "Victory is Life" expansion is currently available!