Originally launching in February 2010, Star Trek Online is now one of the longest running Star Trek series in the history of the franchise. For Trek fans, the MMORPG is a huge opportunity to deep-dive into the fandom they love.
We've previously spoken with some of the amazing creators that bring this deeply immersive gaming experience to life, and recently we were delighted to chat with the man who oversees the entire Star Trek Online design experience, Al Rivera!  Check out our chat with Al about his background in gaming design, his strong fandom and passion for all things Trek, as well as a sneak peek right from the source for what players can expect as the brand-new Star Trek: Discovery expansion of the game that has just launched this week.
PLUS: Be sure to sign up at the bottom of the page for our giveaway where you could win a Star Trek Online Discovery Starter Pack!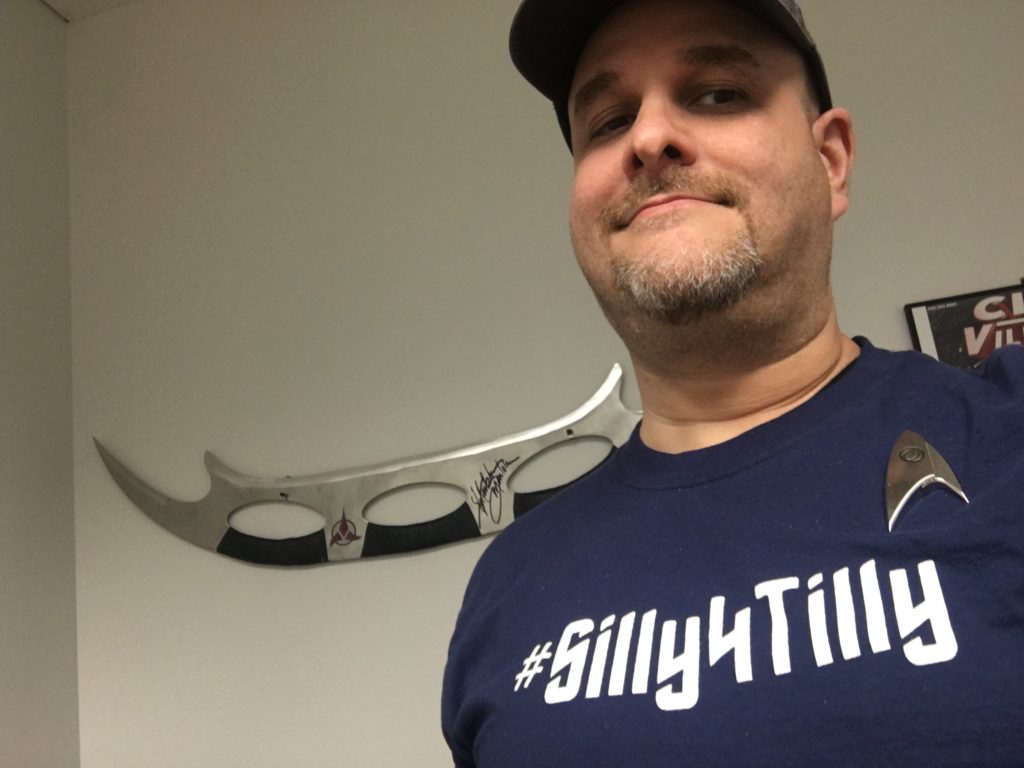 Hi Al! Thanks for chatting with us. To start, tell us a bit about your position and what you do at Star Trek Online.
I am the lead designer of Star Trek Online, also referred to as creative director. Basically that means that I am in charge of running the design team and making sure that everyone stays on vision for the project. That includes story, characters, missions, all the content that you play, the ships, systems and mechanics of the game. Not art or code, but everything else is under my purview. I've been on STO for about 10 years now, I was the first employee on the project and I've been at Cryptic for about 15 years now.
When I first joined Cryptic I started on City of Heroes, which a lot of people will remember fondly, for about 4 ½ years. After that I worked on Champions, and in between I worked on Neverwinter online and I spent a little bit of time working for our Magic: The Gathering project online, but I'm back with on Star Trek now.
How did you pursue a career designing for video games, and how did your education trajectory look? What would you advise to folks who are looking to do this for a living?
It's probably very different now than it was when I entered this profession. My background is actually in biochemistry and marine sciences. I studied biochemistry at Florida Atlantic University… anti-leukemic drugs from marine plants and invertebrates, so completely nothing to do with what I'm doing now whatsoever! But I always had an inclination for video games, I played games all my life, and I was the resident IT guy in my college doing all the computer stuff and desktop publishing for the lab. It was right around the dot.com boom around 1997, and Silicon Valley was hiring anyone who knew anything about computers. My friend… was working at Sega and invited me to come out to work there. I was getting really kind of burned out on chemistry and scared about where I was headed in the field. So I took a chance and if it didn't work out, I could always come back to chemistry. I [started] at Sega in customer service and moved into production, I worked on my first MMO called 10Six and another game called Vigilance. From there I moved to EA and Maxis and worked on The Sims Online, and then came to Cryptic after that.
The industry doesn't quite work like that anymore, but it's not that unattainable. There are a lot of ways to get in. I think the first thing is you have to decide what it is you want to do, if it's art or engineering or design. Make things you would see in games, build your portfolio. And not necessarily video games, make board games or card games or things you can make on your own. There are also plenty of video games that have editors to make user generated content. I did that myself, I learned the Unreal editor and made my own mods. There's lots and lots of resources available on YouTube and elsewhere [to do that]. And in games like Star Trek Online, we have the Foundry where you can build your own missions and levels inside our game.
So that's how you get into games as a designer, just do it. Don't come to us and say "I have a great idea for a game" – that doesn't cut it. Do it, make something. Play games, ask questions, learn the industry and you can [do it].
When did you first become aware of Star Trek, and have you been a fan for many years?
Sure, I've always been a Star Trek and science fiction/horror fan. My sister was about 14 or 15 years older than me and she was a scifi fan and geek about [TV shows] and movies. I grew up with her as like a second mother, showing me Star Trek the original series, watching that and science fiction and horror movies. That was my favorite form of entertainment, to this day I'd rather watch bad sci-fi than good drama, I just enjoy it. My first book was "A Piece of the Action" which was a graphic novel of the episode from the original series. So when I came here to Cryptic, I was a hardcore Star Trek fan and when we got the project, the CEO… asked me to become the lead designer on it, he knew my affection for the IP.
What other TV shows or films feature spaceship (or any other scene/tech) designs that you love?
You pull designs from everything you know and everything that you love. The best designs don't always come from you, the best designers are able to identify the best designs, not necessarily come up with them. So of course Star Wars, Battlestar Galactica both old and new. Even cheesy things like Battle Beyond the Stars or Space: 1999. I call it the bag of tricks, that you pull from. But to be frank, Star Trek has so, so much content to pull from, between all the different series… plus the animated series and comics, there's no lack of inspiration. We're trying to build a fantasy that people feel like they're in that universe. We're really looking deep into the minutiae of those titles and try to emulate that, or build upon things that maybe were just touched upon. What is a nano-pulse laser? I don't know, so let's build that, let's make that a thing.
Now, there are certain things that inspire us and we say "Hey, you know, that's kind of a thing" – and if we think we can make fun game play out of it, whether it's a story or a ship or a mechanic, we want to see how that fits into the Star Trek universe to make sense there first. If it doesn't fit, then it just doesn't go in. Star Trek is about certain tropes, certain genres or mechanics, that has to come first before a great idea.
If you had to choose, which race or society in Star Trek – across the entire franchise – has the your favorite cultural design aesthetic to design in?
I would actually say it's some of the bad guys. Like any hero story, heroes are typically reactive. They're generally passive while villains are active. I really, really enjoy telling villain stories particularly in Star Trek, because when they're done right – and we try to do this in Star Trek Online – they're not just black and white, they're not [purely] evil. We always try to show both sides of that. When there's a big bad villain we don't end by blowing them up, we try to resolve the problem. The resolution [is] very much a Star Trek story. So I really love the Iconians, which were not ever seen on television but they were talked about and we went to their ruins in both The Next Generation and Deep Space Nine. So the show explored a little bit of them, but they also left it very vague as to who and what they were. We know that they were called demons of air and darkness, that they had this technology that allowed them to appear anywhere in the galaxy instantly and that 200,000 years ago – I think – all the races in the galaxy came together to defeat them. But Picard [noted that we should] beware these kinds of stories in history, because history is always written by the victor. Maybe they were painted as the bad guys and they weren't, necessarily.
So we told an entire Iconian story arc that spans six years in Star Trek Online, about three or four years ago. We painted a huge history, so much that we went back in time and saw what happened to them… and this is spoilers, so don't read ahead if [you haven't played the game]! But there was a reason they were terrible bad guys, they were victims of circumstance. And now there's only twelve of them left in the entire galaxy, and they just want their culture [and] their world back. So you find a way to help them, and my favorite thing about that story is that all this war you had with the Iconians [leads to] you saving them with a little act of kindness. And so that was my favorite, that was awesome.
There are a lot of exciting changes on the way on Star Trek: Discovery the series when it returns, so what are you at liberty to tell us about the introduction to this corner of Trek lore in STO?
We're doing something a little different in that, this fall we're launching The Age of Discovery and it's not necessarily an expansion or season like we've done before. We're taking everything about Discovery that CBS is doing and bringing all that to the forefront of Star Trek Online. When it comes out in the fall it's… just a taste of what's to come, because for the next year or so we'll be continuing to add more and more Discovery, more ships and races, characters and actors and stories. We'll continue to add for the forseeable future.
In October, we'll start with a new starting experience; currently in STO you can play as Federation, Klingon, Romulan, or Dominion. You can start in the Original Series era, but now you can also start in the Discovery era, in 2256 which will start just after the Battle of the Binary Stars which is the two-part pilot of Discovery, just after the war with the Klingons starts. The player will start as a new cadet graduating from Starfleet Academy. After the tutorial we'll have two episodes that come with that along with a number of assets and ships. When Age of Discovery launches, Mary Wiseman who plays Tilly will join you, she will still be a cadet on the Discovery and she's actually a year behind you… she doesn't graduate until the end of the series. She's there to help you as your friend at Starfleet on your first missions. Mary Wiseman will return as Captain Tilly (Killy) from the mirror universe for the anniversary in January. And then we've also announced Rekha Sharma who plays Commander Landry, and she was also on Battlestar Galactica and V and The 100, we're happy to have her join us. She was kind of a jerk in Star Trek Discovery [laughs], she was kind of hard and mean and we're going to explore what made her that way. And so for The Age of Discovery we'll be telling more stories both in 2256, in the timeline of [the show] as well as in future, [or what is] the current timeline of Star Trek Online.
---
---
Enter below to WIN! Contest is open through October 24th!