It's been over 40 years since the Atari gaming system first debuted and kicked off the golden era of home gaming, and still it's one of the most recognizable names in the video game universe…
The Art of Atari is an incredible book that deep-dives into the designs and iconography that made Atari such an indelible part of the genesis of gaming culture, a beautiful testament to the illustrations that captured the minds of video game enthusiasts across packaging, advertising, catalogs and more. (Oh, and it's got a foreword written by some former young gaming geek by the name of Ernest Cline. Wonder whatever happened to him? 😉 )
This terrific tome is written by Tim Lapetino, the executive director of the Museum of Video Game Art and an award-winning creative director/graphic designer. We had the chance recently to talk to Tim about his background in the field, The Art of Atari and the awesome Pac-Man Apple Watch band design he created, which we're now featuring for pre-sale in the Loot Vault!
Tell us a little about yourself and your education/background? 
I've spent the last twenty years as a graphic designer and writer, working with brands to tell their stories through books and magazines, logo design, branding and package design. I believe that the intersection of design and pop culture tells us a lot about the world, and us as people–and it's important to tell those stories. I also wrote the design and art history book, The Art of Atari.
How did you come to develop your style?
Like many kids of the '80s, I grew up on a steady diet of early video games, cartoons and toys – and those early images have stuck with me. But I've also been heavily influenced by post modern graphic art, the clean and simple lines of mid-century modern design, and everything that's going on around me today. My personal style leans more towards a complicated, multi-layered sort of Maximalism, but as a designer, it's always my goal to work in a style that fits the needs and audiences of the project. I take great pride in being a little bit of a chameleon – not  defaulting to a personal style unless it's appropriate for a project.
Who are your biggest influences?
I have a very eclectic range of influences, from illustrators to architects, photographers and graphic designers. But just a few are the mid-century furniture designers Ray and Charles Eames, pop artist Roy Lichtenstein, Atari packaging illustrator Cliff Spohn, retro-mod artist Shag (Josh Agle), and the design and typography of House Industries. I also love the logos and film titles of designer Saul Bass, the superhero paintings of Alex Ross, and the book covers designed by Chip Kidd.
What are your fandoms?
Ha! There are many. I'm an Atari fan from way back, and I also love the early Transformers, GI Joe and He-Man character designs and cartoons. Naturally, I'm always curious about anything new that is Pac-Man related. I also will instantly watch any film by Wes Anderson, sight unseen. I have also recently gotten deeper and deeper into '80s electronics industrial design. All of that great boxy, beige computing with warm color palettes and groundbreaking design are so interesting—and we can see what it looks like to be figuring out what consumer-focused computers would look like.
What is your most important artist tool? Is there something you can't live without in your studio?
Being a designer in 2018 probably requires me to say my computer. The speed and sophistication of tools dwarfs anything we have had as designers in the two decades I've been working. But an all-digital workflow can also be a crutch. It makes unfinished ideas look polished and it's easy to get submerged in the details of a piece of work before you decide that you've got something conceptually worth pursuing.
So I'd be lost if I couldn't sketch by hand with pens, pencils and my Field Notes notebooks. Needless to say, the Internet is essential to my work of writing, research, visual inspiration, and even connecting with the variety of fan communities I find. Those places are passionate cradles of inspiration and information.
We have a copy of The Art of Atari and find it to be as much a piece of art as the art featured inside. How did you think about the design as it supported the story being told? 
Well, design-wise, most art books try to fade into the background so that the art itself is the only thing in focus. White pages, small text, quiet typography. In this book I didn't want to take away from the work or bury it under busy design, but our excellent book designer (and my lifelong friend) Jason Adam and I had a lot of conversations about treating the Atari art seriously, while also giving this book a little visual character to show off its origins. We wanted to ground the Atari art and design in its era without resorting to kitsch or visual cliches that people now associate with the 80s. I hoped to really tell the untold stories of these creative people and have the book reflect that—both in its design and in the citation of pieces I chose. It had an intentionally analog feel to it all.
What excited you about this project? 
Basically, I was two years old when Pac-Man was released. So I don't remember a time when I wasn't side-by-side with that little yellow dot muncher. I had pillowcases and toys and Saturday morning cartoons, breakfast cereal, stickers, and of course, the arcade and home versions of the video games. So I'm intimately familiar with the character and all its incarnations, which continue on even today. And it struck me that this was the perfect time to design a fashion accessory that could be coupled with the latest in beautiful technology (the Apple Watch) while also tying it back to the original game and its hardware. Pac-Man continues to be popular and lives on in pop culture, and I was thrilled to add a little something to that pantheon of Pac-Man's cultural life.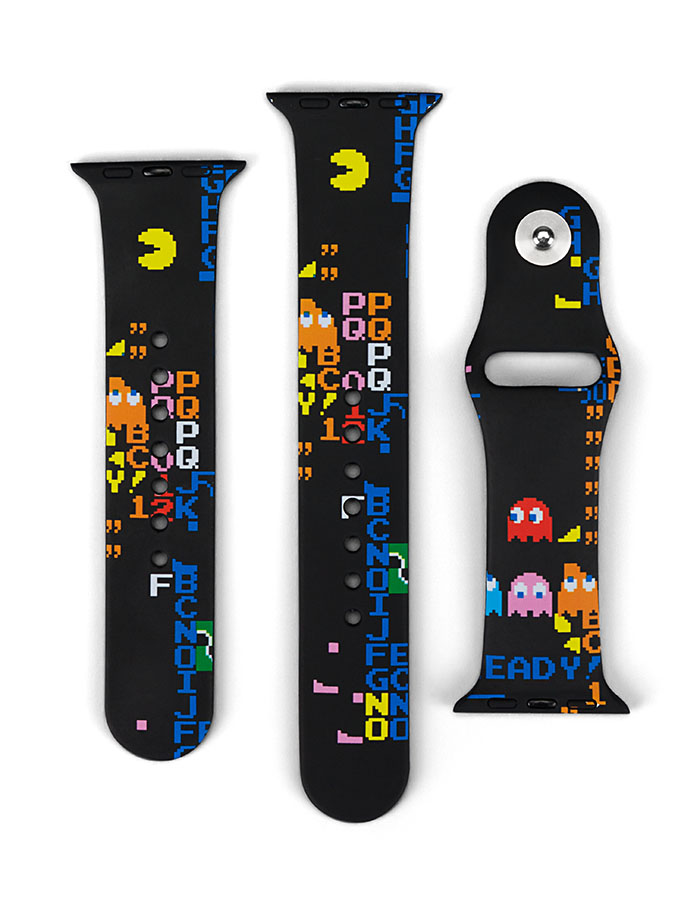 Can you tell us a little about the design process behind your item? How did you decide on a pattern for that particular item?
The designs are chaotic, complex and pixelated—based on the nearly buried final level of the Pac-Man arcade game, level 256. I wanted to create something that was instantly recognizable as Pac-Man, but also nod to the hidden level in this game that only hard core gamers probably know about. It was cool to suggest the complexity, pixels and code beneath the gameplay and bring some of that to life in a way that is still beautiful and attractive on its own. It was super important to me that this exist as a visually striking fashion object even if you have little connection to the games themselves.
If there was any company or franchise, or even a specific character, that you'd like love to design/draw something for (that you haven't already), what would it be?
I'm a huge baseball fan so I would love to be able to design the identity and uniforms and everything for a Major League Baseball team.
Do you have any words of inspiration for other looking to go into your field?
I would say, be curious and passionate. You never know where your interests, however niche and odd, might take you. Also, I always ask for what I want. You never know when someone will say yes to your outlandish proposal. You will never get what you don't ask for, whether it's for a new project, rare permission, collaboration or extra money. So many of my cool opportunities or projects have come through strange doors or times when I felt like I might be overstepping. Getting a no answer isn't a big deal. It literally never hurts to ask.
---
---
You can pick up one of the Apple Watch band sets – either Pac-Man, designed by Tim Lapetino, or Galaga – NOW in our pre-sale over at the Loot Vault!