There's no shortage of incredibly talented artists and illustrators who work at Disney, but even among that high caliber Brian Kesinger has a style all his own.
A veteran of many of Disney's amazing animated features of the past couple of decades, he's also a published illustrator of a delightful series of steampunk books and prints and, as of 2015, a Marvel comics artist as well. Brian brought his trademark warmth and whimsy to the acclaimed six-issue run of Groot (written by Jeff Loveness), the first time the fan-favorite Guardian had his very own title. We recently spoke to Brian about how he got into the animation and comics world, and what inspires him…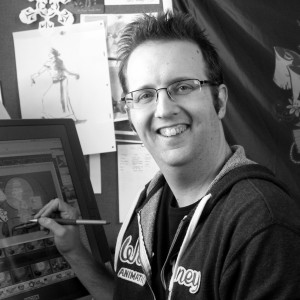 Hi Brian! To start, give us some background on what you do at Disney, and how long you've been there.
Thank you! I'm happy to say that I have just started my twentieth year at Walt Disney Animation Studios. I started there in 1996 as a layout artist on Tarzan. Back then I was responsible for illustrating the backgrounds in the hand drawn animated films, from there I hopped around from 2D to CG films, working in layout and visual development before settling into the story department. In story, I work with the other story artists, writers and directors to create characters, worlds and a visual blueprint for production.
What kind of schooling did you go through for art and design, and was it a career path you chose fairly early on?
I was fortunate to have some very good art teachers in high school. In addition to my academic work in high school, I attended an art school called Orange County High School of the Arts. It was there that I learned about an animation program in Diamond Bar [California] known as Roland Animation. Our instructor, Dave Master taught us not only how to be an animation artist but a professional. Those classes and my determination to become an artist for Disney resulted in me being hired at the studio, right out of high school at the age of 18.
Which artists/illustrators or styles/genres have you taken the most inspiration from?
In addition to classic illustrators such as Arthur Rackham, Alphonse Mucha and Norman Rockwell, I'm very inspired by both Bill Watterson and Mike Mignola.
Which project has been your favorite to work on since you've been at Disney, and why?
Tarzan will always have a special place in my heart since it was my first movie, but I just finished a new holiday special for ABC that will air this year called Olaf's Frozen Adventure. I was the head of story on that project which meant I got to work even closer with the directors, writer and songwriters then ever before, and had more influence on the project as a result.
Were you a fan of Groot before you got the gig drawing his comic, and how did that job come about?
Yes! But only recently, to be honest I hadn't heard of him until the movie had come out. I know, I'm a bad geek. But I loved the Guardians of the Galaxy movie so much, and Groot was definitely a stand out character. When I got the news that Marvel was going to allow me to play in the Guardians sandbox for six issues I was floored! It was truly an honor to have been trusted with that character.
What is it about Groot as a character that you think appeals so much to fans?
He has a lot of heart. He is sympathetic and loyal, those are traits that always create a likable character. Because of his limited vocabulary and innocence, the audience is allowed to bring a lot of their own feelings to him. We are Groot.
Is it more challenging or freeing to tell a story visually for a character whose dialogue is so minimal?
I would say challenging but in a freeing way, ha! Comics, and animation for that matter, are a visual medium and so there are a lot of similarities in creating life out of limited resources. We had a similar challenge while working on Big Hero 6 with Baymax. He only had eyes and robotic ones at that, but we learned how to express him through body language and the reactions of other characters around him. I used a lot of the same tricks with Groot… I made sure that even though he was saying, "I am Groot," I knew what he was feeling so I could draw that expression on his face.
If you could draw any other Marvel universe characters, which do you think appeal to your sensibilities?
I would actually love to do a Baymax comic for Marvel but that's kind of cheating since I've worked with him in the movie already. As far as traditional Marvel characters, I love Mysterio! He's got a giant crystal ball for a head but I love his back story and he is one of my favorite Spider-Man villains.
One of your pet projects is your Star Wars vs. Calvin & Hobbs fan art. How did you get the idea to combine those two?
Yes! When fandoms collide. I think the only thing I love more than Star Wars is Calvin and Hobbes. I really enjoyed The Force Awakens. When I saw Rey sledding down the dunes of Jakku, I was reminded of Calvin and his red wagon. That night I posted the mashup on Instagram and I was amazed by the love it was receiving. Then I delved a little deeper into the metaphor when I thought that Kylo would make a good Calvin, only his imaginary friend wouldn't be a stuffed tiger but rather the Dark Lord of the Sith, Darth Vader. Once I started illustrating that idea, the mashup became very popular.
You're also very well known for your original characters, Otto and Victoria – tell us about them and how they came about.
Thank you, they started out as a design for a steampunk t-shirt contest online. I love the steampunk genre and I wanted to do an illustration of a Victorian lady and her pet. I was trying to think of what would be a good steampunk pet for her. Originally it was going to be a wind-up dog automaton. But then I started to think of Jules Verne and the idea of an octopus popped in my head. After winning the contest, I found I had more ideas for these characters and started posting the images on my Facebook page. The response was tremendous and culminated in me writing and illustrating my first book, Walking Your Octopus: A Guidebook to Domesticated Cephalopods.
Besides art and animation, what other things do you geek out on on the regular?
I've always enjoyed video games but over the past couple of years I've been really getting into tabletop games, my brother Allen and I play Fantasy  Flight's X-Wing miniatures game on a regular basis. And I've just started DM-ing my first Dungeons & Dragons campaign. In fact I'm working with my publisher on an Otto and Victoria board game!
What have you got coming up next, both in self-publishing and in animation?
In animation I have been bouncing around between our three upcoming films, Wreck it Ralph 2, Gigantic and Frozen 2. With my personal projects I'll be launching a Kickstarter soon to publish a book of my dragon art, as well as developing an Otto and Victoria traveling marionette show.
Can't wait to see it all… thanks for talking to us, Brian! (You can check out more of Brian's awesome art at bkartonline.com, and his Etsy shop. (Which you should definitely look in on on May the Fourth, hint hint…)
---
---
Groot and all of the other Guardians of the Galaxy feature in several of our crates this month! Check out the GUARDIANS theme at lootcrate.com/guardians!