He's already conquered the podcast realm with Lore, and this month sees Aaron Mahnke expanding his world of frightning myths and legends into both print and television…
The Loot Crate team were delighted to host Aaron during this year's New York Comic-Con for a signing at our booth; he was at NYCC with the team behind Amazon TV's adaptation of his hit podcast, an anthology of terrifying tales that is available now via Amazon Prime. He's also promoting the first in a trilogy of gorgeously illustrated books about the people, places and things in Lore… and you can win a signed copy at the bottom of this page!
But before that! – we spoke to Aaron for a Q&A about these exciting developments both for himself, and fans of the world of Lore…
---
Tell us a little bit about how the genesis of the the The World of Lore came about? How does the podcast format lend itself to print?
Well the book project began as a way of gathering similar stories together in one place. One of the things that happens in a podcast is that I might cover a topic and then months later I might return to the topic for another story. When that happens, it's very common to not remember the little details that tie the stories together.
So in the book, all of the stories are brought into the same space. For example, all of details about the little creatures in folklore are gathered together. Gremlins, elves, trolls and goblins. And when you read them together in sequence, new details float to the surface and tie them altogether in a way that the podcast can't do.
For these three books, it was my goal together all of the fan favorites, along with some new material, and present them in a more contextual format. It helps the folklore become more rich and deep.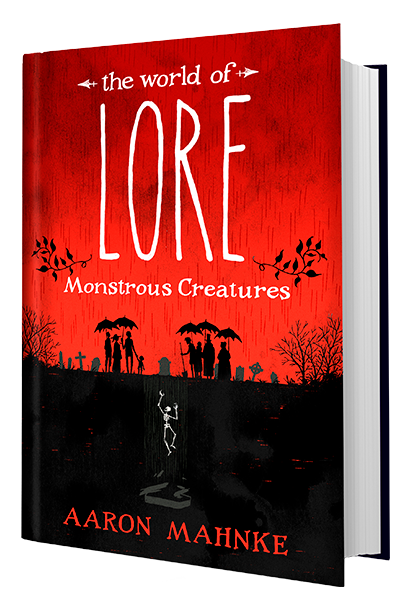 Did you work any popular or favorite tales that you covered in the podcast into the book, or is this an all-new collection of Lore?
Each of the three books is a collection of existing law or material, and a bit of new material that aligns nicely with the existing subject matter. My goal was never to write an entire book of brand new content.
I've always been interested in finding ways for these story to breath and evolve in new formats, so gathering them around specific topics was perfect for print.
Your background is in graphic design before you became a podcaster, so how did you approach marrying the illustrations in the book to the stories?
This comes back again to that idea of telling story across different mediums. In the audio program, and in the television show as well, music is there to set the mood, create tension, and evoke emotion.
In print, though, I don't have the luxury of background music. It's not possible, so I needed to find new ways to create that mood and atmosphere. The artwork of M. S. Corley does that beautifully. He reminds me of a modern day Edward Gorey, and his illustrations really set a powerful tone for the books.
Monstrous Creatures is the first in a three-book series of The World of Lore. Can you tell us anything about what to expect from future installments?
The best way I can describe it is to define what a noun is. It is a person place or thing. So each of these three box covers one of those aspects. Monstrous Creatures is the book about things.
Up next, we have Wicked Mortals, which discusses people. And the final book in the series is called Dreadful Places, about—you guessed it—places.
The Lore series on Amazon is a collaborative venture between yourself and some big names in genre TV. How did Gale Anne Hurd and Glen Morgan become involved in the project?
Gale became involved when the production company that I began working with needed a creative partner to really tell a powerful story well. We talked to a number of other production companies, but eventually partnered up with Gale and her crew over at Valhalla. Their work on The Walking Dead really speaks for itself.
Glen's connection is a bit more fun. He actually emailed me out of the blue in the fall of 2015 just to tell me that he loved the show, and that he really enjoyed my writing. Coming from a writer and producer from one of my favorite shows of all time, that was a powerful complement. Later on, as we began talking about who might be our show runner, Glen's name came up and I encourage those conversations. I'm really glad he chose to work with us.
Anthology series were very popular in earlier eras of TV; did any classic anthologies inspire the creation of Lore for television?
I think there are hints of other anthology programs in the Lore TV show, but no deep connections. You see bits of The Twilight Zone, but that was never really our focus. We just wanted to create something new and different from what has been done before. I think we did that pretty well!
Is there a particular episode of the six in the first season that is your favorite, and why? (Without spoilers, of course!)
I have to say that the episode called "Echoes" is one of my favorites. It does so much 
in one hour
 to convey the emotion and tragedy of the topic it covers, right down to things like being presented in black-and-white, and shot in one room. It's brilliant, really.
Of all the tales you've related either in podcast, print, or TV, which one do you personally find the scariest?
My biggest fears usually center around things like being buried alive, or out on open water in the ocean. So no single episode in particular, but certainly different parts of a lot of episodes have those elements, and they always remind me of how thankful I am to not be stuck in a box six feet below the earth!
Want to be one of 10 lucky winners of a SIGNED copy
of The World of Lore: Mythical Creatures!
Enter now through November 1st!