As you may have noticed, we are pretty excited about the September 7th release of Marvel and Insomniac Games' Marvel's Spider-Man PS4. We're celebrating this huge new gaming release in both Loot Gaming and Marvel Gear and Goods!
For both gamers and longtime fans of Marvel's web-slinging icon, Marvel's Spider-Man promises to be an immersive experience worth being hyped about; we recently had an in-depth chat with Insomniac's chief brand officer, Ryan Schneider about what to expect from the game as well as his own excitement about the project.  Ryan's enthusiasm for this new digital saga of Peter Parker's adventures was palpable, so we knew we had to speak to some more of the folks who have brought this game to life.
Below are some of the best quotes from the team who worked on Marvel's Spider-Man, ranging from their thoughts as fans of Spidey to some insight into (and maybe even a few tiny sneak-peeks of) what to expect when you fire up your PS4 and leap into Peter Parker's suit… take it away, team!
Cameron Christian – Design Director, Insomniac Games
"I'm a pretty big fan of Spider-man.  Most of my exposure was from the cartoon series of the 80's and 90's, plus the Sam Raimi films.  Spider-Man was always one of my favorite super heroes because he knows how to have fun with his powers.  The world is his playground.  We really tried to capture that essence in his traversal and combat systems.
"I think first is our unique universe and story.  Our ability to reimagine characters really sets up a different experience for the Spider-Man fans.  I think our next key difference is our mechanics.  We have really pushed traversal and combat unlike and other Spider-Man to date.  We created a super-fast, and fluid traversal and combat system that really allows the player to utilize the environment.  This balancing act between traversing, attacking and improvising using the world really creates a unique experience.
"For me, [favorite parts of the game are] swinging through the world and combat. I have so much fun doing these two things.  First swinging around the world is almost meditative for me.  I'm constantly finding new things in the world to see and experience.  For combat being able to use webs on enemies and seeing all the different ways you can stick them to things never gets old.
"I can't wait for people to be able to check out our DLC content, The City that Never Sleeps.  You'll see the same high quality content that's in the main game represented in our post game content."
Boola Robello – Sr. Animator, Insomniac Games
"Spider-Man has been one of my favorite superheroes since I was kid. I read Spider-Man comics, had action figures of him, and watched the shows he was featured in. The earliest indication of being a fan of Spidey is in a collection of childhood drawings that my mother kept. All of these drawings center around the major comic book superheroes, Star Wars, and whatever else was big in the late 70's and early 80's at that time. I went to art college and upon graduation began my animating career at Walt Disney Feature Animation. Six years into my career the digital advancements in film making shifted our industry to where we had to give up animating on paper and animate on a computer. This shift eventually led me to animate on my first major visual effects film, Spider-Man 3. As my career continued over the years I would also get to animate on Spider-Man: Homecoming, a bit on Avengers: Infinity War, and now on Insomniac Games' PS4 Marvel's Spider-Man. Now 21 years later into my animation career, I can say that if someone would have told me when I was a kid that I would get to animate one of my favorite superheroes as an adult, I probably would not have believed them. So Spidey has actually been an important part of my career and really is like an old friend to me. I still buy his comics and figures as they decorate my desk at Insomniac Games. This new video game is very fun, and I really think fans who love this character and his world as much as we do will not be disappointed.
"The game clearly shows the love that we at Insomniac all have for this character. Everything about it is really amazing. The environments, the detail, the story, the cinematics, everything is well thought out and executed. I heard that people could actually find their New York apartment in the game. That kind of detail is incredible. The attention to detail when Spider-Man traverses around the city which references the films I have worked on, and also adds its own unique personality to it, is really special. The combat is extremely fun and unique of Spider-Man's character. It is a mix of acrobatic, parkour, and martial arts all rolled into one. Sometimes I just load up the development kit and swing around the city and fight enemies. As an animator it was fun to have a part in animating some of these moves. As a Spidey fan it is so fun and rewarding to experience, because you really do feel like Spider-Man.
"Without giving to much away to the story, I do think fans will enjoy the various missions, finding items along the way, the different suits, and the cool gadgets that Insomniac Games has been known for over the years. As for the gameplay, the traversal and combat are really something special and fun.
"All I will say is this: If you are a hardcore gamer, a casual gamer, or a comic book fan, it would be wise to hang onto the game and stay tuned."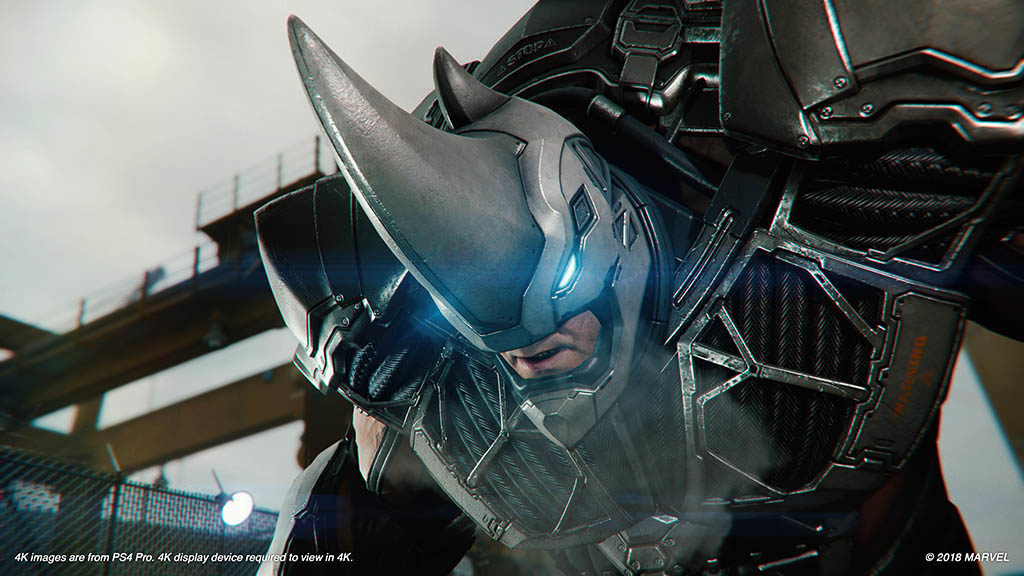 Bill Rosemann – Executive Creative Director, Marvel Games
"Simply put, Spider-Man — the greatest character in all of fiction — has been a lifelong companion. It started with watching reruns of his '60s cartoon when I was in kindergarten, choosing him as my first store-bought Halloween costume and then stumbling upon a paperback reprint of Amazing Spider-Man #7–#12 in my second grade book fair. From action figures to birthday cakes to countless comic books through all my school years, and then somehow forging a career at Marvel, I stuck with Spidey as he did to the buildings of New York City. And now, as the stars somehow aligned, I get to team with all the Spidey fanatics at Insomniac to help bring that very world to life in the video game of our dreams? I'm one lucky True Believer!
"The talented team at Insomniac embraced the truth that the best Spidey stories happen when Peter Parker's civilian world and Spider-Man's superhuman world collide, when Peter has to pick himself up from defeat and risk his life to save his city and everyone he loves. Plus, they've nailed the wish-fulfillment action of web-slinging through the rooftops of Manhattan and battling costumed foes with acrobatic tricks and trademark quips. Add it all up and it's Spider-Man gaming nirvana that we hope will thrill web-heads around the world."
Isabel Hsu – Assistant Creative Manager, Marvel Games
"As someone who has been a fan of Marvel comics and Spider-Man for as long as I can remember, it was a dream come true to work on Marvel's Spider-Man. My job involves making sure the experience is as authentic and true to Marvel as possible, down to the city landmarks and storefronts we pulled straight from the pages of the comics. I think the players and fans will be able to see that this game was built with a huge amount of love and respect for the source material – every character, every scene, and every moment. It was awesome being able to be a part of it.
"Marvel's Spider-Man features characters we all know and love – both heroes and villains – but they're all reinterpreted and reimagined in a way that's unique to the game while remaining true to their comic origins. I think it's going to be awesome for Spider-Man fans to experience a brand-new, truly compelling story in this huge, beautiful world Insomniac, Marvel, and PlayStation has created collaboratively.
"Spider-Man's combat and fighting style is so well-thought out and feels super satisfying, but I have to say that I love just swinging through Marvel's New York. I literally get that thrilling, stomach-dropping feeling when Spidey jumps from the top of a skyscraper to swing across the city… it feels like a dream!"
Eric Monacelli – Senior Producer & Project Lead, Marvel Games
"My fascination with Spider-Man comes from living in New York City in my late teens and early twenties. I witnessed how entrenched the character is in the cultural zeitgeist, especially amongst my peers in college and the street art you'll see in the city. When I walked along the streets of Manhattan, I often fantasized about what it could be like to move more quickly through the streets and avenues, how I might be able to go walking, flying, swing, anything elevated amongst the rooftops. The view from certain rooftops in Manhattan are some of the greatest views in the world. Now, playing Marvel's Spider-Man, I can that feeling of fantasy fulfillment, moving with great velocity and agility through the city, swinging along the rooftops, in a delightful, immersive experience.
"Our teams collaborated to construct a unique, original game narrative populated with familiar yet slightly different characters. It's a very MAYA kind of experience. Reading the comics, I was always enamored by Mary Jane but wanted to see a more fully realized MJ delivering on all her personality, her strengths, her flaws, and who she is as a New Yorker. If players complete every mission in the game I believe they will find that the team at Insomniac wrote a fantastic Mary Jane who was acted pitch-perfectly by Laura Bailey. In addition, it has always been relatable for me how Peter Parker interacted with friends and enemies, how Peter/Spider-Man uses humor to defuse tension and bring levity to even the direst situations. It is quintessentially human and the way the writing team brought out a more experienced version of this behavior for the game is so cool and well done.
"I greatly enjoyed our collaboration with Insomniac Games to make Marvel's Spider-Man as authentically Marvel as possible. Yet I got to witness the development team giving our characters their own unique voice and help guide them in some small ways. I have many text exchanges with Creative Director Bryan Intihar that led to some idea or aspect of the game being fleshed out or made more authentic. It's exciting to see what happens when we all work hard and good ideas become even better, even greater when discussed together. A conversation [between] Miles Morales with his mom at one point in the game is particularly meaningful and important to me. I'm thrilled that we got to work with such a talented, strong development team, one of the greatest in the gaming industry, who was willing to let our some of our creative guidance and production ideas find a home in the complex code and narrative web of the game.
"What I like to call the 'Rosemann's Auction House Mission' [as well as], well, I'll just say it's one of MJ's later stealth missions, are two of my favorite missions in the game. I don't even like playing stealth in most games yet I really enjoyed the information and nuanced storytelling the team packed into these missions. I can't say much more about either but am excited to hear what players think after they play!
"Hope everyone will be tuned into our Countdown to Launch livestream with PlayStation. If they don't catch it they should check it out later. There's lots more in store with The City that Never Sleeps DLC content on the horizon so be on the lookout for news on that!"
---
---