In 1981 Namco created what would become one of the greatest arcade games of all time in the classic space shooter Galaga. This enormous arcade hit (actual revenue numbers for back in the day are hard to come by), would go on to remain a classic that is still played to this day by old and new fans. There are so many iterations and ways to play Galaga, from apps to pocket player versions, that anyone can play a game of it anytime, anywhere. I love it so much I still play my Game Boy Micro version!
To celebrate the newest Loot Gaming crate that includes this arcade classic (and to continue our Fun Facts series we started with Dig Dug) let's take a look at Five Fun Facts About Galaga!
IT'S A SEQUEL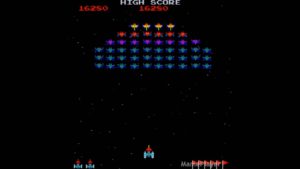 You probably already know this (or you don't, I have no idea if you're as nerdy as me when it comes to 80s arcade games) but 1981's Galaga is a sequel to the mega hit Galaxian. They had to change a few things to make sure people would realize they weren't playing the exact same game as before, so captured fighters, challenging stages and different attack patterns were thrown in to make sure players would come back for more.
THE HIGH SCORE BATTLE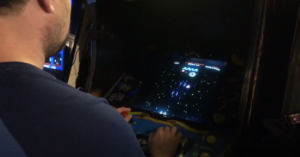 To get to the top of Galaga mountain you have to have the stamina of a racehorse, the hand/eye coordination of a brain surgeon and a bladder big enough to ensure you don't go to the bathroom for an entire day. There are two world record settings for Galaga – Marathon (3 Lives – Extra Ships at 20,000 then 70,000 then every 70,000 after) and Tournament (5 Lives – No Extra Ships). In early 2020 both of these records were broken by Jordan Dorrington, who bested Armando Gonzalez with new world records of 9,546,530 for Tournament and 20,980,450 for Marathon. I've personally seen Armando play at the arcades in Los Angeles and, despite him hogging the damn machine all day, he really shows what can be done with the game when you know what you're doing. If you're trying to get your name in arcade history, these would be two awesome records to beat.
SOMEONE MADE A GALAGA MOVIE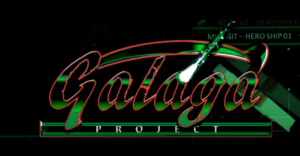 I had no idea this existed and I kind of wish I had never known about it after watching it. In 2013 a bunch of kids made a movie called Project: Galaga or Galaga Project. I don't think they know what to call it either. It's about a bunch of dopes trapped in a virtual reality thing and they fly Galaga ships and who the hell knows to be honest. The plot is a mess, the camera moves like it was Go Pro'd on the back of a monkey and the acting is so bad it makes Tommy Wiseau look like Robert DeNiro. You can watch it here if you've burned through all the content on Netflix. Actually, don't watch it. I suffered so you wouldn't have to.
WE'RE GONNA NEED A BIGGER BOAT
Even paleontologists love Galaga, naming a recently discovered prehistoric shark Galagadon nordquistae because the shark's teeth resembled the ships in the game. It's an appropriate name for a 67 million-year-old shark because that's how long it'll take you to try and beat one of those world records.
THERE'S A BUG AMONGST THE BUGS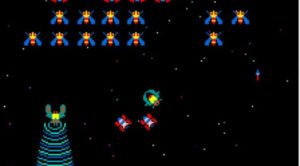 One way to rack up a lot of points is by exploiting this bug found in the game. One the first level, kill everything except the two bees in the lower left of the play field. Let them try and kill you for about 15 minutes or so (you're gonna need a lot of patience). When they eventually stop shooting at you, let them pass by you five more times before killing them. For the rest of the game, the aliens won't fire at you. Time to get that hard-earned million points and be the talk of the town!
Grab a roll of quarters and show off your love of all things gaming with the newest Loot Gaming crate! Check out exclusive gear from Destiny 2, Borderlands and Galaga!