Probably no other device in comics storytelling allows for as much flexibility – and let's be honest, as much retcon too! – as alternate universes.  The notion of parallel Earths existing alongside our own has been at the center of many epic comics arcs over the years, as well as given us indelible characters.
In Marvel Comics, the main i.e. "our" universe is designated Earth-616, originally established during a run of Captain Britain in 1983. However, some of Marvel's most memorable characters – including Spider-Gwen, who is featured in the next Marvel Gear & Goods crate – have come from elsewhere in the fabric of space and time! Here are five of the coolest Multiverse characters Marvel has introduced… 
Bishop
Created by Jim Lee and Whilce Portacio in 1991, the mutant known as Bishop hails from the alternate timeline future wherein the Sentinels have overtaken North America. A hardened bad-ass with the power to absorb energy and channel it into concussive blasts, as well as a whole host of other regenerative capabilities, Bishop quickly became a fan favorite and as iconic a staple of the 1990's X-Men era as white suit Storm, Jubilee and that catchy-as-hell cartoon theme song. One of the let-downs of X-Men: Days of Future Past on screen proved to be how little Bishop (played by French actor Omar Sy) got to do; we'd been waiting for him for so long!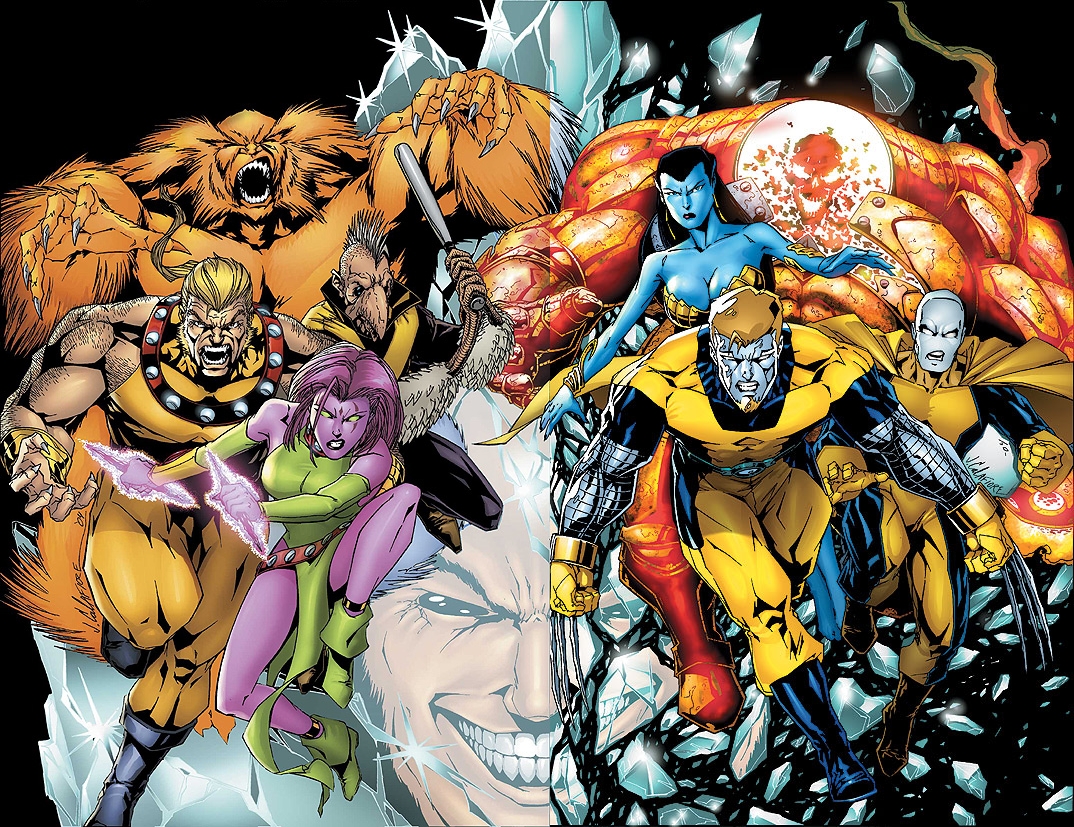 The Exiles
One of the most interesting teams in the long and storied X-Men canon, The Exiles are made of up a unique group of mutants – including the elfin teleporter Blink, machine master Forge and metal-manipulating Polaris, among so many others – who have been brought together to correct "hiccups" in space-time and prevent divergent timelines. They're basically the Time Lords of the Marvel universe. What's not to LOVE?! (And some of them will appear in upcoming X-Verse TV series The Gifted; space-time plot lines still TBD!)
Captain America (Danielle Cage)
Most certainly, a respectable cadre of characters have worn the mantle of Captain America over the years. (And perhaps a few suspect ones, too… *cough*)  Still! – it must be said that one of the coolest and most heart-warming Cap incarnations came in 2015's Avengers: Ultron Forever, which introduced us to a future timeline where the shield had been taken up by none other than the fierce little girl of Luke Cage and Jessica Jones. (We're totally not expecting to see this pan out on Netflix, but it's head canon, dammit.)
The Maker
*shudder* Sure, the Marvel Multiverse has its share of villainous alternates of traditionally heroic characters. (Recent highlight: In Spider-Gwen's timeline, Matt Murdock isn't Daredevil but rather Wilson Fisk's successor who she nicknames "Matt Murderdock" – heh!)  There really isn't an evil doppleganger in any of the realms who is quite as creepy as The Maker, a.k.a. Reed Richards of Earth-1610 introduced in Ultimate Fantastic Four. Otherwise known as, Mr. Fantastic twisted by rejection and apocalyptic visions of the future into a psychotic mad scientist. One who gleefully operates on a fully-awake Tony Stark's brain when it suits him. (Yeeeesh.)
Spider-Gwen
The Death of Gwen Stacy is such a monumental storyline in comics history (widely considered the end of the Silver Age of comcis), it could only be cathartic to not only bring her back in an alternate timeline but actually make her the recipient of that fateful spider-bite, becoming a web-slinging ass-kicker in her own right… and with that trademark headband still in place, thanks very much. Plus, perhaps the most instantly iconic costume of the 21st century. (Go ahead, count all the Spider-Gwen hoodies at the next convention you go to. You'll lose count!) When this Gwen meets Earth-616 Peter Parker – of course, her Peter died tragically – is a great tear-jerker comics moment for the ages.
---
---
Spider-Gwen – along with Spider-Men Peter Parker AND Miles Morales, Spider-Woman and more – are featured in the latest Marvel Gear & Goods crate! Get SPIDER-VERSE by 7/15!