For fans of all sorts of science fiction television, the early 2000's were a gold mine of fun, thought provoking and exciting series. For some reason, though… Farscape is that fan favorite that hasn't gotten much of a streaming spotlight.
Unlike beloved contemporaries such as Battlestar Galactica and Firefly, for most of the digital television era the story of astronaut John Crichton's galaxy-traversing adventure and bosom friendship with a motley crew of aliens and extraterrestrial-humans is one of those shows that its fans are super passionate about, but many sci-fi lovers of the next generation haven't been given an opportunity to fully discover and appreciate. That's finally, hopefully, about to come to an end as to celebrate it's 20th anniversary, the entire series is now available to stream via Amazon Prime.
It's hard as hell to whittle down just five favorite eps of this groundbreaking series, but we're gonna give it a shot! Here's today's Friday Five, in celebration of Farscape's inclusion in our July crate as well as… well, let's just say keep your ears peeled for some awesome SDCC news coming your way very soon. 😉 (seeeekrits…)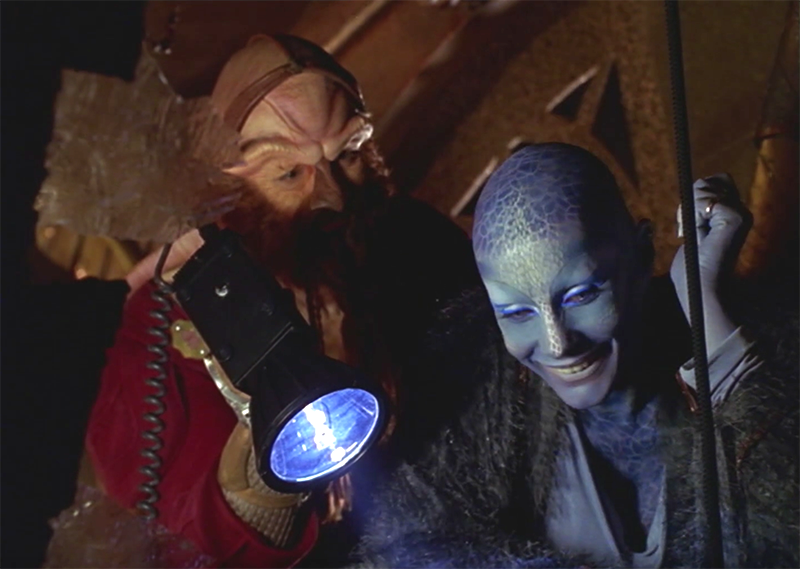 "They've Got A Secret" (Season 1, Episode 10)
Speaking of seeeekrits, Moya's got one, and its discovery is the first of many favorite Farscape episodes, landing in the middle of the premiere season. Moya is, of course, our crew's ship, but she's unlike any ship you're ever seen. We know full well how deeply the crews of most great sci-fi feel about their spacecrafts, be they Galactica, Serenity or Enterprise… but Moya's much more than that, in that she is actually a living organism. One which, in the final reel of this episode, we discover is pregnant. SERIOUSLY. And thank goodness Crichton figures it out before Aeryn Sun disables her. ("She's not trying to kill us! She's just protecting her baby.") As Ka D'Argo and Zaahn smile on, we get the first real sense that this wild group of disparate souls are becoming a family.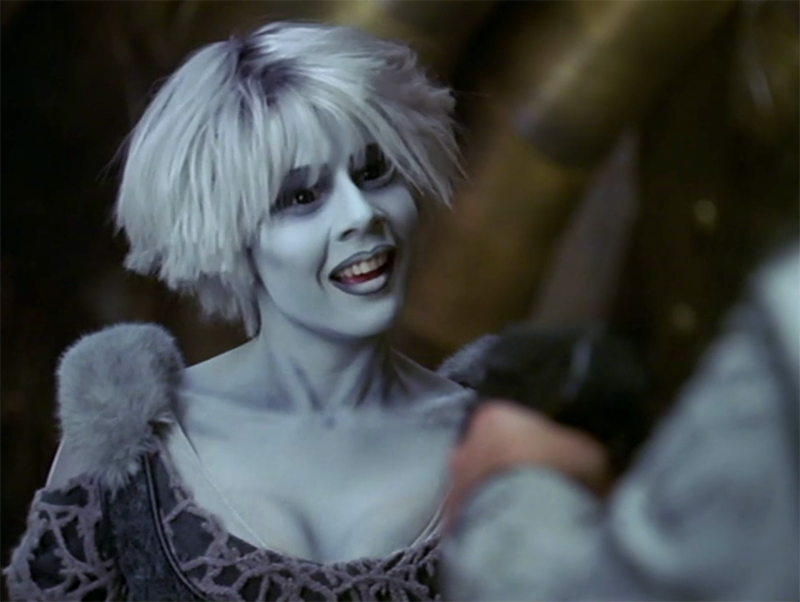 "Durka Returns" (Season 1, Episode 15)
On the outset, this first season episode appears to be about pint-sized, ages-old deposed ruler Rygel's reunion with a bitter nemesis, the former Peacekeeper called Durka, long believed to be dead. Turns out he's just been a captive of the Nebari race who have now crossed paths with Moya and her crew. Oh, and they have another prisoner, one of their own… and this is the reason why we love this episode so much. Enter Chiana (Gigi Edgely), a Nebari whom her own people designate as completely untrustworthy, and boy does she spend most of this episode proving why. In the end, things work out in so much as she's still alive and becomes a reluctant member of the Moya's crew; watching the way her lonely outsider status eventually blossoms into full-fledged team member over the course of four seasons proves why she's a fan favorite.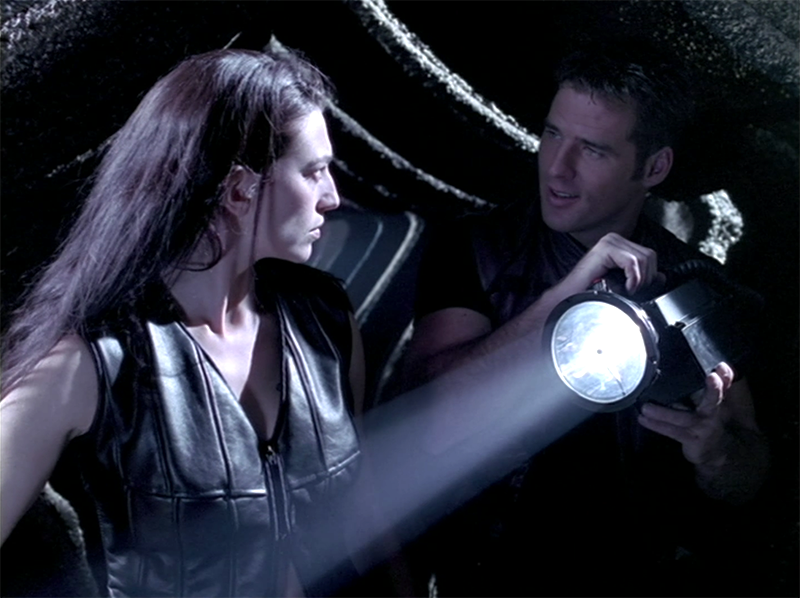 "The Way We Weren't" (Season 2, Episode 5)
There's nothing quite like a good old fashioned secret betrayal plot to deepen the tensions and dive into some great character exploration in your sophomore season. That's exactly what happens in "The Way We Weren't," in which Chiana stumbles upon a lost recording that shocks the crew – particularly Crichton – to their very core. Turns out that the Pilot we know now as Moya's bonded navigator had a predecessor, who was killed by a squadron of Peacekeepers… including Officer Aeryn Sun. Cue a particularly powerful edition of Farscape in which the crew struggle with the role their friend had in such a nefarious incident, while Aeryn makes the case for not judging her current life and priorities by her past misdeeds.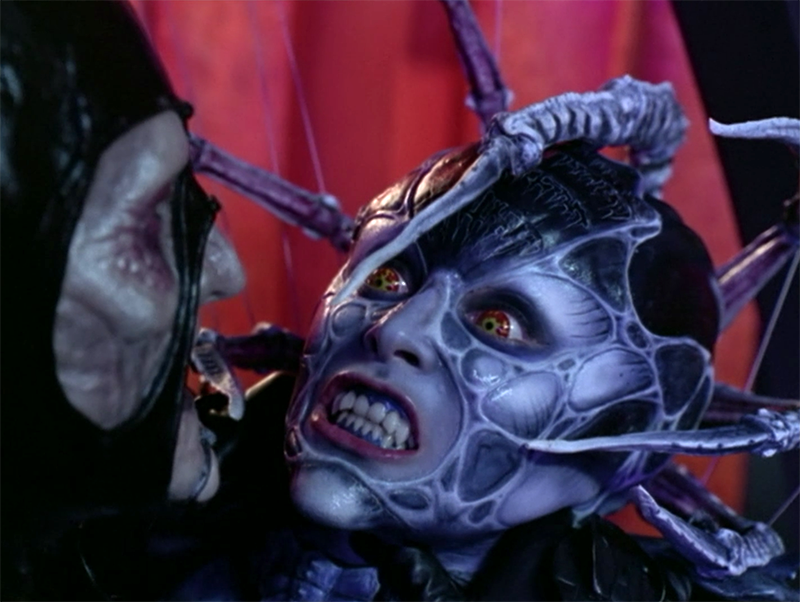 "Liars, Guns and Money" (Season 2, Episodes 19, 20 and 21)
So we haven't yet said much about the absolutely incredible work that The Jim Henson Company's creature workshop did on the entire run of Farscape with respect to puppeteering and makeup effects. Rygel looks so real, he's just one of the gang! The incredibly elaborate makeup worn by Anthony Simcoe (D'Argo), Virginia Hey (Zaahn) and Edgeley (Chiana) week after week! To be honest, "Liars, Guns and Money" is arguably the very best of the multi-part episodes of the show in that it is a good old-fashioned heist plot, the well-timed arrival of an arch nemesis (*Jerry Seinfeld voice* "Scorpiuuuuusssss"), and a wonderful attempt to bring previous character entanglements from past episodes up in order to pay off over the course of this plotline. But all of that notwithstanding, the main reason I'm nominating it is for Natira. Look at that face! What a creature design. Her gums are purple, for god's sake! 10/10.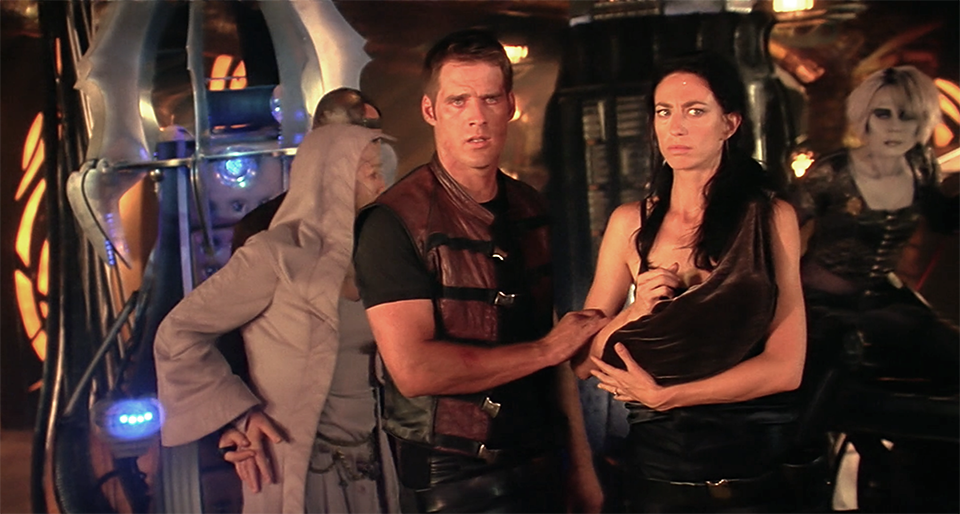 "The Peacekeeper Wars" (series finale miniseries)
We weren't kidding about there being a lot of great Farscape episodes. Having already burned through four out of five of our list on just the first two seasons, unfortunately we're not going to be able to hit on Seasons 3 and 4; we recommend you discover your own eps when you stream the show! Instead, we're doing the old "skip to the end": An ending which was in no way guaranteed. Farscape was originally produced for Australia's Nine Network (it aired on Syfy, then Sci-Fi Channel, in the States), and it was cancelled after Season 4, which ended on a cliffhanger. Fans worried they wouldn't get closure, but executive producer Brian Henson swooped in and saved the day by buying the rights to the series (which the Henson Company owns to this day), thereby clearing the path for a fitting finale. "The Peacekeeper Wars" is an extremely satisfying swan song for the show, which we won't delve into details on because we can't overstate how you should discover it on your own! (Hot tip: It's presented on Amazon Prime as the last two episodes of Season 4.)
---
---
While you're not binging your way to becoming a Farscape stan, be sure to check out our JOURNEY Loot Crate, featuring a fun Farscape item you'll love; and stay tuned for that cool SDCC news, coming soon!