YOU'RE INVITED
! To what you may ask? Only the biggest summer blow out of the year. We're pulling up our pool floaties, relaxing under the rays and preparing for a POOL party of
COSMIC
proportions.
Um, NO Wade. NOT YOU.
Join us as we celebrate some of Marvel's greatest characters with our Marvel Gear & Goods Crate, #COSMICPARTY! We're getting you prepared for the shindig of the summer, with galactic greats featuring Guardians of the Galaxy, Captain Marvel and Nova Corps! INCLUDING this Yondu Geeki Tiki!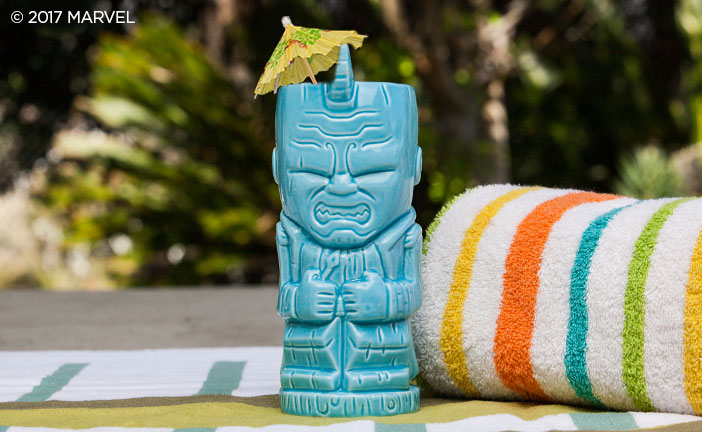 What's a party without snacks? (No party WE want to attend.) We're not cooking up just any old snacks, we're talking about SUPER snacks. We've put together a list of 5 easy-to-make Superhero-Inspired Snacks for your COSMIC PARTY. Now there's an infinity gem of an idea!  
Looking for more #COSMICPARTY ideas?
Check out our Superhero Summer Party Pinterest board!
I AM GROOT… (cookies!) Our first super snack celebrates the return of Guardians of the Galaxy. These cookies are so good, even Rocket can't keep his paws off of them. *no Groots were hurt in the making of these cookies*
INGREDIENTS:
3 cups all-purpose flour
1/2 teaspoon cinnamon
1/2 teaspoon baking powder
pinch of salt
1 cup (2 sticks) unsalted butter, softened
1 cup brown sugar
1 egg
chocolate frosting
black frosting
matcha (green tea) powder
INSTRUCTIONS:
In a medium bowl whisk together the flour, cinnamon, baking powder and salt. Set aside.
In the bowl of an electric mixer beat the butter and brown sugar until combined. Add the egg.
Slowly add in the flour mixture until it is incorporated. The dough will form quickly, and when it starts to pull away from the bowl, it's done!
Split the dough into two and wrap in plastic wrap. Chill until you are ready to use.
Preheat the oven to 350 degrees. Prep baking sheets with silpats.
Roll the dough to about 1/4 inch thick. Cut out random tree-ish shapes approx 4 inches tall and transfer onto the silpat lined baking sheet. Bake for 10 minutes then let cool on a wire rack.
Using a #2 tip and chocolate frosting, pipe lines to resemble tree bark.
With the black frosting and a #3 tip add the details of two eyes and a line for Groot's mouth.
For the final touch, use a pastry paintbrush dipped in Matcha (green tea) powder and add some hints of green to the top of Groot's head.
Once the frosting has set, the cookies are ready to serve
Steve Rogers himself would come back for seconds of this sweet treat! This Captain America Snack Mix screams "freedom", without all of the "Super Soldier Serum."
Ingredients
1 cup milk chocolate chips

4 cups Rice Chex cereal

1 1/4 cups powdered sugar

Peanut M&M's in red, white, and blue

Whoppers Candy
Instructions
Line a large baking sheet with wax paper or parchment. Put your 4 cups of cereal in a large mixing bowl. Set both aside.

Put the milk chocolate chips into a microwave-safe bowl. Microwave on high for 30 seconds. Stir. Repeat in 30 second intervals until the chocolate is fully melted.

Use a large spoon to drizzle the melted chocolate over the cereal. Gently mix as you drizzle, making sure to coat the cereal evenly.

Place the powdered sugar in a 1 gallon zip-top bag.

Carefully scoop the chocolate-coated cereal into the bag with the powdered sugar. Seal the bag and shake it to cover the cereal with the powdered sugar.

Let sit for 1-2 minutes, then spread it out onto the prepared baking sheet. let dry for 1 hour.

Put your cereal back in the large bowl and gently mix in the Whoppers and M&Ms.
You are worthy! Of… eating this next delicious dish! As an Asgardian delicacy (not really), these Mini Mjolnir hammers combine two of the world's best things, cheese and Thor.
*may cause you to shout for ANOTHER!*
Mini Mjolnir
From 3 Little Green Woods
Ingredients
One bag of mini pretzel sticks

Cheddar cheese cubes
Instructions
Cut cheese into trapezoid sized pieces

Stick pretzels into cheese cubes

You are now worthy!
Next up is your "Friendly Neighborhood Spider-Man!" Wait, make that strawberries. Either way, Peter Parker approves of this Spidey-inspired strawberry snack.
Ingredients
Strawberries

Dark and White chocolate
INSTRUCTIONS:
Insert sticks into strawberries

Paint eyes with a brush and melted white chocolate

Border the eyes with a line of melted dark chocolate

Make three vertical lines from the nose to the forehead and the nose to the chin

Touch up with brush
"Ain't no party like a Superhero Party, cause a Superhero Party pack PUNCH." Or at least, Hulk Punch. This is the easiest recipe of them all, just one ingredient. ANGER. Ok, and Kiwi Strawberry Punch.
Hulk Punch
From I Dig Pinterest
Ingredients
Green Kiwi Strawberry Punch

Pitcher
INSTRUCTIONS
Pour juice into pitcher and serve with ice

Told you it was easy!
---
---
Sign up to get you
r Yondu Geeki Tiki along with other Marvel exclusives in our
"COSMIC PARTY"
Marvel Gear & Goods crate
before 5/15 9PM PT!
Be sure to follow us on
Pinterest
for more geeky treats, nerdy crafts, geek and gamer fashion ideas and MORE!