This weekend, Netflix debuts GLOW, the new series starring Alison Brie and Marc Maron that is inspired by the real-life 80's women's wrestling league. For many of us 80's babies, the bad-ass girls of GLOW were appointment TV on weekends!
Like most wrestling leagues, there were outrageous characters and over-the-top, sometimes cheesy dialogue and storylines, which is of course what made it so fun. (Check out the trailer for the excellent GLOW documentary – also available to stream on Netflix! – above.)
In addition, GLOW did a terrific job of giving its ladies just as much agency and awesome action as your typical male wrestlers got; it definitely paved the way for today's WWE female superstars, and some of GLOW's ranks even made that transition! None of the characters in Netflix's new show are exactly based on specific real-life wrestlers, but the spirit is there – so for today's Friday Five, we're highlighting some of our faves from the IRL GLOW stable…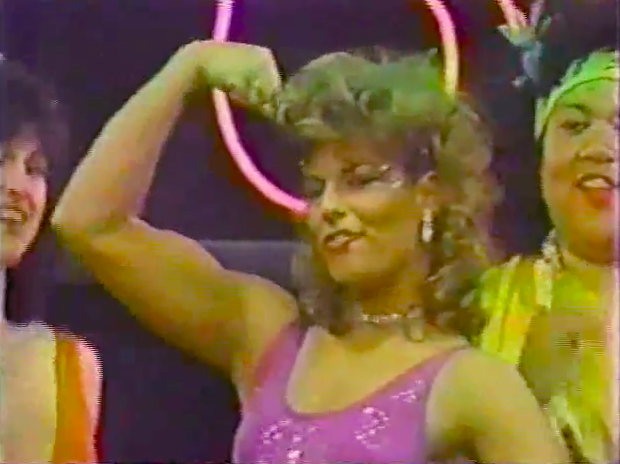 Tina Ferrari
I'm gonna put this out there right off the bat: As is often the case, the bad girls of GLOW were frequently more fun than the good girls.  Villains can often be more compelling, and in wrestling you tend to get your wildest and most entertaining characters in the baddie ranks – which isn't to say that some of GLOW's heroic ladies weren't awesome! And one of the best was Tina Ferrari (Real name: Lisa Moretti), who started out as a fairly basic Beverly Hills-glamour-girl character along with tag-team partner Ashley Cartier, and ended up becoming one of the most popular stars and a frequent GLOW champion. She totally exuded both poise and strength, always managing to be glamorous while at the same time looking like she could pin you to the mat without breaking a sweat. Moretti took her star power further, too, eventually joining the WWE in the early 2000's where she was known as Ivory (and crossed over to the villainous side as part of the Right to Censor stable.)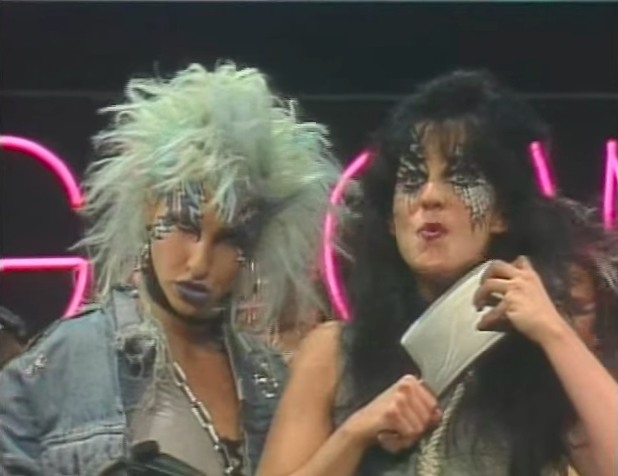 The Heavy Metal Sisters
And here's what we mean by entertaining villains: You were always in for a good time watching Chainsaw and Spike start a no-holds-barred brawl!  Played by real-life sisters Sharon & Donna Willinsky, the Heavy Metal Sisters were among the top tier of GLOW villains, a couple of hellions with top-notch prop mayhem at their fingertips: Chainsaw, as you might expect, wielded a Black & Decker while Spike would frequently set fire to the ring with a blow-torch. The Willinsky sisters actually debuted on GLOW as The Housewives, a comic-relief duo in bathrobes and face cream who mostly argued with each other and yelled at their opponents; when it didn't seem to be working, one of the girls casually tossed out the word "Chainsaw" as a character name and director Matt Cimber loved the suggestion, supposedly pulling out his wallet on the spot and handing them money: "Here, go to Sears now and buy the chainsaw!"  You've got to take the inspiration when it hits, right?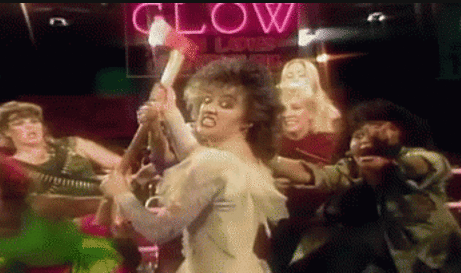 Dementia
There are fun characters, there are crazy characters and then there are downright insane characters – literally. One of the most outrageous of all during GLOW's run was Dementia (played by two different women, Michelle Duze (pictured) and Nancy Daley), depicted as a disturbed asylum patient in a torn-up dress, still playing with dolls and easily distracted as though she still believes she's a little girl. Well… an ax-wielding, terrifying, ragey little girl anyway. (TVTropes has her listed under the "Psychopathic Manchild" trope – hey, that's an equal opportunity trope, guys!)  For a decade where slasher movies peaked in popularity, Dementia was a perfect fit; they would frequently wheel her into the ring in a giant cage, with a hockey mask over her face before unleashing her into the match.  Not that she always went ham on the good girls right away. Easily distracted, remember? – audience interactions, like grabbing posters out of kids' hands and drawing on them, happened a lot which was the perfect opportunity for an opponent to catch her off-guard.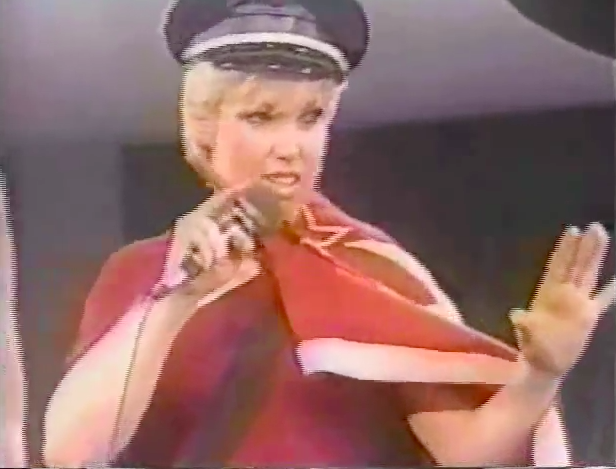 Colonel Ninotchka
Ah, Ninotchka – the Soviet Union's grandest dame! Like Dementia and perhaps even more so, Ninotchka (Real name: Lori Palmer) was a real product of the 80's, in the waning days of the Cold War. At the time, with her immaculately coiffed short platinum hair, plenty of folks noticed a resemblance to Brigitte Nielsen's wife of Soviet champ Ivan Drago in Rocky IV, too. The Colonel definitely ruled the roost during her matches, cigar clenched between her teeth and an air of superiority over whichever "capitalist swine" she was getting ready to pummel, and proved to be one of GLOW's most popular bad girls (Full discloser from your humble writer: She was totally my favorite!). Palmer's accent, while broad, was convincing enough that even those closest to her had a hard time separating her from her persona in the ring; in the GLOW documentary, she even relates a tale of a guy she dated during the show's run who eventually broke up with her when she realized she was quite different in real life. (Come on dude, spoiler: That's how characters work!)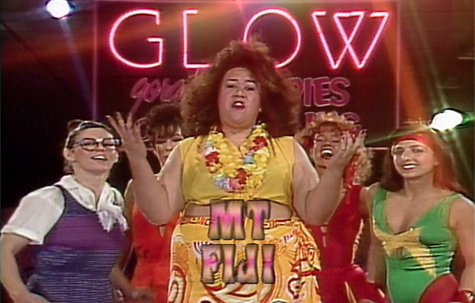 Mt. Fiji
We've saved the best for last, folks, because if there were ever any question of who the heart and soul of GLOW was, look no further than Emily Dole, a.k.a. Mt. Fiji. A Samoan-American former competitive shot-putter, Dole reigned as the good girls' heavyweight champion, her nemesis being the villainous Matilda the Hun (also a legend, and she just barely didn't make this list of five!). Her winning smile, can-do attitude and infectious positivity made Fiji a huge favorite with GLOW fans, and her athleticism was second to none. (It became a rare, heralded event if she was ever knocked off her feet in the ring.) In recent years, Dole has suffered from medical issues and was for a time in hospice care; by far the most touching portion of the GLOW documentary is catching up with Fiji and watching her, after so many years, be reunited with the other ladies of the league who looked up to her as a leader and an inspiration. To this day, she's still a hero.
Were these GLOW stars your faves, or did you have other champions you rooted for on Saturdays during the 80's? Let us know on social with the hashtag #LootGLOW!
And in the meantime, check out Netflix's series trailer; we can't wait to meet the characters of the fictional GLOW league!:
---
---
Hey fellow wrestling fans, the next WWE Slam Crate is one you don't want to miss; EXTREMES features legendary faves like The Undertaker, Rowdy Roddy Piper and more! Sign up by 8/15!