This week Star Wars: The Last Jedi hits DVD and BluRay at last, and for the last few weeks we've periodically gotten teases of what seems like a pretty spectacular package for home video geeks…
In addition to the feature-length documentary "The Director and the Jedi," – which we've already seen snippets of including some emotional Mark Hamill and Carrie Fisher moments – the set promises to include a killer gag reel (Remember Oscar Isaac saying Fisher full-on slapped him on every take? THERE'S PROOF.) and much more. All of this is wonderful news for those of us who long for the days of commentaries and boatloads of extras; in an age where low-priced no-frills home video releases seem to be more common and digital downloads have muscled their way into the market, disc extras (commentaries in particular) don't seem to have the appeal they used to have to most customers and that's a real bummer. They can frequently be as entertaining as the film itself.
Which brings us to today's Friday Five! We thought we'd celebrate some memories of some of the best DVD/BluRay extras on our favorite films, some of which might veer a tiny bit into gimmicky but hey, as long as 3D screenings are still happening regularly in theaters, sometimes you need to embrace a good gimmick.  This is just a sampling by the way, we'd strongly encourage checking out as many of your fave films' various releases as possible to see what's available; there's nothing as fun for a film geek as a great commentary track. Speaking of which…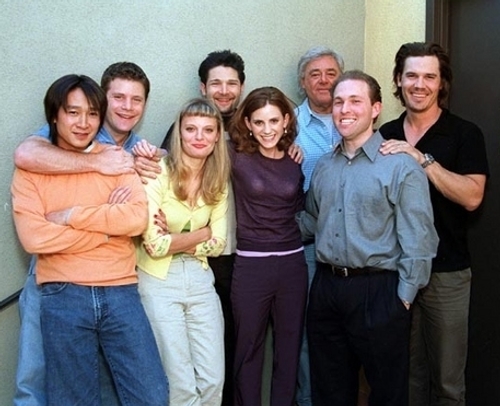 The Goonies Commentary Track w/ Studio Footage
So, admittedly this one's kind of frustrating because we hunted high and low and nowhere online could we find any video clips of this supremely fun commentary experience. For the film's initial 2001 DVD release, Warner Bros. included a commentary track featuring all seven of the now grown-up Goonies kids plus director Richard Donner – and the fun part here is that they were also filmed on camera while in studio recording the track. As the film plays, occasionally an inset image of the cast in the studio will appear in the corner of the screen, which sometimes switches places with the footage of the film, letting us actually watch the cast interact with each other as they reminisce about the making of one of the greatest kids' flicks of all time.  (Some of the best tales: Jonathan Ke Quan recalling the fact that Data spells out his only swear in the film because his real-life mom would have been upset to hear him cursing; and an especially vivid story from Martha Plimpton about that time during their study lesson on-set that she had enough of Corey Feldman teasing her, she hauled off and punched him in the face. "And he just kept laughing maniacally, the entire time." They don't call him Mouth for nothing…)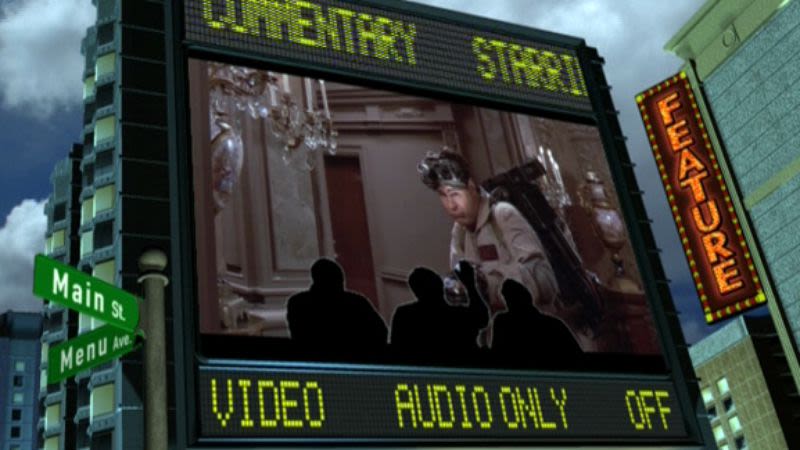 Ghostbusters with "Visual Silhouette" Commentary
So, this is the first of the ones we were talking about when we said "gimmicky"… but hear this out! There's no debating that Ghostbusters is a blockbuster franchise, the sort of which doesn't usually lend itself to association with anything cheesy or schlocky (even though cheesy and schlocky films of the past obviously contributed to its DNA). Therefore, it seemed kind of out of left field – albeit in a way that totally tickled comedy nerds – that the 2005 special edition DVD release included a "visual commentary with silouhettes," i.e. a straight-up homage to Mystery Science Theater 3000. No, it doesn't add a ton of depth to the audio commentary that isn't already there, but if you're a fan of all things scifi-comedy it's a pretty nifty bridge. And in retrospect, it's a lovely memory to treasure of the late, great Harold Ramis, who is one of the three featured on the commentary along with director Ivan Reitman and producer Joe Medjuck. (The anecdotes and reveals are wonderful, particularly the revelation that Ghostbusters was in early development while John Belushi was still alive hence he was the first actor envisioned for the Venkman role.) Sorry, no video from this either!
This Is Spinal Tap Special Edition Commentary
Oh, the saga of the Spinal Tap commentaries. Many moons ago, the estimable Criterion Collection released a This Is Spinal Tap edition featuring actor/writers Michael McKean, Christopher Guest and Harry Shearer discussing the making of the film; this Criterion disc went out of print relatively quickly and is a pretty pricey find these days. In the meantime, MGM/UA released a Special Edition DVD (and now BluRay) collection in 2000 that features a different commentary with the actors in character as band members David St. Hubbins, Nigel Tufnel and Derek Smalls. Believe me when I say I'm not exaggerating that this is the funniest commentary you will ever listen to. As was the norm on the Tap set (and has been in all of Guest's mock documentary films since), much of the dialogue was improvised; you get that sense as the three riff, banter and complain their way through the commentary, too. Yet none of it feels half-baked; in fact, it's as rip-roaringly hilarious an experience as watching This Is Spinal Tap for the first time. None of the feature commentary is online, but listen to the DVD menu banter in the above clip for a sample of exactly how great this is! (The best bit from the commentary itself, incidentally… Nigel: "Did Viv [the band's spacey keyboardist] ever know that his mic wasn't plugged in?"; David: "I think the answer to any question that starts with 'Did Viv ever know,' is 'NO'.")
Dangerous Days: Making Blade Runner Documentary
So far most of these have been commentaries (a personal favorite feature of mine, admittedly), but there are plenty of home video releases that feature tremendous documentaries as well. And probably no one has made their mark in this sub-set of supplemental features quite like Charles de Lauzirika; the L.A. based filmmaker has crafted some of the most entertaining and informative docs about your favorite movies and TV that you can imagine. Some of his best include a documentary for each film of the initial Alien Anthology release, as well as a three-parter on the Twin Peaks Gold Box edition. Without a doubt, though, his crown jewel is Dangerous Days, a three-hour-plus (!!!) documentary on the making of Blade Runner that accompanied that film's "Final Cut" DVD and BluRay release in 2007. Through archival footage, storyboards, set photos, and new interviews with literally everyone involved in the film who wasn't dead at the time – from Ridley Scott and Harrison Ford on down the list – de Lauzirika's doc is both an exhaustive tribute to a masterpiece of filmmaking, and a fascinating deep-dive into how agonizing it is to create something original within a major Hollywood studio framework. (Fun fact!: In all of the initial storyboards for Blade Runner, Deckard was styled wearing a fedora. Once the filmmakers cast Ford and got wind of Indiana Jones's look it was basically a case of "Wellll, crap"…)
Galaxy Quest Thermian Audio Track
Look, if you're gonna gimmick? Gimmick hard. Gimmick strong. Gimmick until you just can't gimmick anymore!  That's the ethos embraced by the initial DVD release of Galaxy Quest in 2000 featured quite possibly the most pointless, and at the same time thoroughly freaking awesome, extra in the history of home video: The Thermian audio track. Just to remind you, we've included a clip above featuring how the Thermian race speaks in their own language (and coincidentally featuring their native cephalopod-like appearance, too!).  By watching the film with this audio track, those unintelligible shrieks is how the entire film sounds… for the full 102 minute run time.  I'll be brutally honest, I was able to get through about two minutes of it before I had to turn it off, but the sheer fact that Dreamworks had the chutzpah to include something so nonsensically delightful in their disc release makes it one of the all-time great comedy extras. You kind of wish this thing would happen more often, to be honest. (Come on, Star Trek, the Discovery release better have those Klingon audio tracks that Netflix in Europe got!)
---
---
It was damned hard to narrow down this list, so tell us… what are YOUR favorite home video extras that we didn't have space for in the Friday Five? Tell us on social with the hashtag #LootExtras!