Happy National Donut Day!  It is that celebration of joy, that ode to sugar and carbs that comes once a year and means you have the perfect excuse to get that extra large apple fritter, so GO FOR IT.
And on this delightful (and delicious) invented holiday, we wanted to dedicate our Friday Five to our favorite characters who have demonstrated a hankering for donuts over the years. We'd be honored to split a dozen glazed with any of these folks…
Homer Simpson
Was there really any doubt we'd kick this off with Homey? The Simpsons patriarch's love of donutty goodness – and Duff beer, and Beer Nuts, and all sorts of junk food but especially donuts – is among his most well-known traits. It's hard to think of a more towering testament than the fact that a pink frosted donut with rainbow sprinkles is pretty much established in pop culture now as "The Simpsons Donut." And the most ironic punishment Hell can offer is no match for Homer's mania…
Liz Lemon
Well before Krispy Kreme went national and put the "HOT NOW" donut into the pop culture craving index, some of us were taking advantage of that secret technique of nuking a glazed donut – It's an art! It doesn't take long, maybe 10 seconds – to achieve sugary nirvana. If we didn't already have a crush on Tina Fey's 30 Rock protagonist, she sealed it  when she stood up to Jack Donaghy's frou-frou dessert ramblings with this simple fact. (Also, don't forget the time she asked Salma Hayek for leftover donut scraps.)
Ron Swanson
So, if there's one food mania that Nick Offerman's manliest of manly is most associated with, it's definitely bacon. Bacon in all forms, all the time. BAAAAAAACON. We'll be the first to admit that…. but it's undeniable that the man loves a bit of indulgence from time to time, and that includes donuts. Truthfully, this one brief moment from Parks and Rec has generated endless Tumblr posts (that sassy little hip shake!), so please enjoy. GO NUTS. Then go buy yourself a Walkman. (NOTE: The Walkman gag w/ Pratt in that scene is NOT lost on us now…)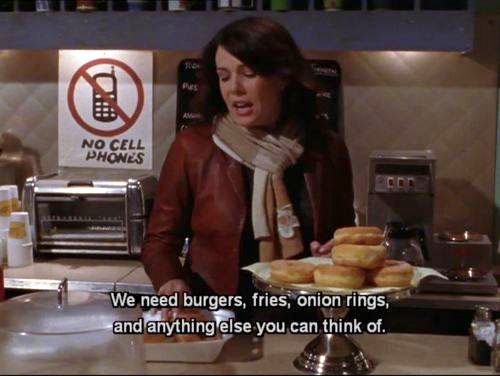 Lorelei & Rory Gilmore
Tragically, we couldn't find the perfect clip on YouTube to illustrate this, but we did find this screenshot. And really, it's one of the best screenshots you could hope to have to illustrate the intense junk food habits of the heroines of Gilmore Girls. Lorelei is waxing cravings about fast food while she is piling glazed donuts into a takeaway container. That is SO extra. Donuts ranked high on the Gilmore ladeeez's food references throughout the show, and subsequently also high on the "most likely to give this fine folks diabetic comas" list.
Agent Cooper & the entire Twin Peaks Sheriff's Department
Yes, it's true. This blog has given a LOT of column space to Twin Peaks in recent weeks, but honestly… a) everyone's still buzzing about it, and b) could we possibly ignore THIS MUCH donut love?! Sure, the cherry pie references have gotten the most press since the show's return but our beloved Coop and his pals in Twin Peaks law enforcement adored them some donuts, as this terrific supercut illustrates. No other show has ever photographed rows of donuts so lovingly, either. (Even if, tragically, they occasionally were ruined by a blood spatter from a myna bird someone shot to keep the bird from spilling clues about a murder. Ohhhh, Twin Peaks…)
BONUS: If you need the "Donut Disturb" sign that made an appearance in a recent episode of Twin Peaks: The Return (Psst: You really, really need it), the fine folks at Welcome To Twin Peaks have you covered. Downloadable PDF!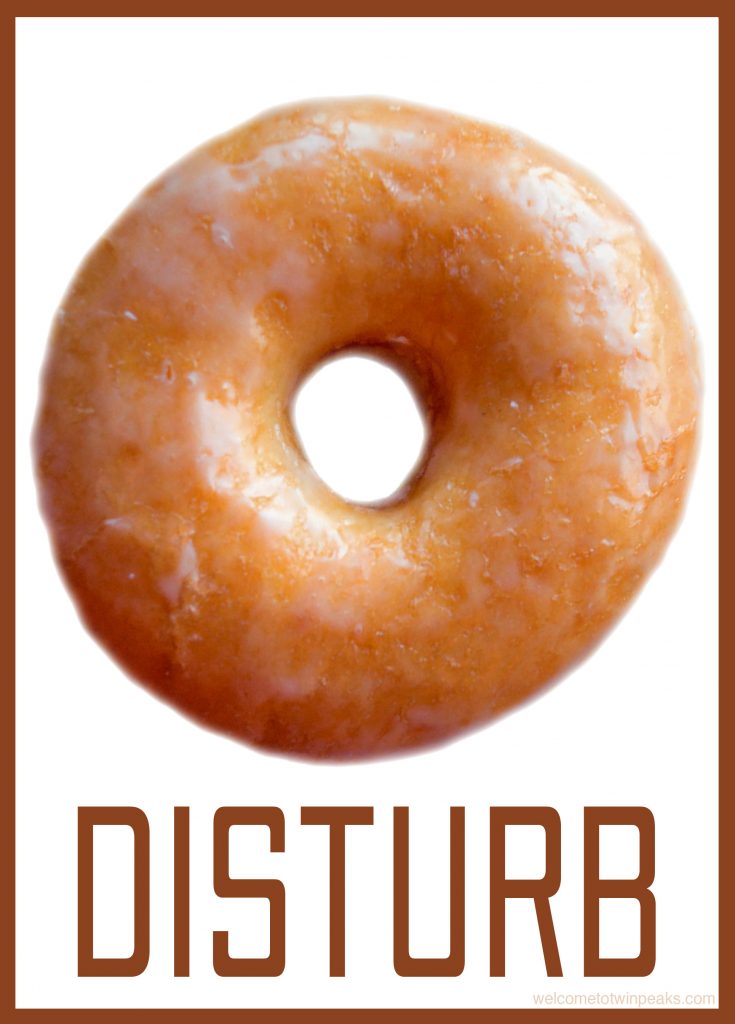 ---
---
Go ahead and enjoy that chocolate old fashioned, but don't forget to sign up for this month's Loot Crate and other subs!  We have some amazing exclusives in June!