Yep, it's been a week since Force Friday, the biggest shopping day of the Star Wars fan's year. We definitely could have done this round-up then, but with this much temptation, who doesn't go a week without buying that ONE… MORE… THING…?
So here we are, a week later, and you can bet we broke down and picked up a few more shiny bits of awesomeness from that galaxy far far away in the ensuing days.  Today's Friday Five is a round-up of the Force Friday new releases from The Last Jedi and more that our Daily Crate and Loot Crate staff raved about – and yep, broke out those wallets and bought – and who knows how may more we'll end up with. It's not even Christmas yet!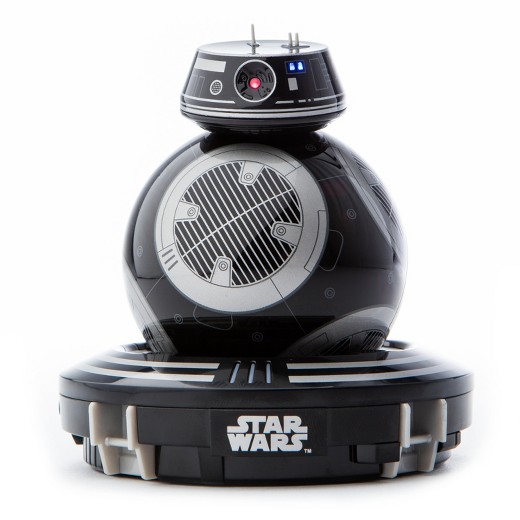 Sphero's BB-9E ($149)
The delightful BB-8 app-controlled droid that Sphero unleashed for The Force Awakens was a big big favorite at Loot Crate HQ, so we were thrilled to see them back this Force Friday with more… and hey, that R2-D2 is pretty darn nifty as well! But we're just completely taken with BB-8's First Order nemesis: That flat-top! That adorable yet creepy HAL-9000-esque glowing eye! Also, BB-9E sounds annoyed all the time.  Our fingers couldn't hit BUY NOW fast enough.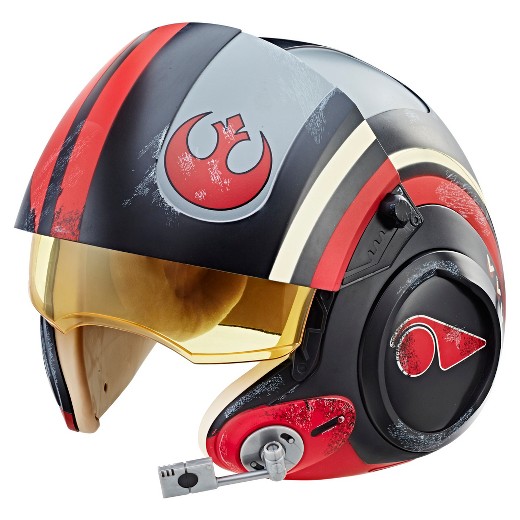 Hasbro Black Series Poe Dameron X-Wing Helmet ($79)
Last Force Friday, Hasbro's Black Series released an awesome affordable replica of the new late-model Stormtrooper helmets, so this time around they swing back to the Light side with this excellent helmet for your everyday cosplay as the best damn fighter pilot in the Resistance. (Confession: I'm literally wearing it as I type this – Ed.)  Put batteries in it, and from inside the helmet you hear the ambient noise of the cockpit and can communicate to BB-8, who will chirp back to you as if you're in flight! Raaaaad.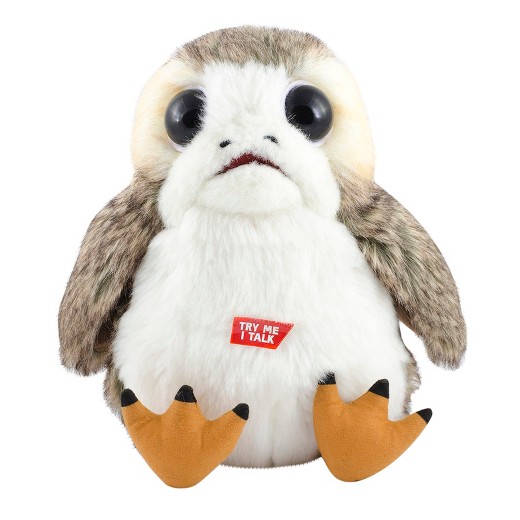 Porg Plush Toy ($19.99)
Yes, we know…. it's Porg mania. The whole damn geekosphere has gone PORG CRAZY!  There's been plenty of complaints about it from some circles, too, but you'll get none of it from us; we're totally smitten with the doe-eyed, fluffy little pengin-puffin creatures that have leapt to the top of the Last Jedi anticipation heap.  There are a few different versions of plush Porgs that hit on Force Friday; the one depicted above is extra cuddly and plush, and is a Target exclusive.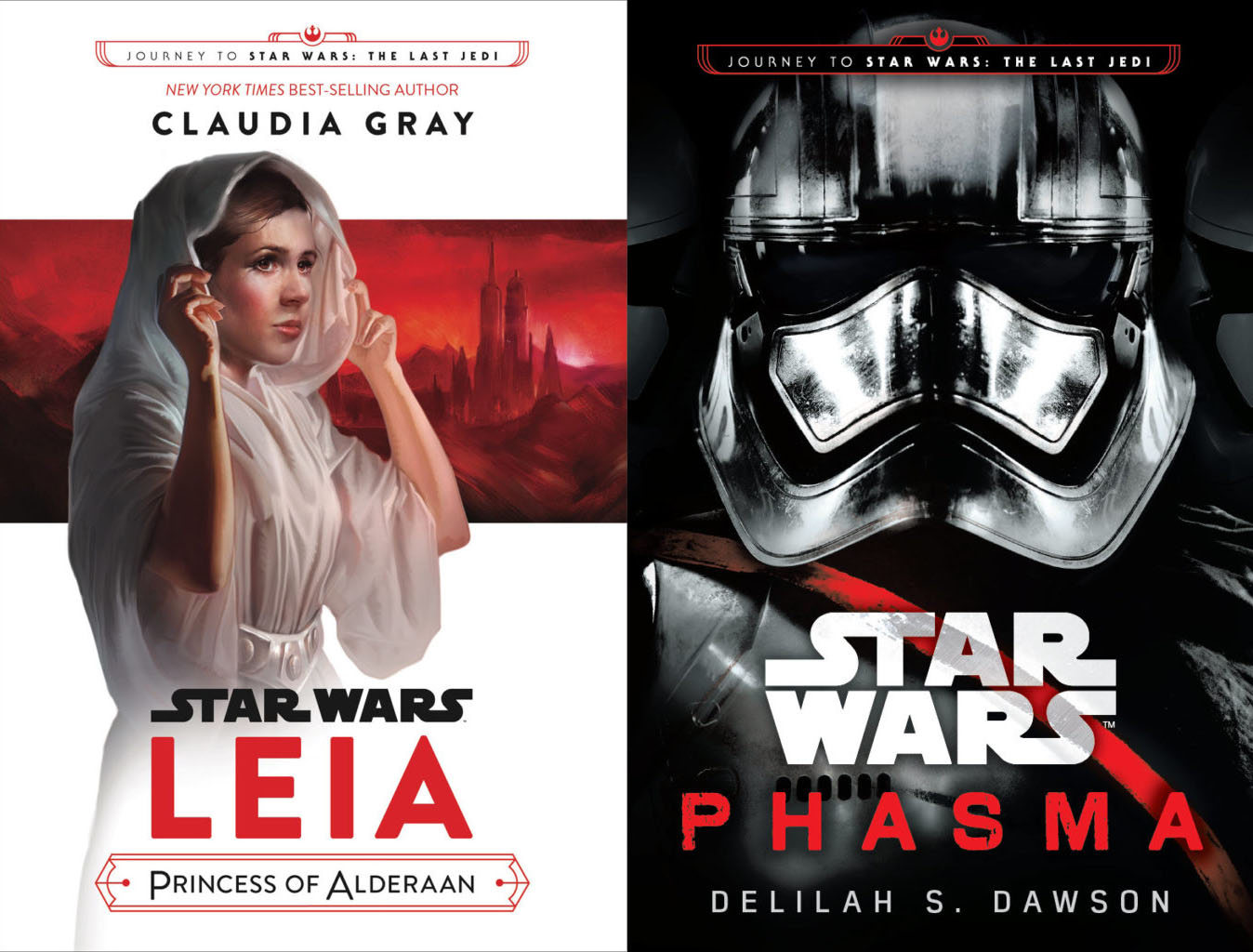 Books, Books, and more Books! (Avg. $12.99-$14.99)
It's not all about the gadgets and collectibles on Force Friday; for those hungry for new Star Wars content in advance of December's big new movie release, some truly excellent books hit the shelves that we stocked up on and can't wait to read.  At the top of the pile: Leia: Princess of Alderaan, a prequel story detailing the future Rebel leader's introduction to the movement through her parents when she was a teen; and Phasma, the much-anticipated back story of the First Order's supreme enforcer. (We're about 30 pages into Phasma so far and her Fury Road-like origin setting is already a blast. Bring it on!!)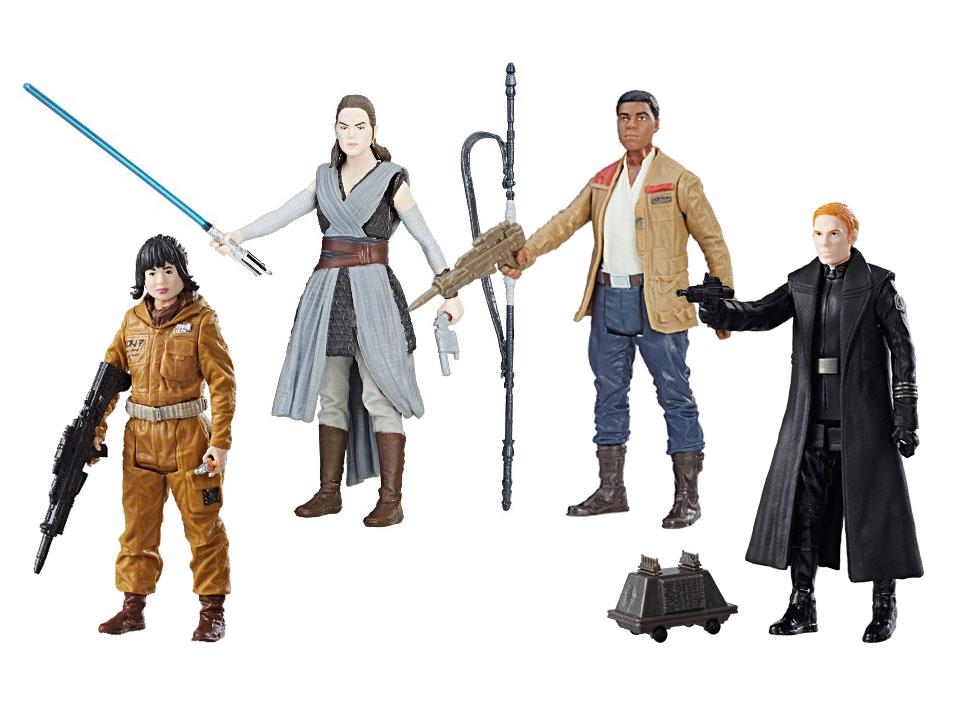 Alllll the Action Figures (that we can get now, that is…) (Prices vary)
You didn't think we'd get through this without a love letter to many pieces of artfully-sculpted plastic, did you?  Ahhh the joy of filling up one's cart (either physical or virtual) with new toys, toys, TOYS!  And so many fun figures with the Last Jedi release: Rey and Finn in their new threads! Resistance mechanic and probably-our-new-favorite-character Rose Tico! Even that punk-ass General Hux got us hyped! (The fact that he comes with the little Mouse Droid is too great, to be fair; if there's a big plot thread around one of those little guys, all we have to say is it's about time.)
Heck, we're even on tenterhooks about toys we can't buy yet; seen these upcoming Rey and Luke Skywalker Cosbabies on the way soon from Hot Toys? The cuteness is crippling!: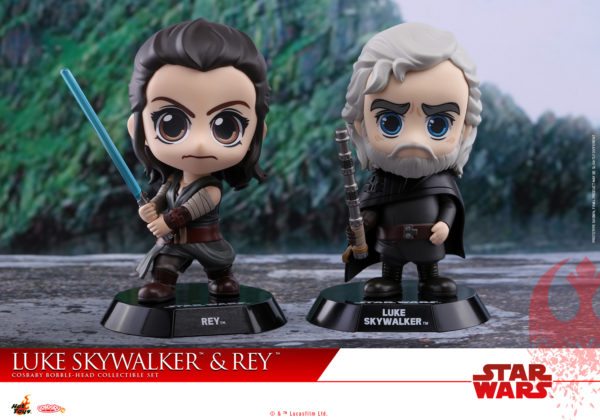 Where did you end up dropping the most coin on Force Friday?  Tell us on social with the hashtag #ForceFridayLoot!
---
---