Namco's Dig Dug was a surprise addition when it tunneled its way into American arcades back in 1982. Gameplay consisted of you controlling Dig Dug as he cleared each garden filled with Pookas and Fygars. You do this by blowing them up with your air pump weapon or by dropping rocks on them. Levels are cleared by killing all of your enemies, or by the last enemy escaping off-screen when he realizes you just brutally murdered all of his pals.
With over 22,000 cabinets sold and $46.3 million dollars in revenue by 1983, Dig Dug has remained one of the most beloved classic arcade games of all time. To celebrate Dig Dug's inclusion in the August Loot Gaming crate, let's look at some fun facts about everyone's favorite arcade tunnel rat.
What's Your Name, Son?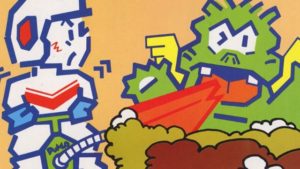 Dig Dug's real name is Taizo Hori, which means "I want to dig" in Japanese. He was once married to Masuyo "Kissy" Tobi and have three children – Tayo Tobi, Ataru Hori and Susumu Hori from the game Mr. Driller. Why they got divorced is one of classic gaming's greatest mysteries, though rumors did circulate back in the day that she was seeing Q*bert on the side.
There Was a Sequel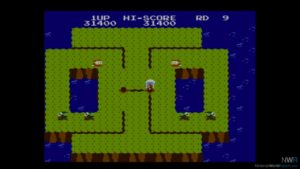 In 1985 Namco released Dig Dug II, sporting a much different playing vibe than the original. Players can make sections of an island split off, killing anyone left in that section (including Dig Dug himself if you're not careful). It wasn't as popular as the original and is one of the rarest arcade machines to acquire since no cabinets were ever shipped to America from Japan. In fact, you can't even find an image of one existing online. Some arcade enthusiasts believe that no dedicated cabinet was ever made and that the game was a simple circuit board swap into other arcade cabinets. Guess we'll never know.
High Score Goof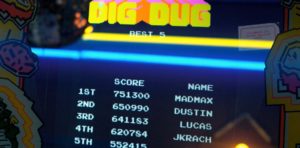 Stranger Things is one of (if not the) most popular shows on Netflix. Taking place in the 80s, a group of kids deal with demons and other wacky nonsense from the Upside Down, while also fending off high score competitors at the local arcade. In Season 2, Episode 1, Dustin's Dig Dug score is taken down by the mysterious 'MADMAX,' who racks up quite an impressive 751,300 points. But here's the problem… the original Dig Dug only allowed you to enter three characters for your high score initials. What's shown to viewers is the high score screen for Dig Dug II, which allowed you to enter up to six characters. 99.9% of fans won't notice this arcade error, but old schoolers like myself will point at the screen and scream "THAT'S NOT RIGHT" to anyone that cares. (By the way, no one cares.)
SPEAKING OF HIGH SCORES…

On April 8, 2017 Donald Hayes would get the world record on Dig Dug, with an impossible to reach score of 5,429,010. Wanna know what's even more impressive than that? He's also the world record holder on Centipede, Joust, Millipede and holds records on over 30 other games. C'mon man. Save some glory for the rest of us.
Disney Guest Appearance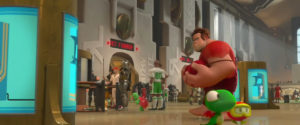 Dig Dug is so well known he even made an appearance in Disney Animation's 2012 hit Wreck-It-Ralph. While it was just a passing few seconds on screen, it shows that Dig Dug can still tunnel his way into any medium he sees fit.
Blow up your video game collection and get awesome items from Dig Dug, Soul Caliber, Quake Champions and more in the August Loot Gaming crate. Subscribe today!