Let me start with this – I love my mom. She's just not much of a gamer. SO I thought it would be fun if she made a tier list for the Legends.
To help her decision-making, I showed her a gif of each of them, then gave her an overview of their personality and abilities. I'll be honest, it ended up being mostly appearance-based.
---
Wraith
Mom: She's very stressed! I want to give her a hug. Is she alright?
Me: So, Wraith is pretty cool. She ca-
Mom: Wraith is her name?? Oh, her momma not like her. Why would she name her that?
Me: I don't know, but she can jump between dimensions which lets her go invisible for a while. She does hear voices though, so that's a downside. Another bummer – she doesn't remember her childhood at all.
Mom: She needs a hug.
Official Mom Rating: B
---
Gibraltar
Me: Gibraltar is sweet, but we have another bummer childhood. His father lost an arm saving him and his boyfriend from mudslide after they stole his bike to go joyriding. Now, he's dedicated his life to protecting people. He's a happy, fun guy!
Mom: I don't see happy in the picture, but I hear you saying that.
Me: He's laughing in the gif, mom!
Mom: I don't know. It's over-the-top. I like his story. I like that he learned. Guilty sometimes makes people drink too much when they grow up, so it's nice to see.
Official Mom Rating: A
---
Mirage
Me: Mirage is a charming, brains over brawn kinda guy. He can make decoys of himself.
Mom: Loki! He's Loki.
Me: He's the youngest of four boys who are all dead. A lot of these guys have sad childhoods, by the way.
Mom: I don't want to give him a C because I don't know him very well, but shame on you. We all have stuff. Do something.
Me: He's not Loki, mom. He's a good guy.
---
Loba
Me: Let's get the sad part out of the way. When she was 9, she watched a hitman wipe out her family.
Mom: Low-ba or La-ba? I like the look of her. She makes me happy. She looks like she's getting into stuff. She's got to be interesting.
Me: She's a professional thief. Also, she can teleport which is pretty cool!
Mom: Oh I don't like the thief part, but something is holding her together and it's not just that tight outfit. She's got potential.
Official Mom Rating: A
---
Revenant
Me: HE'S THE ONE THAT KILLED LOBA'S FAMILY! *pause for gasp*
Mom: OH HE DID! He looks like a skeleton.
Me: He used to be a human hit-man, but he was really good at his job. So when he finally died, his bosses just brought him back to life. They did that a bunch of times, and now he's mostly robot.
Mom: Oh that's bad for him. I feel bad for him. He's got a chance now to turn his life around – well, his death around. He needs to go bury himself somewhere. I'm giving him a C for now. I get him.
Official Mom Rating: C
---
Bloodhound
Me: Nobody knows who this guy is. We know he's a hunter. He's super good at tracking people down.
Mom: What does the bird do? He's got so much gear on him. If I could feel him more, I could rate him more. I need to know what his bird does. The bird's more interesting than he is. What's the bird's story?
Official Mom Rating: B
---
Wattson
Mom: She's the cutest little dickens. She looks like someone I birthed. So cute. That could come out of me. (Important note: My sister and I both have blonde hair and blue eyes.)
Me: Wattson doesn't really have a tragic childhood! She is an engineer and is good at defending stuff.
Mom: Okay, oh she's a good guy. She's not as interesting. She's what she should be. If she does something, I'll give her a higher score later.
Official Mom Rating: B
---
Caustic
Me: Caustic is a super-smart scientist that used to develop pesticide gases. BUT he started testing on living things and his bosses were not stoked on that. He burned down the lab and dipped. Now, he poisons people in the Apex Games.
Mom: OOOH. Oh, oh he's bad guy. A good, bad guy. He's got it inside him. I like that.
Official Mom Rating: A
---
Lifeline
Me: This is a wholesome one. Lifeline is the daughter of war profiteers, but she wasn't into that, so she left. Now, she works with a humanitarian organization and is trying to win to fund them better. She just wants to help people.
Mom: I like her! I like her story, I like her movement. This is what I'm talking about. I wish I could see Bloodhound move like this!
Me: He's got a different personality.
Mom: Well, I like her the best so far.
Official Mom Rating: S
---
Octane
Mom: *watches gif* OH, Octane… what… dude. (She was very disappointed.)
Me: So Octane is a rich, heir, adrenaline-junky. He just does stunts and then your favorite girl, Lifeline, fixes his broken body. He's already got robo-legs.
Mom: Oh, yeah. He could go really low. I'm not thrilled with him. I don't have that loving feeling.
Official Mom Rating: D
---
Bangalore
Me: This lady, her parents, and her 4 older brothers are all professional soldiers. She's fast and good at pew-pewing.
Mom: I like her. I just feel like I don't know her yet.
Official Mom Rating: B 
---
Pathfinder
Mom: This is not even a person!
Me: Yeah! Pathfinder is a robot guy. He's a happy boy who just wants to know when, where, and why he was created. He's always ready to make new friends. Think battle Wall-E.
Mom: I don't like him. He seems arrogant.
Me: No, he's nice, mom!
Official Mom Rating: C
---
Crypto
Me: We had to end on another sad childhood. Crypto and his sister were orphaned young and left to the streets. They were able to learn about computer engineering SOMEHOW? And started designing drones. So he's got some cool drone powers.
Mom: I don't know. He's only a little better than the robot guy. I just don't know him very well.
Official Mom Rating: B
---
Me: You didn't rate anyone F.
Mom: I don't know them well enough to rate them that low.
Me: That's very sweet.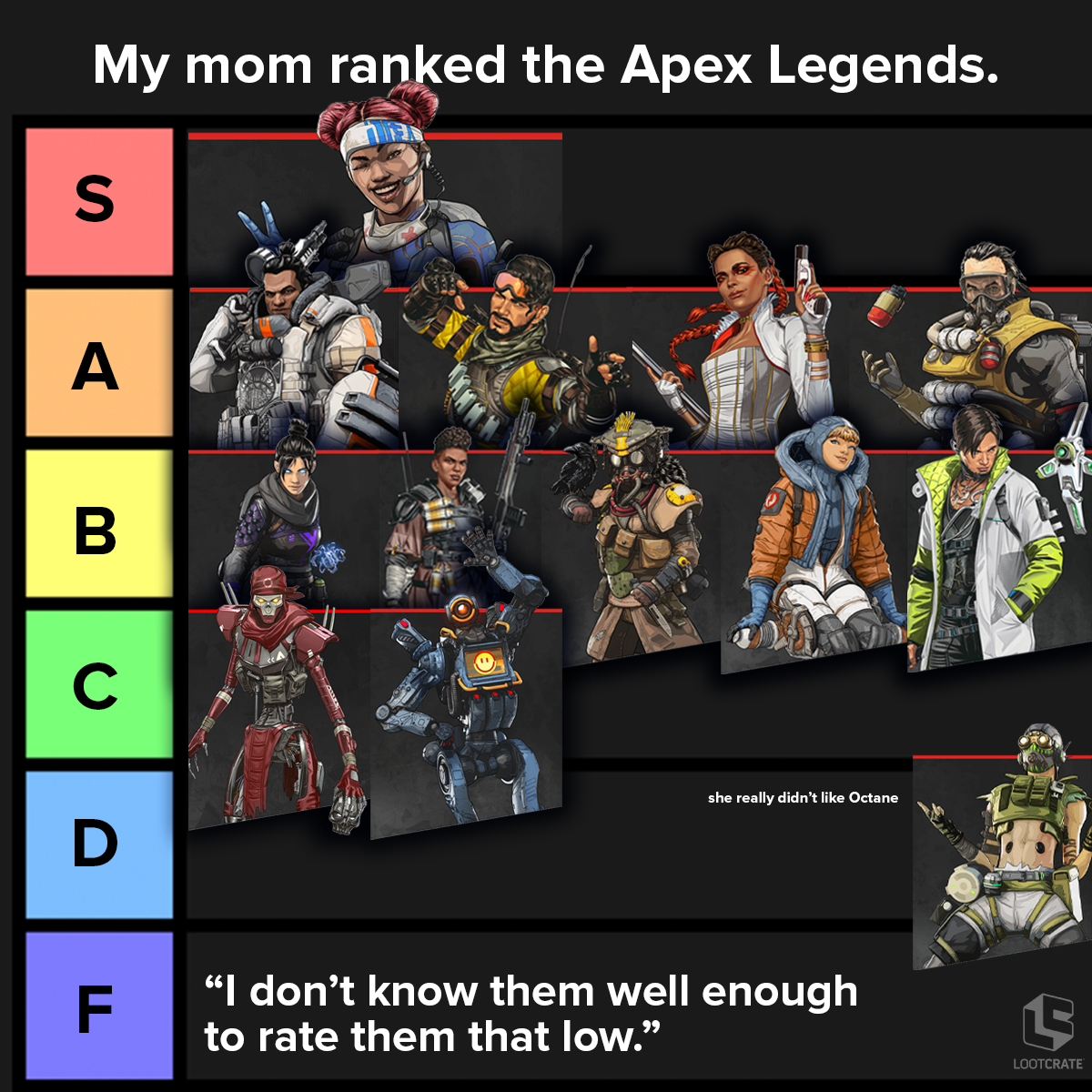 I hope you enjoyed my mom's opinions on the Legends.
Do you like Apex Legends? Well, I have great news for you. June's gaming crate has a SICK Apex item. Check it out!