The Assassin's Creed series has been one of my favorite gaming franchises, and has been from the moment I took up my wrist blades as Altair back in 2007.  While the series hasn't always hit the mark completely for me, I have always found it easy to lose myself in the vast worlds, deep story lines, and interesting characters that the Assassin's Creed games are known for.
Each game in the series tends to add something new for each game that make the experience fresh every time you play, but Ubisoft outdid themselves with the impressive, and beautiful, Assassins' Creed Origins.I have to admit, I was a bit bummed and skeptical when Ubisoft announced that it would be taking an additional year to complete their newest title in the AC franchise.  But it wasn't until I got my hands on Origins that I realized just how happy I was that they took this extra time off.  The game is stunning to look at, is incredibly fun to play, and this newest addition to the storied franchise added so many new and exciting elements to this game that I found myself thinking about my adventures as Bayek long after I had put the controller down.
I've had a few conversations with close friends of mine that haven't been sold on Assassin's Creed in recent years, but I implored them to give Origins a shot, because I truly think this entry is possibly my favorite yet.  Why, may be thinking?  I'm so glad you asked!  Here's a spoiler-free breakdown of my three favorite elements of Assassin's Creed Origins, and why it's possibly my favorite AC game to date.
Assassin's Creed Origins is my favorite setting yet – Don't get me wrong, some of the locations in past Assassin's Creed games have been awesome, and breathtaking, to explore.  Who doesn't love jumping from roof to roof in Victorian England?  Or during the French Revolution?  Or from ship to ship in the middle of the Caribbean?  Trust me, pretty much every setting in the franchise has been exciting, and I truly believe that Ubisoft does a pretty damn good job with the historical accuracy of pretty much every place you can explore.  That being said, I can honestly admit that I was more exciting for an Egyptian setting than I have been for any of the previous locations.  Why?  I'm a sucker for Egypt, pure and simple.  One of my dream vacations is to take a steamboat down the Nile (an article for another time, perhaps!), so while I may be a bit biased, I couldn't have been more stoked to explore Egypt.  And once I dove into Origins, the setting did not disappoint.  It's as gorgeous as it is expansive, and while many have said "it's just a bunch of desert", to them I say "Nay!".  The desert is filled with tombs and caves to explore, villages to free from the clutches of tyranny, and animals to hunt.  And that leads me to one of my favorite parts of this Assassin's Creed location – how alive it felt.  I had moments hunting a target in the wilderness where I realized I was no longer the hunter anymore – the lion following me was.  I found myself waiting around for a guard patrol, only to realize that the AI guards had break times where they were allowed to go use the restroom… I can honestly say I've never been in a situation, perched on top of a building waiting to strike, and I had to wait for a bad guy to use the bathroom… This is truly next level stuff!
Assassin's Creed Origins has the most satisfying combat to date – When it comes to games like these, I'm pretty hard to impress in regards to how the combat feels.  I don't want games to feel overly complex, and yet I don't want to be able to simply button mash one ability on my way to easy victory after easy victory.  And while Origins does have moments where slamming the fast attack button is the best way to dispatch your foes (specifically easy, lower level ones), I found myself jumping into the fray on more than one occasion only to meet my an untimely end at the hands of some really clever and difficult enemies.  This is because Origins has a pretty impressive amount of complexity when it comes to the baddies you face throughout the game.  Archers with impeccable aim, heavy-hitters with huge maces that will take you down if you make even the slightest mistake, and lightning-fast foes that can cut you down in seconds are just a taste of what to expect from the battles you'll be facing throughout the game.  How do you approach these new and complex enemies each time?  Well, you have at your disposal the most impressive weapon arsenal in an AC game yet, and the weapons you have access to in this game vary in a wide variety of ways – some weapons are crazy fast, some let you use a shield, some deal bleeding damage, some are massive maces that can crush enemies with ease, and that doesn't include the wide range of bows and arrows that you'll be using!  I found myself playing around with different combinations of weapons (as you can have two equipped at a time with a skill you can learn early on, more on that later!), to make sure that I was always prepared no matter what foes were sent my way – which is a level of preparation and complexity I never really experienced in any of the previous AC titles.
Assassin's Creed Origins is truly the RPG I've always wanted AC to be – We've just spoken briefly about the weapon situation in Assassin's Creed Origins, but that's just the tip of the iceberg as far as the role playing elements go in this impressive game.  I fell in love immediately with how the combat felt, sure, but I only became more enamored with it as I realized just how deep the customization is regarding how to build your Bayek – not only cosmetically with some really cool Assassin garb, but through a traditional RPG tiered weapon system (common, uncommon, rare, epic, legendary), and a pretty extensive skill tree.  Do you want to focus more on close combat with heavy-hitting weapons?  Then you can choose certain skills, and hunt down specific legendary weapons, that lend themselves to that kind of playstyle.  Are you the stealthy type, taking down foes from afar? Well, there's skills and weapons for that, too!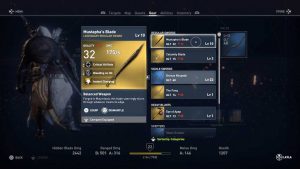 The skills you have to choose from range from buffing your damaging abilities and ways you can use your bow and arrow, to things like allowing yourself to skip entire day/night cycles, or letting your trusty eagle Senu have more ways to help you on the battlefield.  Plus, all those enemies you're defeating, loot you're getting, and animals you're hunting can be sold to vendors for more currency to buy and upgrade weapons, or you can break those items down to do your own armor crafting yourself.  All in all, Origins boasts more complex and interesting RPG elements than some traditional RPGs do, and it's a part of one of the most impressive and massive worlds I've ever had the pleasure of exploring.  Plus, this title doubles down on the more mystical and fantasy elements, and you will come upon encounters with actual Gods!  Don't want to spoil too much, but trust me when I say those boss fights are some of the coolest I've seen in any game, not just in an Assassin's Creed game.
---
---
Have you played Assassin's Creed Origins yet, and do you dig it as much as I do?  If so, let us know on our social media channels if there was an aspect of the game you loved that I may have missed.  And if you're hankering from some kick ass Assassin's Creed Origins loot, then December's STEALTH Loot Gaming Crate is going to be right up your alley!