Loot Gaming is dishing up some of the coolest (and sharpest) weapons in video games this month, with November's BLADE theme, including an awesome item from The Elder Scrolls.
Now, there are of course way too many weapons to try and put on a list here, but I figured if I narrowed it down to blades, aka swords, daggers, etc, from TES, I might be able to pick and choose! It's gonna be tough to narrow it down, but I'm going to take a stab at it –  See what I did there?! Anyway, without further ado, here are my favorite blades in The Elder Scrolls!
Trueflame, from TES III: Morrowind – Trueflame was easily my favorite weapon from Morrowind (along with its "twin" Hopesfire) and was not only an incredibly powerful weapon, but was part of a pretty neat storyline called "The Blade of Nerevar". You basically had to put this legendary sword back together again, starting with a blade fragment and ending with the collection of three weapon pieces from different areas in Morrowind – but that's not all! You have to take it to an ancient altar and reignite this perpetually enflamed blade. Protip: once you have the blade complete it seconds as a torch too, as the blade is always on fire!
Nightengale Sword, from TES V: Skyrim – Not nearly as epic or magnifient as crafting an ancient blade, but just as cool (and powerful, too!) is the Nightengale Sword from Skyrim. The sword is given to the Dragonborn during the Thieves Guild questline, and more specifically during the Nightengales portion – it's part of the whole Nightengale set, which you receive once you become a member of the Nightengales, a secret part of the Thieves Guild. The sword itself absorbs health and stamina of foes on hit, but the coolest part is the whole set looks SUPER rad – and looking cool is what matters, right? Right!
Umbra, from TES IV: Oblivion – Umbra is one of the most powerful weapons in the 4th installment in The Elder Scrolls franchise and it's one that you can actually get super early on in the game. It's dropped from a character named Umbra (shocking, I know) and is part of a long questline that happens late in Oblivion. However, if you know where to look you can find Umbra early on and defeat her, and since she's level locked at 50 she drops the weapon no matter what level you are – so at level one you can traipse over and take her out – just make sure you bring like, a bajillion arrows to try and whittle her down from afar, because she's a tough cookie. Beating her nets you some sweet armor, and this very powerful one-handed sword.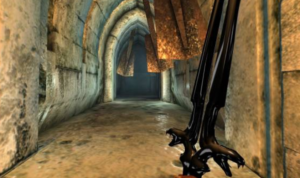 Shadowrend, from TES IV: Oblivion – Shadowrend is actually not found in the base game for Oblivion, and instead is a part of one of the game's DLCs, Shivering Isles. It's a part of the main storyline for the expansion, and is picked up during the Symbols of Office questline, which has you taking down a lookalike doppelganger pretending to be you. This sword can only be picked up upon defeating your shadow, but only in melee combat – if you kill the shadow with magic, he doesn't drop the sword (which can also be an axe too, depending on if your blade or blunt skill is higher or not). Once you get this bad boy, you're basically set as it is easily the most powerful weapon in the game – boasting insane stats and damage, plus putting a 15% weakness to magic debuff on enemies, making it a perfect combo for destruction magic users!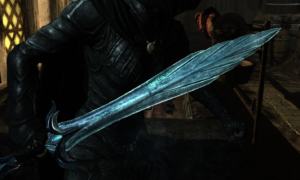 Chillrend, from TES V: Skyrim – Chillrend has made appearances in The Elder Scrolls before, but my favorite iteration is easily from TES V: Skyrim. It's a glass sword with some insane frost damage attached, plus a chance to paralyze – which happens a LOT, so you can just slash and freeze and paralyze your stun-locked opponents into oblivion (pun intended). This incredibly powerful one-handed sword stacks up to some of the best weapons, one-handed and two-handed, in the game, and is part of a questline later in the game. But, like many weapons in TES, you can just go ahead and look up where to find it and get it super early in the game. The only downside, though, is the earlier in the game you get it the weaker it is, as its power scales to whatever level you were when you got it. So if you can hold out getting this super powerful (and very cool looking) sword until you're a bit of a higher level, it'll be worth the wait!
---
---
Got any sweet swords or daggers I may have missed? What are your favorite iconic blades from video games? Let us know on social! And if you want to wield some of the coolest gear around, get your hands on November's BLADE theme for Loot Gaming, featuring items from Assassin's Creed, Kingdom Hearts, God of War, and The Elder Scrolls!