There's a lot of open-world games out there. Heck, you could toss a stick and find yourself an MMO that you may be interested in. How about an open-world 'brawler' kind of game though? Sloclap and Devolver Digital knew this was needed and made sure to bring us Absolver. Not familiar? I got you.
This is Absolver. A world where your call to action is in your bones. Your surroundings are Adal and it's within you to fight through and educate yourself towards being one of Adal's Peacekeepers. Learn and hone your fighting skills, join schools of different styles and perhaps even build your own to mentor others into glory. Adal is vast and its fighters are all training and building themselves up to take on those roles.
Much like Fight Club, there are rules in Absolver and one of those is that you do not talk about fighting. With limited dialogue in this online title, you speak with your stances and your encouragement to battle it out and you leave the talking to your elders. Learn how to communicate through body language and your relationships in Adal will begin to unfold however you see fit. Tyler Durden, wherever he is, would be proud.
Here are some broken down rules within the gorgeous and forboding world of Adal to reach total Absolution. Be prepared, however, because spending a day as a Prospect in Absolver can be a very painful lesson if you are not.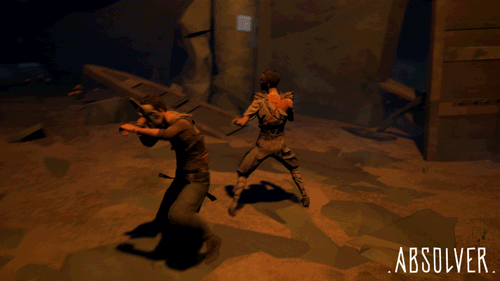 INITIATING FIGHTING:
Prospects from all over the world have descended upon Adal in hopes of becoming an Absolver. When you encounter another Prospect in the world of Adal, there are a few options at your disposal: you can fight them, mentor them or become a student. Absolver is a fighting game, so if you want to get right to it here's how you'll initiate a fight – but be careful, you might be picking a fight with someone much more advanced than you are.
MENTORING SOMEONE:
When you encounter a Prospect that is clearly less advanced than you are (you can tell sometimes from the gear they are wearing, depending) and you'd like to mentor them, you have a choice to bow respectfully, which is an invitation to teach them. Part of the key to Absolver is choosing which path you want to take. Do you aid those to your ultimate goal or do you leave behind a trail of desecration wherever you go?
BECOME A STUDENT:
Respectfully bowing to someone more advanced than you and becoming their student allows you to spar with them – and as you spar, you will "learn" from them and unlock moves from their Combat Deck to add to your own.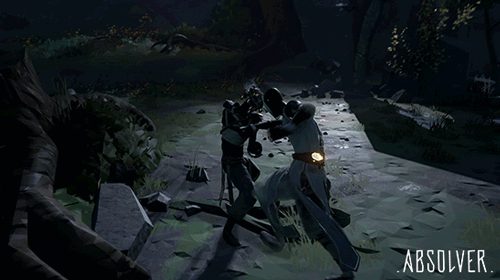 MEDITATION:
As with all serious study of almost all schools of martial arts, the mental element is as much of a pillar as the combat and relationships to your opponent. With that in mind, Absolver uses meditation pedestals in the game as a way to take stock of your equipment and decide your loadout, allows you to customize your Combat Deck and is useful for honing your newfound moves in Practice Mode.
COOPERATIVE PLAY:
It's dangerous to go alone, and teamwork can help you take on your enemies at double the pace. Initiating a friendly wave to another Prospect you encounter is like the secret handshake and lets them know you want to team up to take on Adal like Batman and Robin.
Take part in the world of Adal on August 29th (PlayStation and Steam) and be one of the first Initiates to take into the path of the Peacekeeper. Explore the world, learn your place and aid others through their own paces. If you give enough to your school of combat, you'll find yourself standing at the precipice with your past behind you. Tyler Durden, indeed, would be proud.
---
---