Listen, I know this game has been out a few… years… but I haven't been paying attention. I'm here in 2020 to tell you – Quake Champions is fun. It's free-to-play and I'm having a good time playing it.
---
I'll be honest, the main reason I finally picked it up is that it's in our Loot Gaming crate (plug plug plug). I figured I should finally see what Quake was all about. Immediately, I was struck by some of the extremely negative reviews on Steam. I like this one the best.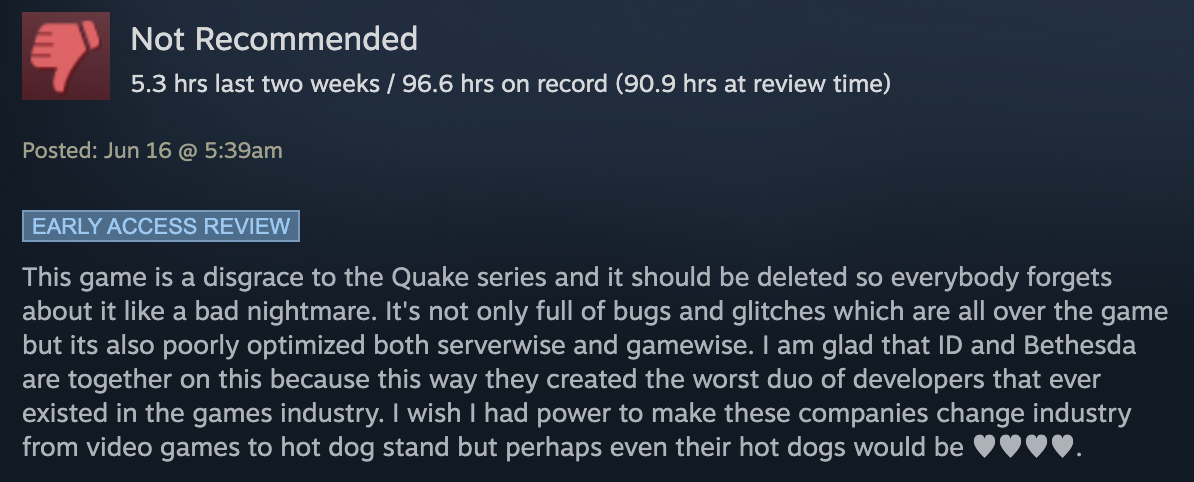 Really solid points being made here. I would also like to try an ID and Bethesda hot dog.
Not letting these negative reviews deter me, I installed the game and gave it a try. Did I immediately get my butt kicked by people who know how to play? Absolutely. Did I ever improve at all? Nope. But man. Quake Champions is SO. FUN.
If you don't know, Quake Champions a hero-based arena multiplayer, but it has a few key improvements on the genre. The characters are pretty balanced. This might be a recent improvement, but since this is my first time playing, I have no other reference point. I found myself not being frustrated because one hero had some crazy OP skill or a stupid amount of health.
Also, the movement is insane. You can strafe jump, you can crouch slide, you can get on these little booster things that propel you in the air across the map. It's hard to learn, but you feel SO COOL when you get it right. And there's no game mechanics that are there to limit your skill. You can get VERY good at this game. If you haven't yet, you should watch someone who's good play this game. It's like an action movie.
Also, you can play as Doom Slayer and B.J. Blazkowicz which is pretty cool.
In summary, I think everyone should give Quake Champions another try. It's free, so there's literally no risk. And while you're at it, check out our gaming crate just for fun.