Ahh, the age-old question. Which play-style is the BEST play-style? Obviously, there's no right answer, but I'm going to act like there is for the purpose of this blog. So who will win – Warlock, Hunter, or PUNCHING?
---
WARLOCK
Everyone's favorite moon wizard, the Warlock. I wasn't initially drawn to the class until I played for a while as a Hunter. Warlocks have great supers with high damage and large AOEs, not to mention their health regen. Maybe they're not the strongest in PVP, but give me a Warlock in PVE ALL DAY LONG. I also think they have the coolest armor, fight me.
---
HUNTER
I'll say it – there are too many Hunters. It's the class I first played and it'll always have a special place in my heart, but we gotta branch out. Try new things! The other classes are fun too! (But if you're heading to the Crucible, I understand. Hunters are built well for a PVP environment. They're hard to pin down and they got incredible exotics, supers, and abilities. But still… maybe try out a new play-style.)
---
TITAN
Titans may in fact be the least toxic players in the whole game. I don't have data to back that up, but I do have personal experiences. And they're not a bad build either! With their powerful supers, protective barricade ability, and innate resilience, Titans are a tough class to take down in just about any Destiny game-type. Titans are the sturdiest (and nicest) boys on the block.
---
Also – I polled the Loot Gaming community on which classes they main. Seriously Hunters, try a new class.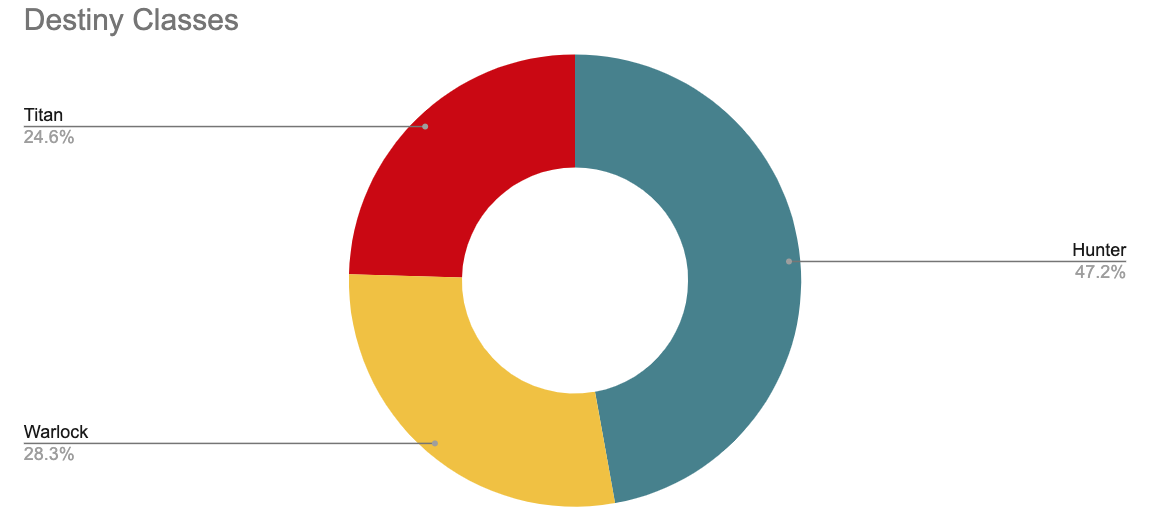 ---
In conclusion, the best Destiny class is all of them except Hunter-only mains.
---
But for real, I think Destiny classes are pretty well balanced. Whether you have a preference or not, I hope you can admit, they're all fun to play and they all have pros/cons. As a long-time sneaky archer RPG player, I was drawn to the Hunter class initially, but when I finally gave Warlocks and Titans a try, I had a great time with them as well. Maybe branch out and try a new playstyle! You might like it.
While you're here, check out Loot Gaming! We have a pretty cool Destiny shirt this month!