If you're in need of something to do or just want even more to fill your weekend plans now that Game of Thrones is done for this season, head on down to Long Beach, California for this year's Long Beach Comic Con! It's going to be a hot one in Long Beach, not only because of the weather but because of the convention excitement!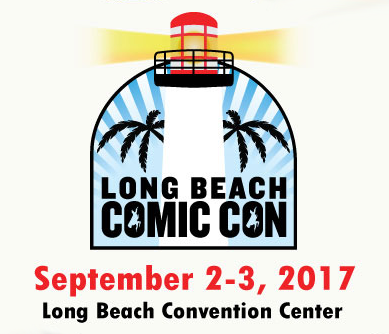 There is always something to do in the realm of nerd culture, conventions, events, and more these days. Each weekend, you might find your schedule packed with a longer nerdy to-do list than you intended. This weekend is no exception! Long Beach Comic Con is one of the many conventions that can be found each year in Southern California, and it is emerging as a bigger player in the scene, hosting a delightful assortment of special guests, wonderful exhibitors, engaging panels, and plenty of excited attendees.
This year's show has plenty of panels to pack your schedule and special guests you'll be more than excited to meet. Whether you're into comics, television, cosplay, or even wrestling, these panels and special guests will be there for you. Some of the panels you might find yourself interested in this weekend include:
William Shatner Unplugged
Exploring the Science & Technology of Willy Wonka's Chocolate Factory
Galaxy Quests: The Humor of STAR TREK (and beyond!)
Cosplay and Gaming
Deep Space Navigation at NASA/JPL
And so many more to list! You can check out the full list of panels and programming by heading here!
Want to see what nerd fashion you should be keeping your eye out for? Then the Fashion Show at Long Beach Comic Con should be just right for you. Watch designers walk their designs down the runway, showcasing "a sneak peek into the latest trends from up and comers who are on the verge of breaking into the fashion world."
Long Beach Comic Con also offers more than just the panel programming throughout the weekend. You can attend the Geekfest Film Festival, which runs on both days of the convention. The Geekfest Film Festival is "the 1st and LARGEST traveling Comic Con Film Festival, exhibiting the best Science Fiction, Fantasy, Horror, Action, Superhero, Fan Films and original high concept indie genre film and web series from around the world" and travels from convention to convention to show off the best of the best entries submitted in genre to the attendees of each convention. Attendees of Long Beach Comic Con should not miss out on what the film festival has to offer!
If Cosplay is more up your sleeve, you can check out the Cosplay Contest at Long Beach Comic Con! According to LBCC, "One of the most celebrated aspects of the Long Beach Comic shows, the Cosplay Contest features over 50 of the best cosplay costumes for all ages in Southern California." It's true! The talent that comes out each year brings their best, all to be judged by a panel of well-known Cosplayers for prizes and to show off their hard work.
When you're done checking out the panels, catching a movie, or getting your cosplay on, there's still plenty more to see. Here are some of the talented folks you might see over the course of the weekend:
Sherilyn Fenn- Best remembered for her iconic role of Audrey Horne in the groundbreaking Twin Peaks, as well as the current Twin Peaks revival on Showtime. But Sherilyn has enjoyed a 30+ year career in Hollywood, including memorable roles on the series Shameless, Ray Donovan, Gilmore Girls and Rude Awakenings & more!
Maid of Might- Maid of Might is a California grown cosplayer who specializes in creating unique character mash-ups. She is known for her Punk Spider-Gwen, Harley Quinn and Disney/Star Wars crossovers. Her inspiration ranges from comics and movies to anime and video games. She is always creating and bringing her favorite characters to life!
Rikishi- Member of the world renowned Samoan Dynasty, a WWE Hall of Famer, former WWE Intercontinental Champion, and multiple Tag Team champion. Has starred in "Sandy Wexler" and is nominated for a Stuntmans Award for his role in "Kingdom of Gladiators: The Tournament
Neil Ross- The original Transformers, Voltron: Defender of the Universe, Spider-Man and Fantastic Four. Voices on numerous video games such as Metal Gear Solid, Command & Conquer, Call of Duty. Honest John in American Tail, Han Solo in Star Wars: Rebellion/Roque Squadron & more.
Mairghread Scot- Animation writer specializing in action-comedy. Her work can be seen in Marvel's Guardians of The Galaxy, Justice League Action, Ultimate Spider-Man: Web Warriors, and Transformers: Robots In Disguise among others.
Logan Lubera- Marvel Age Spider-Man, Marvel Age Spider-Man Vol. 3: Swingtime, Spider-Man: Spidey Strikes Back Vol. 1 Digest. (Logan is also one of the team here at Loot Crate!)
William Shatner- James T. Kirk of Star Trek fame (greatest star ship captain of all time), T.J. Hooker, The Twilight Zone & more!
The special guests listed above are only a very small portion of the guests that Long Beach Comic Con has lined up for the weekend. For a look at the full list, head here and see if there is anyone you are particularly excited to see!
The last big part of Long Beach Comic Con that we have yet to have mentioned is all the shopping you are possibly going to do! That's right, we're talking about the Exhibit Floor, filled with all manner of things that will make you take out your wallet and take something home with you! For a look at what the Exhibit floor is going to look like, you can download a copy for yourself here. You can also look through all of the exhibitors that will have their booths set up throughout the convention on that same page. There's a good chance you'll find something you love.
Now that you know just a bit about the exciting events happening at Long Beach Comic Con, here's what you need to know about attending the show:
Where: Long Beach Convention Center
When: Saturday, September 2nd and Sunday, September 3rd, 2017.
Show hours: Saturday 10:00 am – 7:00 pm Sunday 10:30 am – 5:00 pm. If you buy your ticket in advance, you can get in a little early each day too! Check their website for more details!
But the Daily Crate, how much will Long Beach Comic Con cost me?
Tickets are $40 per person for a Saturday only ticket; $35 for a Sunday only ticket; and a weekend pass is $60.
Got kids? Children age 10 and under are admitted for free with an adult admission (Long Beach Comic Con asks a limit of 2 per adult, please).
Senior citizen (65 & over), military, police & fire fighter discounts are available by using code SeniorCitizen or MilitaryLaw at checkout (ID required at check in).
Can't buy online? You can get your tickets at the door, but prices will be higher – $45 for a Saturday only ticket; $40 for a Sunday only ticket; and $65 for a weekend pass.
Are you heading to Long Beach Comic Con this weekend? Share with us your experience by letting us know in the comments or tweeting us (@lootcrate) by using the hashtag #TDCLBCC!
---
---