There are so many card-based video games out there and incredibly popular ones. Games like Magic: The Gathering, Hearthstone, Fable Fortune, Elder Scrolls Legends and so many more have given people an opportunity to deep-dive and deck build, but is there more to card games than that? There sure is!
Deckbuilding games are some of my bread and butter and I go insane when they come out with a lot of flash, good artwork and systems that keep me returning to grind through more and more fancy cards. Slay the Spire combines that love of side-scrolling RPG style fighting and dungeon work with card collection and deck building. It's incredibly quirky, has beautiful choose-your-own-adventure style gameplay that doesn't let you forget it's not taking itself too seriously. It's in Early Access on Steam but we can't wait for the full title's launch with even more content released for free.
I was blown away by Hand of Fate, Defiant Development's first foray into a dungeon-master style card game that includes brief dungeon exploration but story-telling that keeps you gripped the whole time. The game is completely handled by The Dealer, a mysterious figure who doles out your cards and leads you on an adventure based on what you choose. You're encouraged to do interactions that are luck-based in order to gain more cards, go through dungeons and defeat bosses based on the card equipment that you've gathered up. The sequel cleans up the entire act of the first game which was still impeccably done. Not to mention, the sequel has Twitch integration so your audience can actually help sway the game. Better be nice!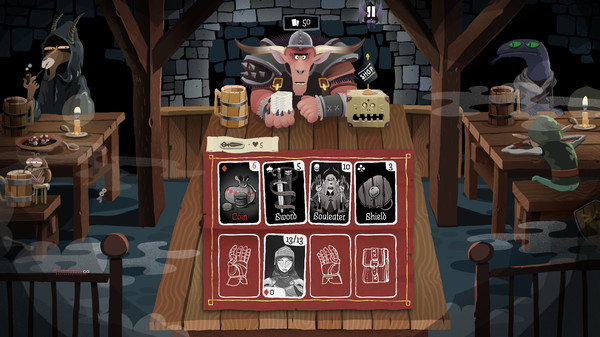 3. Card Crawl:
This game kind of sprung up on me due to my suggested games list on Steam and I fell in love with the simplicity yet pretty adorable art design. Originally, this game released on mobile and let me tell you, it's even MORE addictive on your phone. If you want a game that just gives you a few simple concepts and sends you on your way — do it. Card Crawl has a solitaire-like style to it but with the addition of battles to make things far more interesting. Cards that the dealer draws out at random can be weapons, enemies or items and you can then gather the weapons to fight the enemies on the board and whittle your way through the deck. It's fast-paced, tricky but not so much that you don't want to keep plugging away to earn more cards and skills. Try this as soon as you're done here. I promise you'll love it.
Listen, I'm going to explain here that I never played Solitaire. I stay in my lane, folks. I'm not good with numbers and even those basic kind of card games can sometimes tweak me if it comes to counting (Thanks, Dyscalculia!) and so Solitaire seemed like a no-go for me. However, I'm a pretty intense fan of Jane Austen's writing and a friend told me about Regency Solitaire. This opened me up to a game that has challenges, an Austen-esque storyline, special skill unlocks that kind of turn Solitaire on its head. Hell, even I can follow it and when I'm up late and want to play something but can't brain hard enough for the more intense stuff — this is where I go. The artwork and music are relaxing but the gameplay is challenging to the point of chewing your fingers off. I spent three days on one level. It's no joke. Also, check out the follow-up title by Grey Alien Games called Shadowhand which actually pumps up the Regency Solitaire formula by adding duels, a compelling story and full on item management. You'll love it.
I made sure this list was some varied games from all over the board that would get even a card-game newb (like I was) into these kind of titles. Want something a bit slower but challenging? Look into Card Crawl and Regency Solitaire, but if you're wanting some action with card mechanics included, Slay the Spire and Hand of Fate 2 will draw you deep and keep you going!
---
---
Check out these games, get your decks together and battle with the heart of the cards on your side! If you know of more card video game titles that you happen to love, let us know and I'll dive in and maybe even compile more lists! My addiction is real, folks!