Loot Crate made an exciting announcement this week with the launch of Loot Play, the company's first fully digital subscription!
Loot Play will work with our incredible partners at Chrono.gg to curate a digital unboxing experience that will include five incredible indie games every single month. There are so many indie games that come out every year, and so many of those games happen to be some of the best gaming experiences around, and often times many of these games go under the radar and end up not getting the attention they deserve. Loot Play seeks to solve that problem by becoming the go-to subscription for fans to discover those games!

For each new month, a featured title will be revealed right from the start, so you know one of the new indie games you'll be receiving, but in keeping with Loot Crate tradition, the other four games are a mystery, and will be part of a digital unboxing experience that will take place every month!  For Loot Play's first month, the team is excited to feature Crossing Souls, developed by Fourattic and published by Devolver Digital!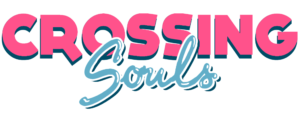 Crossing Souls is a rad action-adventure rich with 80s nostalgia where you take control of five characters, all with unique skills and abilities, and face off against supernatural forces and government conspiracies.  Filled with 80s pop-culture references, cut-scenes that feel like 80s cartoons, and an incredible original score inspired by the likes of John Williams and Jerry Goldsmith, Crossing Souls is a nostalgic indie adventure unlike any you've seen before!
Before Crossing Souls lands in Loot Play subscribers' hands next month, let's give you a sneak peek at what this incredible indie game has to offer!
Awesome Graphics – The art style of this game absolutely checks all the boxes for me when it comes to throwback style retro graphics. It just screams NES/SNES era, the latter being my favorite era of gaming ever. It's got the pixel graphics, the hand-drawn character portraits, the colorful environments, and the sprites for your characters, the game's NPCs and the enemies you face off against are the best kinds of old-school graphics.
But if the actual in-game graphics weren't cool and retro enough for this awesome indie title, the amazing animation in their cutscenes are truly spectacular. Every time the animated cutscenes booted up, I was transported back to my much younger self watching old-school Saturday morning cartoons. The animated scenes in this really are some of my favorite cutscenes I have seen in some time and were a breath of fresh air from the CGI effects we see nowadays – sometimes you want to see that throwback hand-drawn magic!
Unique and Exciting Gameplay – The gameplay of Crossing Souls is truly one of its highest points, as obstacles you encounter throughout the game require a good amount of thoughtfulness and problem solving to utilize all the tools at your disposal. This is because Chris, Kevin, Matt, Charlie, and Big Joe all have their own unique skills and abilities that will prove integral in overcoming puzzles and taking down tough bosses. One encounter, in particular, requires that you use almost all of the characters to beat it – one character to use this baseball bat to deflect incoming attacks, another to quickly dash around to avoid some otherwise unavoidable damage, a third to use his laser gun to turn off an electric fence, and finally a fourth to use his superior strength to move a large object. You seamlessly can transition from one character to another, and once you get the flow of what all the kids can do, the game is truly a joy to play.
On top of all of this, I want to really quickly talk about the mechanics of the game themselves, and speak to the fact that this game plays so smoothly! All of your abilities, weapon attacks, item usage, navigating menus, everything is just so smooth. But the cherry on top is how good this game plays on a controller or gamepad. Often PC games have trouble utilizing a controller when playing a Steam game, but this game doesn't have this problem, and in fact, I was much more comfortable playing with a gamepad than I was on keyboard and mouse. So whether you're on KBM or using a controller, Crossing Souls is going to be a blast to play.
Rad 80's Inspired Story – Crossing Souls leans into the 80's inspiration, and then some. It's the perfect kind of homage to all of our favorite movies, TV shows, and even games from the 80's – including references to Ghostbusters, Gremlins, Back to the Future, Kid Icarus, and so much more. But the characters and dialogue feel like they are straight out of your favorite movies and TV shows – both how they look and act, to the funny and often cheesy dialogue.
All the best 80's movie tropes are here – supernatural shenanigans, government coverups, five kids taking on the incredible opposition to protect their quiet little town. I mean, basically what I'm trying to say is I really want Fourattic to make a Stranger Things or Goonies game, like, ASAP!
Killer Soundtrack – Last, but certainly not least, one of the greatest strengths that Crossing Souls brings to the table is one of the best game soundtracks I've heard in a long time. The synthesizer 80's jams this game has are truly great, and I was honestly surprised right from the get-go at just how damn good the sound design was in this game overall. And I was even more impressed when I found out that this was an original soundtrack! That's right, the impressive team at Fourattic whipped up a doozy of a soundtrack inspired by the likes of John Williams – essentially, playing this game is sort of like kicking back, relaxing, and listening to your favorite 80's movies playing in the background!
---
---
Want to know more about Loot Play? Want to get your hands on the incredible Crossing Souls from Fourattic and Devolver Digitial? Well hit the link HERE where you can read up on Loot Crate's first ever fully digital subscription – and you can also sign up today!