Loot Wear is teaming up with female artists throughout geekdom to design and curate for our Loot for Her line. We're calling this program "For Her, By Her"! Each month we'll bring you a one on one with each artist we collaborated with, making unique apparel designed by talented women in the field.
---
 This month we bring you star artist Ann Shen! Ann designed our Jurassic Park For Her item for us in June's COLOSSAL theme!
Where are you from originally and where do you call home now?
I'm from Orange County, California and I now call L.A. home.
What is your artistic background and did you have any formal training?
I didn't start making art seriously until my mid-twenties, when I decided to go to art school after I had already finished a degree and been working for a few years. I studied illustration in art school, and then got jobs as a graphic designer for places like Mattel. For a few years, I worked full-time in house and had a side hustle in freelance illustration, until the time came that I had to pick one because I had no semblance of a social life or sleep. So I left my full-time job and started working for myself – which now includes working with freelance clients, writing and illustrating books I publish with Chronicle Books (my first two books are "Bad Girls Throughout History" and "Legendary Ladies" are now widely available), and creating my own products.
How did you arrive at your present skill sets and artistic style?
I tried every medium under the sun in art school, and what's funny is the way I work now is so different than the way my portfolio looked when I graduated. I took a gouache class that changed my life, and I fell in love with the matte medium that was a favorite of many of my artistic influences. During an internship, I learned to paint digitally from a fellow intern. I worked hard on developing a style that translates across the two so that my work looks similar whether I paint it traditionally or digitally.
Your art style is very 1950s vintage inspired! Which artists are your influences?
It definitely is! My art is inspired by a lot of mid-century animators and children's book illustrators including: Mary Blair, Eyvind Earle, Charley Harper, Freddie Moore, M. Sasek, and the Provensens. I'm also very inspired by fashion, pin-up, and advertising illustrators like Rene Gruau, Gil Elvgren, Alex Steinweiss, and Jon Whitcomb.
What are your current fandoms?
Harry Potter, Studio Ghibli, Disney, My Favorite Murder, Bob's Burgers, Gilmore Girls, and Sailor Moon.
This month you've designed a Jurassic Park item for us! Which is your favorite Jurassic Park movie and moment?
The original one! My favorite moment is, of course, this one between Malcolm and Ellie:
Malcolm: "God creates dinosaurs. God destroys dinosaurs. God creates man. Man destroys God. Man creates dinosaurs."
Ellie: "Dinosaurs eat man. Woman inherits the earth."
Can you tell us a little about the design process behind your item?
Sure! First, I communicated with the design team to understand their vision and product guidelines. Then I researched and pulled inspiration and references. This is my favorite part of any project – the beginning when anything is possible. Next, I start sketching ideas out, play with color palettes, and then present concepts to the team. I make adjustments as necessary, based on the team's feedback. Once the sketches are approved, I create the final art to be production ready.
How has geek fashion played a role in your life and can you tell me about your personal fashion style?
I love vintage clothes, so they are a huge part of my wardrobe – especially dresses from the 50s and 60s. I also love dressing for a theme, so geek fashion becoming a bigger thing has been so fun. It's the best to go to events and many other people are dressed up too – and not just wearing logos, but clothes or accessories that make you feel a PART of the world in your own style. I love the clever, low-key fandom artwork where it feels like something you'd already own but then has a second level of being related to your favorite stories and characters.
Tell us one fun or quirky thing about yourself!
I can speak four languages – English, Mandarin, Spanish, and French.
Do you have any words of inspiration for other women looking to go into your field?
Trust yourself.
Thanks for chatting with us, Ann! You can see more of Ann's art on her website, as well as on Twitter, Facebook, and Instagram!
---
---
Before we get to the amazing pictures of the June COLOSSAL themed Loot For Her EXCLUSIVE, make sure you're ready to grab yours before June 19th at 9pm PST!
We're proud to reveal the incredible design made just for us by Ann! 

SPOILER WARNING:

If you don't want a spoiler yet, scroll no further!
Ready?  Okay…. presenting, Ann's Jurassic Park 3 piece cosmetic bags!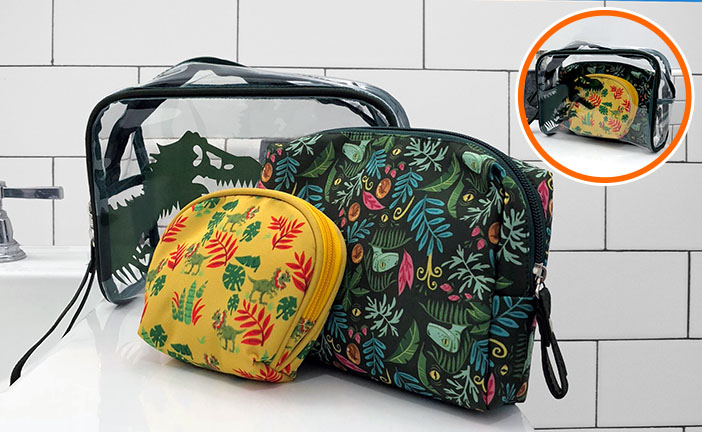 ---
---