Starting in the month of July, Loot Wear has teamed up with female artists throughout geekdom to design and curate for our Loot for Her line. We're calling this program "For Her, By Her"! Each month we'll bring you a one on one with each artist we collaborated with, making unique apparel designed by talented women in the field.
This month we bring you star artists Alex Strangler, Jen Bartel, and Bamboota! Each of them designed one variant of the Loot For Her Bob's Burgers leggings in this month's subscription. Over the next couple of weeks, we'll bring you Q&A's with each of these talented ladies about the Loot For Her items they designed for the ANIMATION theme.
We're starting things off with our interview with Alex Strangler, who is most well-known for her amazing tattoo art!:
Where do you call home?
As of right now, I live in Los Angeles… 🙂
When did you realize you wanted to be an artist and how long have you been an artist for?
Since I could pick up a pencil I guess. What child doesn't draw or partake in coloring book activities? I was always a very crafty child and liked to express myself using anything I could get my hands on. But, um…. I never really considered myself an artist. I'm really hard on myself and hate 95 percent of everything I create. I've always loved to draw and paint, but never really thought I would do it for a living. It kind of just happened!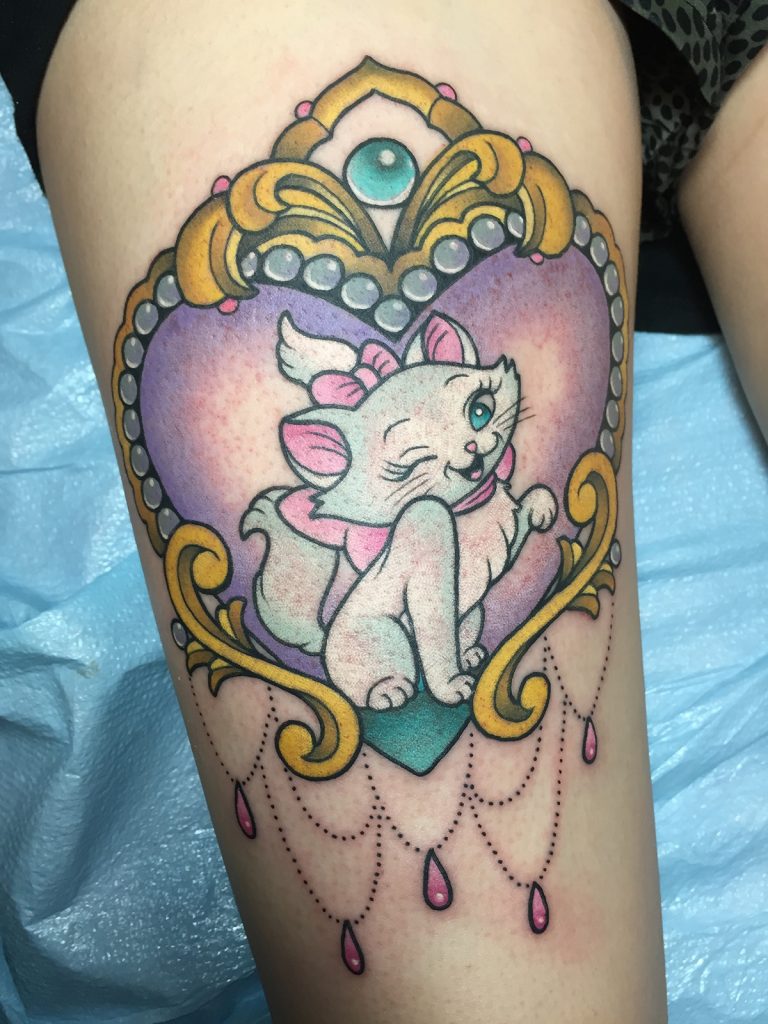 How did you figure out your artistic style?
Well, when I first started my apprenticeship I was taught how to paint tattoo flash for the shop. Everything was super old-school and Sailor Jerry-type designs. Whenever someone wanted more "girly" designs would come in there was nothing really for them, so I started incorporating more cutesy elements into my art, and it kinda just took off from there.
What is your own style fashion wise?
I have no fashion sense. So I'm kinda all over the place. This is something I've always struggled with. I hate shopping for clothes!
What are your fandoms?
I have a huge Domo obsession. I probably have every Domo toy ever made. It's kind of sickening thinking about how large my collection has gotten. So much that I've had to put most them in storage… ha-ha! I first fell in love with Domo when an old boyfriend gave me a Domo plushie. I just thought he was so cute. I would take pictures of him in all kinds of different scenarios: skateboarding, laying on the beach, getting tattooed, ha-ha! It was pretty funny. I think I even had a MySpace page for him at one point.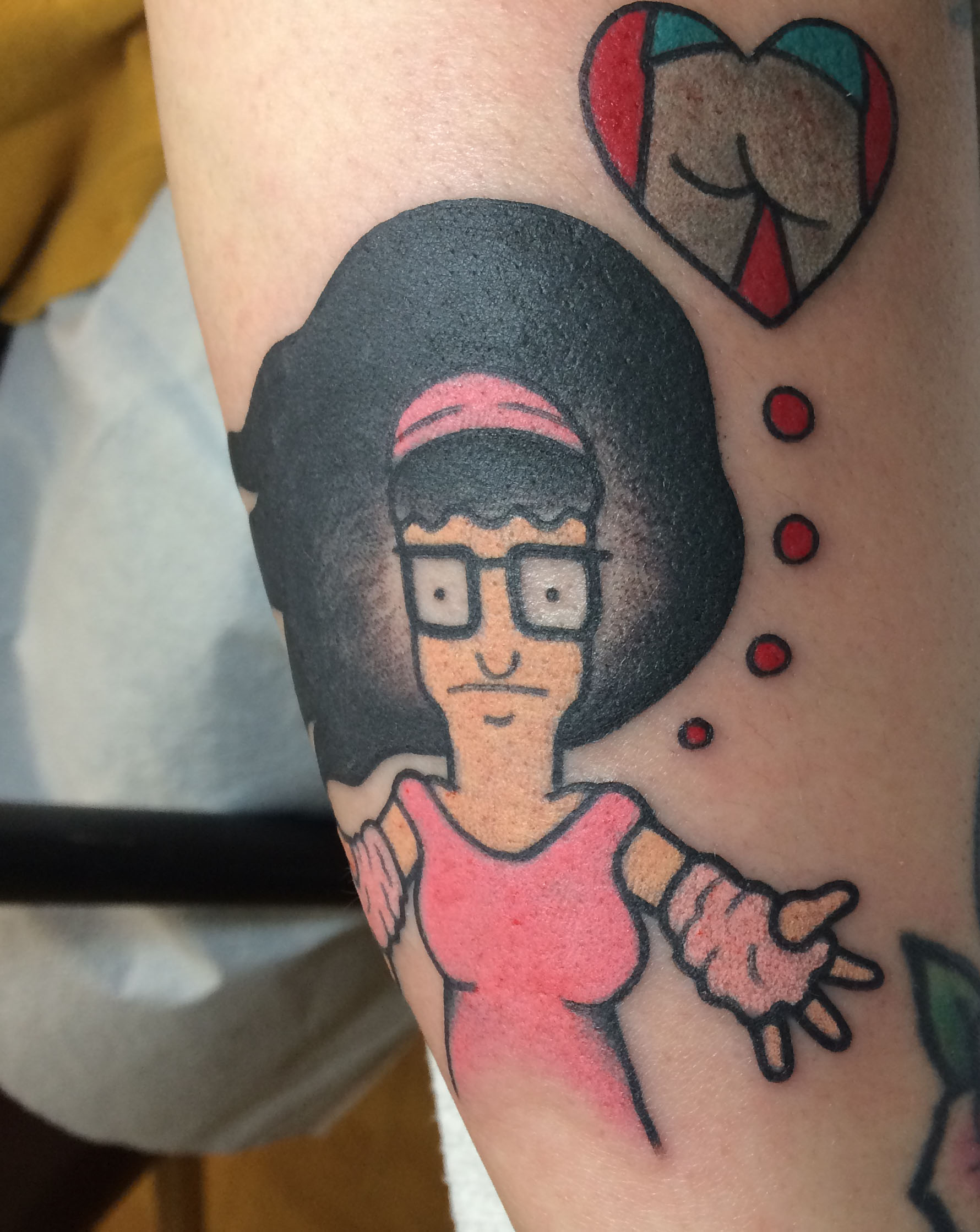 What are the things you like about the character you selected for the Bob's Burgers leggings?
What I like most about Tina is she reminds me a lot of myself! She's weird, anxious, terrible at making decisions (ughhhhhhhh) and she loves BUTTS!
What do you like about designing geek fashion?
I'm not sure what "geek fashion" is… But I just kinda design and create things that I would want to wear myself. Like I said before, I'm not really a "fashion" person… I just like what I like, and it turns out that there are a lot more people out there that also like the things I design and make, who knew… ha-ha?!
What inspires you as an artist?
I grab inspiration from many things, obviously cartoons and pop-culture iconography. Coming from a tattooing background and learning what I did when I did has also had a big influence on me. Tattooing and tattoo flash in the traditional sense is kinda, well… cheeky! Tattoo designs are created to be sold and placed on the body, so I think of things that attract the eye and are also playful and fun.
Where do you see your art taking you in the future?
Early retirement… Ha-ha!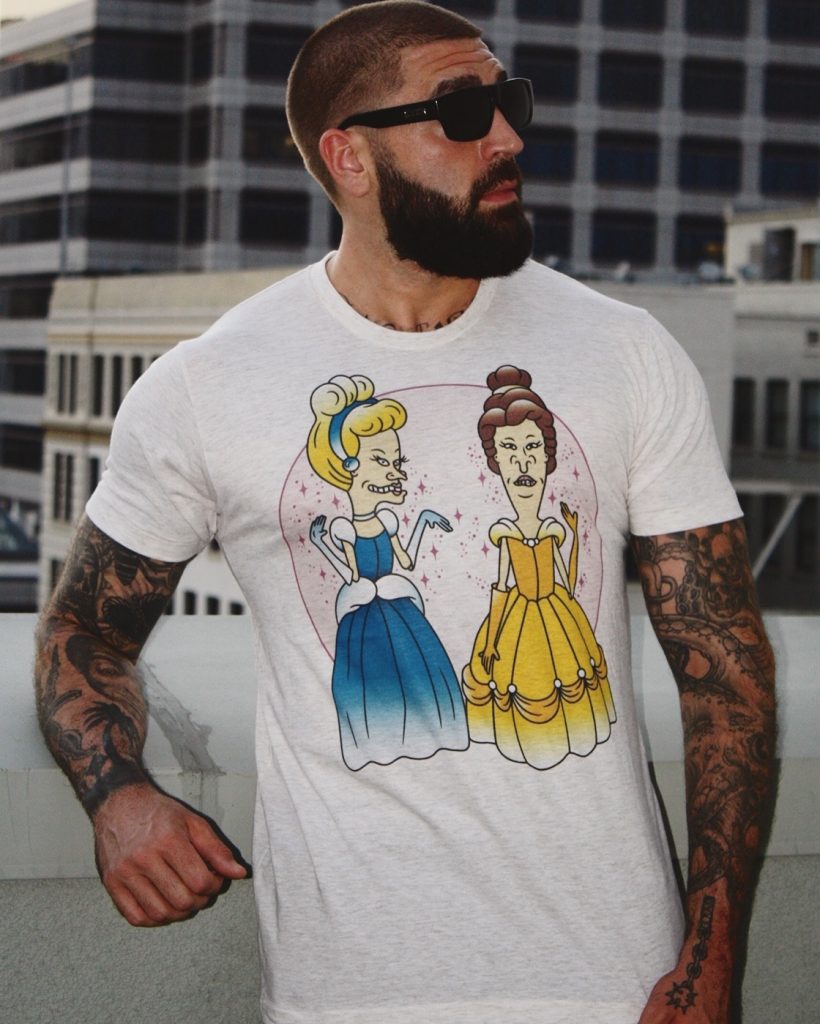 Drawing on skin can be a challenging canvas to work on and takes a different skill set than working on a flat, non-organic canvas. What got you into being a tattoo artist and how did you develop your art style?
Becoming a tattooer was mostly by accident. I knew I wanted to draw because I loved it so much, but how can you make a living "drawing"? So it was the natural progression of things… Once I figured out I could make a living by doing something I loved it was a pretty easy decision… My "style" was developed basically by combining my knowledge from tattoo design and then making it my own… Making it cuter, or girlier, or whatever you wanna call it..
Do you have any words of inspiration for other female artists?
Do what you love… and you can never go wrong…Unless you "love" doing tons of drugs! Don't do that… Ha-ha!
Thanks for chatting with us, Alex! You can see more of Alex's art at her website, as well as on Instagram.
---
---
We'll have more with another of July's Loot For Her artists next week! And in the meantime, do sign up for Loot Wear this month to get the Bob's Burgers Loot for Her and so much more. Signup deadline is 7/19!