Loot Wear is teaming up with female artists throughout geekdom to design and curate for our Loot for Her line. We're calling this program "For Her, By Her"! Each month we'll bring you a one on one with each artist we collaborated with, making unique apparel designed by talented women in the field.
---
This month we bring you star artist Kat Haynes! Kat designed our Steven Universe scarf and pin for us this month!
Where are you from originally and where do you call home now?
I was born and raised in Orange County, California and am still living there to this day!
What is your artistic background and did you have any formal training?
A great deal of my background stems from learning Photoshop back in high school. Before that, I had always loved drawing, but it was the first time I got to create something with such clean colors and lines. I used to create banners for fun and that love has always stuck with me. I did receive professional training at Loyola Marymount University where I majored in Animation and Studio Arts. Following school, I had the opportunity to be a part of great shows like Avatar the Last Airbender, Life and Times of Juniper Lee, and Back at the Barnyard. Since then I've branched out into freelance design, combining my love for animation with my skills in Photoshop. It's been quite a ride!
How has geek fashion played a role in your life and can you tell me about your personal fashion style?
Geek fashion has played a pretty big role in more recent years as I've gotten more involved with parody apparel. I absolutely love designing art to go on products that make other fellow geeks happy. As far as personal tastes, I'm usually drawn to subtle geek fashion. I like wearing pieces that still look great to the general public, but have a geeky edge that only fellow fandom lovers will pick up on.
You artistic style is pretty unique and you have a lot of range! How did you come to develop your style and your biggest influences?
Animation and comics were definitely my biggest influences growing up. I used to draw all the time in front of the television while watching old Disney movies or cartoons. As far as my range of styles, I learned a great deal just by studying other artists, be it the masters of the past or fellow artists online. It was important to figure out what elements I found appealing and incorporate that into my own work. My style is always shifting because of this and working for many different employers over the years has taught me to be flexible with the work I create.
What are your fandoms?
Well most certainly Steven Universe, but I also have great love for Avatar the Last Airbender, Zelda, The Darkness, and Undertale to name a few.
This month you've designed a Steven Universe item for us! What's your favorite Steven Universe moment?
There are so many, but one that always sticks out in my mind is the ending of "Too Many Birthdays" when Steven is dying from old age and the Gems are all panicking in their own unique way. It showed such a great subtlety in character and emotion that made me realize just how special and different this show was.
What do you like most about your design for this month?
I've always had a soft spot for sparkly imagery and to have the freedom to go all out with it in this design was so much fun!
Can you tell us a little about the design process behind your item? How did you decide on a pattern for that particular item?
I was definitely inspired by the galaxy theme patterns that have gained popularity in the past few years. I already knew what sort of style I wanted for the background and used that as my starting point. I really made an effort to make the pattern be seamless and not too repetitive. Space is natural and ever changing and I wanted to keep that feel. It certainly took a lot of trial and error with placing the characters to make sure none of them were too close to their doubles.
Because of your range in artistic styles, how did you decide on which to use for this month's item?
It actually took me a long time to decide on the style of the characters in this piece. I drew several versions of Steven from simple shapes to more detailed line work before finally coming to a happy balance. I wanted a style that could fit in with the more realistic galaxy background. I feel that the one I chose achieved this while still being loose and bright.
Do you have any words of inspiration for other women looking to go into your field?
You think you know where you want to go in life and your career, but realize that a career shouldn't be treated like an end goal, but rather a continuous process that will move with you through life. Working in the arts is an ever shifting path that is seldom stable and often surprising. Be open to opportunities that come your way (even if it isn't what you were expecting) and do your best to make many friends along the way. You never know who might help lead you to your next big break. Respect others, respect your craft, but most importantly respect yourself, because you are worth it!
Before we get to the amazing pictures of the November Unite 2.0 Loot For Her EXCLUSIVE, make sure you're ready and head over here and grab yours before November 19th at 9pm PST!
---
---
We're proud to reveal the incredible design made just for us by Kat! 

SPOILER WARNING:

If  you don't want a spoiler yet, scroll no further!
Ready?  Okay. 😉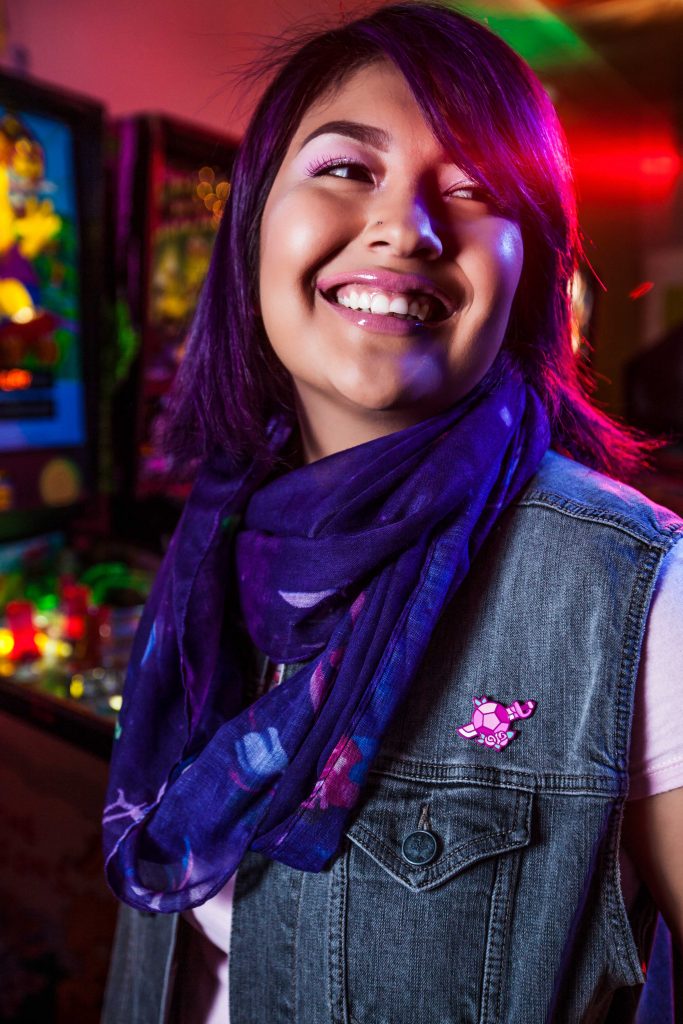 ---
---