Loot Wear is teaming up with female artists throughout geekdom to design and curate for our Loot for Her line. We're calling this program "For Her, By Her"! Each month we'll bring you a one on one with each artist we collaborated with, making unique apparel designed by talented women in the field.
---
This month we bring you star artist Megan Lara! Megan designed our Buffy the Vampire Slayer item for us in April's ARTIFACTS theme!
Where are you from originally and where do you call home now?
I'm originally from the very small town (population: 1,190) of Lincoln, Missouri, which is located near the Ozarks area (if you've seen Netflix's "Ozark," then just picture that). I lived there and in the nearby town of Sedalia until I was 25 before I high-tailed it outta there and moved to the west suburbs just outside of Chicago, Illinois.
What is your artistic background and did you have any formal training?
I've been drawing or painting in some form all my life. But my interest in art really took off after my parents bought me my first tablet (a small, red and white Wacom Graphire tablet–the kind where you don't actually draw directly on the screen) when I was 12 years old. I'm very fortunate that my parents consistently supported my love for drawing, and they always encouraged it and bought me whatever tools I needed—I can't thank them enough for that. After my first tablet arrived and I got the hang of drawing with it , I continued to draw and paint with traditional media, but my primary focus shifted largely to digital painting in Photoshop. I also dabbled in pixel art for quite a while in my late teens, doing some work for some smaller mobile games that I don't think were ever released.
I don't actually have any formal training for my digital art–I'm entirely self-taught in that department, teaching myself mostly through trial and error, asking my friends too many questions, watching YouTube tutorials and lurking on the ConceptArt.org forums. I did attend State Fair Community College for a few years of instruction in oil painting, watercolor, sculpture and drawing in order to get my AA in studio painting. Afterward, I had planned on transferring to a university to get my bachelor's in illustration, but I was very fortunate in that my t-shirt design career took off before I incurred too much student debt (so lucky).
How did you arrive at your present skill sets and artistic style?
I think one of my strengths is my versatility. Im able to adapt to whats needed on a project relatively easily and I attribute that to my attention to detail and ability to figure out how something works. As a child I always liked working with my hands, taking things apart then rebuilding it or building elaborate models out of things like legos or random things I'd find at home. I figured I was on track to be an engineer especially since both my parents have a math background. Later in high school, I discovered my love of the arts.  I was supported by both my teacher and my mother which helped me immensely because I really had no idea what I was doing at the time since I started so late. I got into art school and everything went from there. So I guess thats the very long answer to also what my "style" is which I think fluctuates a lot. I have a tendency to jump around when it comes to what I do and how I do it. Currently a lot of my illustrations have a very clay-like feel to them. I've gotten into sculpting which most likely influenced it.
How did come to your present skill sets and artist style? How much do you do digitally? Everything is colored and drawn beautifully!
Thank you so much! I became interested in pop culture and art nouveau after I was gifted a book of Alphonse Mucha's artwork. I'd never heard of him before and was blown away, because even before I was given that book, I already had an obsession with painting realistic faces and forms offset by thick, graphic lines like you see in art nouveau. I distinctly remember looking through it and thinking it would be really fun to combine modern day popular culture with these beautiful paintings, because it would be a nice way to still show off your nerdy interests, but dress it up in such a way that it could be more subtle. I thought the juxtaposition of old with new, realism with graphic lines and commercial art with fine art would be a fun challenge and could look cool if done correctly.
I work from start to finish digitally! I honestly can't remember the last time I picked up a real pencil–I probably oughta change that, since I do miss it, but I've gotten so used to working 100% digitally that it's hard to go back (plus I miss the undo button)!
Your art style is heavily influenced by art nouveau. Which artists are your influences?
Primarily Alphonse Mucha, as he is the first artist you think of when you think of art nouveau, but also Adam Hughes, as he takes a lot of inspiration from art nouveau as well. As far as non-art-nouveau influences go, other artists I admire and look up to a lot are James Jean, Camilla d'Errico, Loish, Babs Tarr and Audra Auclair. Looking at their work always inspires me.
What are your current fandoms?
Oh, jeez. I'm still obsessed with Hannibal and am pretending hardcore that it wasn't canceled. I'm not terribly involved in many fandom communities, really, but as far as shows/movies/books that I'm borderline obsessed with right now (including current shows and older ones): Westworld, Game of Thrones, X-Files, Community, Dark Tower, It's Always Sunny in Philadelphia, Buffy the Vampire Slayer, and Star Wars. Currently, I'm actually obsessed with history and true crime podcasts and am probably most active in the My Favorite Murder community (which might as well be a "fandom").
This month you've designed a Buffy the Vampire Slayer item for us! Who is your favorite character from the show?
Definitely Willow. Growing up, it was kinda mind-blowing for me to see a girl go from dating men to dating women, since I knew I was bisexual from an early age but never really saw representation like that on television and lived in an area where that just wasn't a "thing" (though Willow identified as a lesbian and not bisexual–but at the time, I interpreted it as her being bisexual–and, really, any LGBT representation helped). Plus, she was pretty shy, nerdy and chill, but then had these awesome powers that you wouldn't have expected her to have just by looking at her and she could totally be a badass. I've always liked the idea of having more under the surface than most people would suspect. I just really related to her a lot.
Can you tell us a little about the design process behind your item?
For this design, I spent many hours gathering references to help me make sure I could make it look like a neotraditional tattoo design. I also watched way too much Buffy to gather screencaps to make sure I captured her very distinct features accurately. I had to sketch out her nose by itself several times in an attempt to accurately capture it–while SMG has a distinct face, it can be surprisingly hard to draw!
The way I work is to do several rough thumbnails, choose one, tighten up the lines, trace over it to tighten them up further–basically repeat that process four or five times until I'm happy with the linework. I go over the second-to-last final with the pen tool to make sure the lines are all uniform. After that, as a product of creating shirt designs for so long, I laid down flat colors on separate layers (which feels a lot like coloring in a coloring book), with the shading for each color on it's own layer. Once happy with the base colors and shading, I merged them and worked on the design in one layer–since I didn't want to worry about screen-printing this, being able to merge the layers made it so much easier. 🙂
How has geek fashion played a role in your life and can you tell me about your personal fashion style?
A few years ago, my wardrobe was almost entirely yoga pants and geeky t-shirts. Recently, however, I've gotten more into fashion, makeup and hair and have really embraced my femininity. I moved over to sporting more subtly nerdy designs–designs that you might not necessarily realize allude to anything nerdy at all (subtle patterns, colour combos that call back to a character, etc.). I've been surprised to find that Hot Topic has a lot of dresses that fit that description, so I've bought a few dresses from there recently, which is something I never thought I'd do while rapidly approaching my thirties. I've switched to wearing dresses almost entirely, usually in a skater dress style with leggings (I know I'm a few years past trend, there, but I like what I like). I'm really obsessed with leggings and will be for a while. 🙂 My favourite designers when it comes to non-nerdy fashion are Betsey Johnson (for purses and accessories), For Love & Lemons and Alice McCall.
Tell us one fun or quirky thing about yourself!
Oh, I have a few short ones, because I'm a massive weirdo:
I can do a near-perfect impression of a sheep bleat (I learned it from watching "Babe")
I have Tourette's (the disorder isn't quirky in and of itself, but I think the noises I make are pretty hilarious–it made a good drinking game in my early 20s)
I was born without a sense of smell–so I never have to deal with smelling B.O. at conventions–it's nice!
Do you have any words of inspiration for other women looking to go into your field?
It's cliche, but in this sort of career, one of the only things holding you back is just how much you actually want it, and how much time and energy you're willing to devote to it. It sounds obvious, but a lot of people tend to give up because they're not naturally "talented." I don't believe there is any such thing as talent, and saying you can't achieve success because you're not talented is just an excuse for you to give up. With the advent of the internet, you have so many tutorials and videos at your fingertips, you can email your favorite artists and ask for advice. You can post your art and have to critiqued nearly everywhere. You can spread your art to so many people with social media. You can take classes on branding, advertising and business in combination with art classes. While I will admit that some of it does boil down to luck (I'd say that internet popularity can be a bit of a crapshoot), I really do think that anyone dedicated enough can make a living with art. And you can easily stack the deck in your favor by doing all of the above. 🙂
And once you are successful, don't fall victim to 'imposter syndrome' like many women do; every success you've worked for is something you absolutely deserve, and is something to be proud of. 🙂
Thanks for chatting with us, Megan! You can see more of Megan's art on her website, as well as on Twitter, Facebook, and Instagram!
---
---
Before we get to the amazing pictures of the April ARTIFACTS themed Loot For Her EXCLUSIVE, make sure you're ready to grab yours before April 19th at 9pm PST!
We're proud to reveal the incredible design made just for us by Megan! 

SPOILER WARNING:

If you don't want a spoiler yet, scroll no further!
Ready?  Okay…. introducing, Megan's Buffy the Vampire Slayer leggings!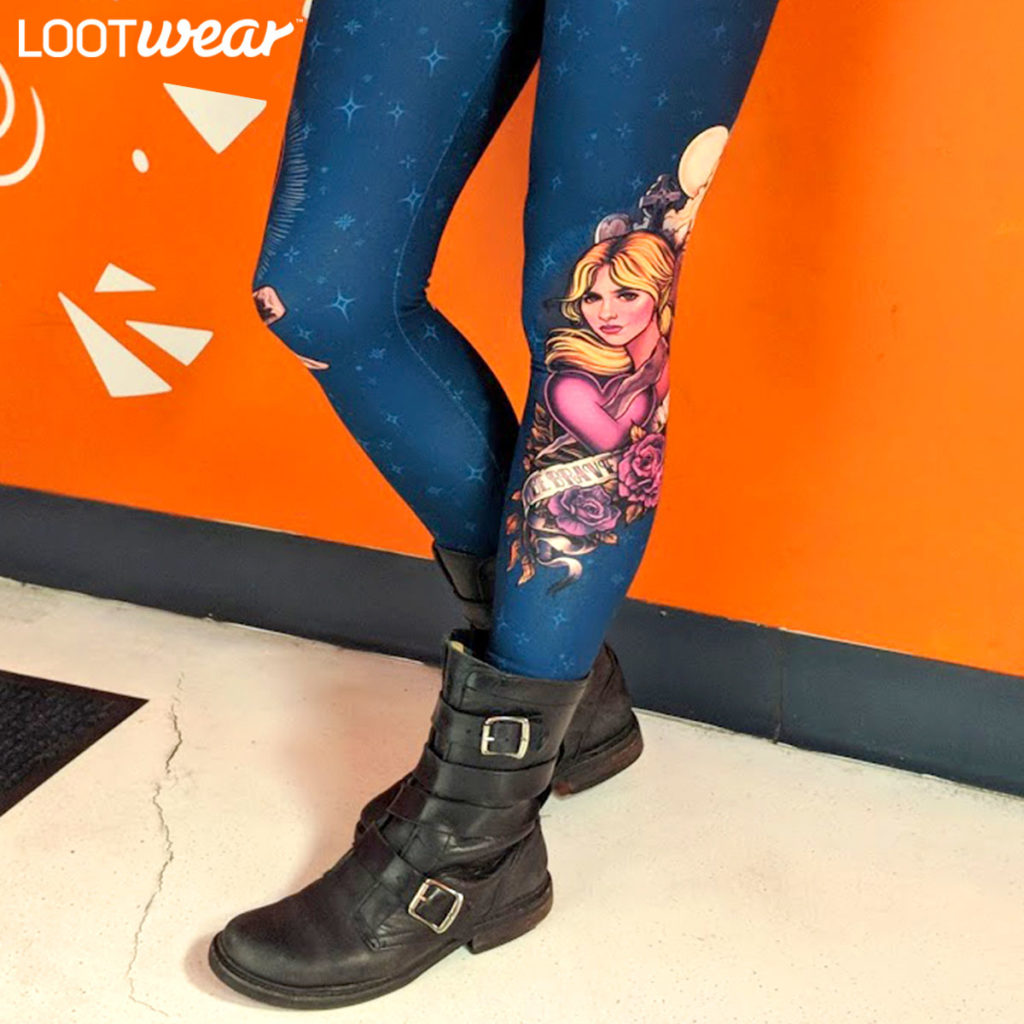 ---
---