Loot Wear is teaming up with female artists throughout geekdom to design and curate for our Loot for Her line. We're calling this program "For Her, By Her"! Each month we'll bring you a one on one with each artist we collaborated with, making unique apparel designed by talented women in the field.
---
This month we bring you star artist Tracie Ching! Tracie designed our Ghostbusters item for us in September's INVADERS theme!
Where are you from originally and where do you call home now?
Originally, I'm from the island of Oahu. I spent most of my youth on the Jersey shore and am now living in Washington, DC.
What is your artistic background and did you have any formal training?
I hold a BFA (Bachelor's in Fine Art) with a focus on mixed media sculpture, but didn't enter into the world of graphic design and illustration until after I graduated. All programs I've learned, skills I now hold, were entirely self-taught.
Your artistic style is full of textures and patterns. How did you arrive at your signature style? Which artists are your influences?
I've always loved antiques, but at the end of the day I'm downright obsessed with old books and ephemera. I have a fair collection of stamps, postcards, certificates, and other odd bits of paper from the Civil War, Victorian, and Edwardian eras. So it naturally follows that I am drawn to engraving styles. The mastery of Aaron Horkey and Laurent Durieux had a profound impact on my humble beginnings and are stars whose height I still hope to attain.
How has geek fashion played a role in your life and can you tell me about your personal fashion style?
Geek fashion's role in my life has always been subtle. I generally wear solid, bold colors. I love contrast so outfits usually involve black and pop tones. Any patterns tend to be abstract and geometric. But with my life and career so entrenched in pop culture I couldn't divorce geek from my style entirely. If you look closely you might see the Blade Runner unicorn lapel pin on my blazer, rebel alliance studs in my ears, or starfleet undergarments (although I really hope you aren't looking that closely). That being said, I did snapped up the Robocop tee by Gabz when the overflow hit your store. Couldn't say no to Gabz, subtle or not.
What are your current fandoms?
I love to watch episodes of various shows while I work so my fandoms tend to be series-based – whether it be Stranger Things, Jessica Jones, or Luke Cage on Netflix, Harlots on HULU, or Man in the High Castle on Amazon (still in denial that The Expanse got the boot).  There are also the oldies n' goodies like Firefly, Parks & Rec, 30 Rock. I guess you could say my real fandom is TV that isn't actually on TV.
This month you've designed a Ghostbusters item for us! What's your favorite Ghostbusters moment? Who is your favorite character from the movie?
I've always love a good villain, so it's hard for me to say whether I love Zuul or Dana more. My favorite scene is when possessed Dana first asks Venkman if he's the Keymaster – her question, his denial, and then her expression and posture as she slams the door in his face. Zuul ain't got time for you, mortal scrub!
Can you tell us a little about the design process behind your item?
As with anything film-based I watch the film. First time around is for context and tone while keeping an eye out for good shots/scenes. Second time is to screen cap reference material, which is incredibly important when dealing with likeness. Then, I create a quick rough to illustrate composition and lighting. My roughs look nothing like the final in terms of detail. Once the rough is approved I begin the final line work. If timing permits I send work-in-progress images. Otherwise I'm a freight train hurtling toward the finish line.
What was your favorite part about coming up with this design?
You mean other than drawing the queen of sci-fi? I love drawing hair and there's nothing quite like curly 80s hairdos.
Tell us one fun or quirky thing about yourself!
I have a Hawaiian middle name, and soda without ice upsets me.
Do you have any words of inspiration for other women looking to go into your field?
My advice to everyone is to remember talent doesn't have to be born. It can be made. If you work hard and work smart, be tireless and passionate, (and try not to be a butt-face) it's hard not to succeed.
To the ladies –  the more niche or vehement the subculture, the more difficult it can be to enter and maintain a presence if you are 'other' – be it female or otherwise. You may run into opposition – most commonly comments made about your looks, sexuality, or right to exist in that space. The saying goes "Don't feed the trolls.", but I never subscribed to that methodology. My advice is kindly serve up as much success as humanly possible. Trolls are notorious for choking on it.
Thanks for chatting with us, Tracie! You can see more of Tracie's art on her website, as well as on Twitter, Facebook, and Instagram! Also just recently, Tracie has launched She Creates, a new mentorship and grant program for emerging female artists. Find out more info here.
---
---
Before we get to the amazing pictures of the September's INVADERS themed Loot For Her EXCLUSIVE, make sure you're ready to grab yours before September 19th at 9pm PST!
We're proud to reveal the incredible design made just for us by Tracie! 

SPOILER WARNING:

If you don't want a spoiler yet, scroll no further!
Ready?  Okay…. introducing, Tracie's Ghostbusters cold shoulder top!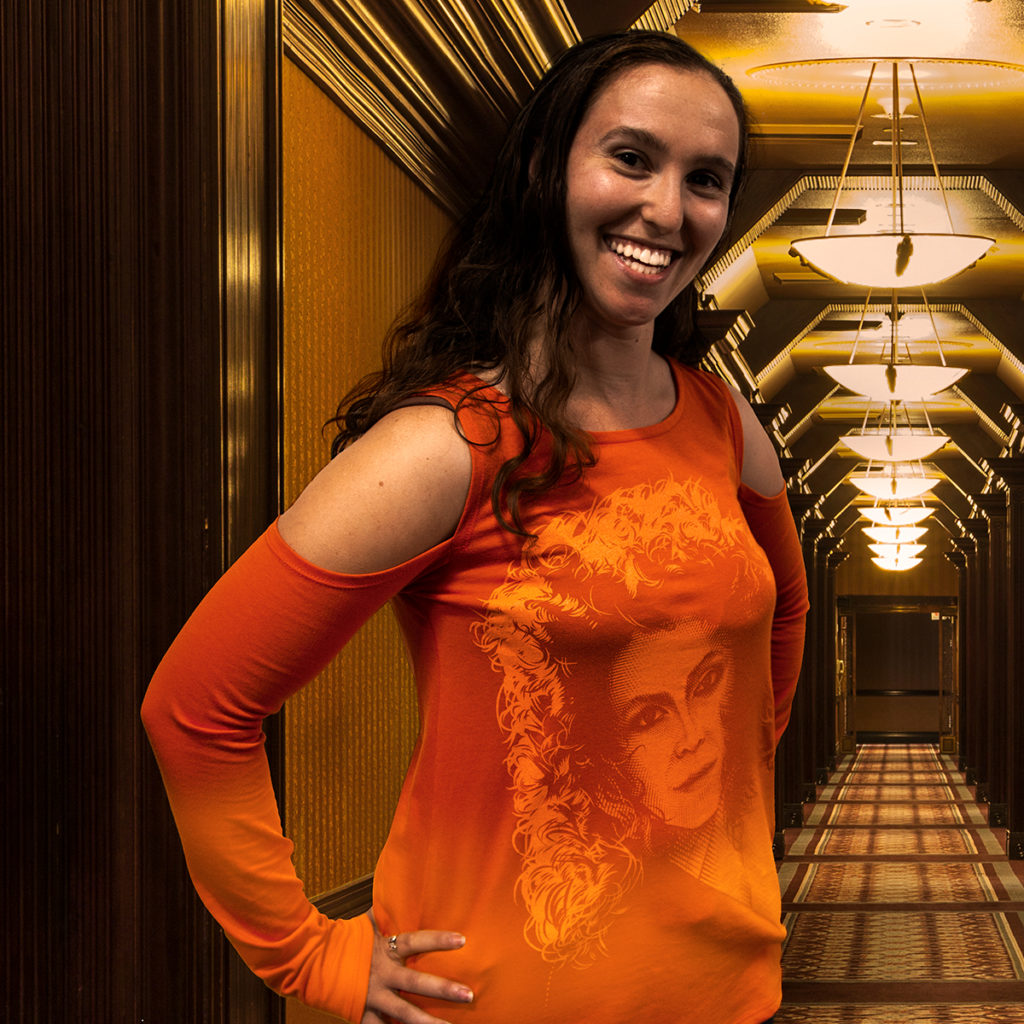 ---
---