Whether it's grueling training, epic battles, or facing the power of a shinigami, sometimes it's a win just to #
SURVIVE
!
This past
September's Loot Anime
crate powered through life's challenges with loot fit for its determined theme.
September's Loot Anime subscribers received EPIC loot celebrating the survivalists within Naruto, Deadman Wonderland, Death Note, and Black Clover.
Looters unboxed their survival kit to reveal:
Exclusive Death Note Ryuk Socks

Exclusive Deadman Wonderland T-shirt

Exclusive Yume SURVIVE Phone Charm

Exclusive Naruto Sasuke Figure

Loot Crate Edition Black Clover Vol.1
Of all the "tools" in our Looters' survival kits, the fan favorite by far was the exclusive Deadman Wonderland Shirt featuring two of the main characters from the anime, Shiro and Ganta.
Check out what our fans had to say about this awesome t-shirt!
Instagram Looter @haibaikandy is totally team Shiro and Ganta! "I got a Deadman Wonderland shirt from loot anime! Shiro 💗 Ganta."
Looter @jackvegas83's got the right idea. New shirt? New selfie! "Deadman Wonderland selfie! #lootanime #lootcrate #looterlove"
No, thank YOU @arcademermaid_! "Ahhh ! I love my new #deadmanwonderland T-shirt !! Thanks #lootanime"
Thank you to all of the Looters who shared their pictures with us using #lootanime and #lootcrate on Twitter and Instagram. Keep sharing and YOU could be featured on our blog, social pages or in our magazine!
(photojennicc)
(atypicaldisease)
(fallonmederios)
(christitutional)
(cayykatt)
(scottspex)
(__lxurxn__)
(nancyyy567)
(keeperofhades)
(bexiejewell)
(whatsupjonnyde)
(___askablackguy)
---
---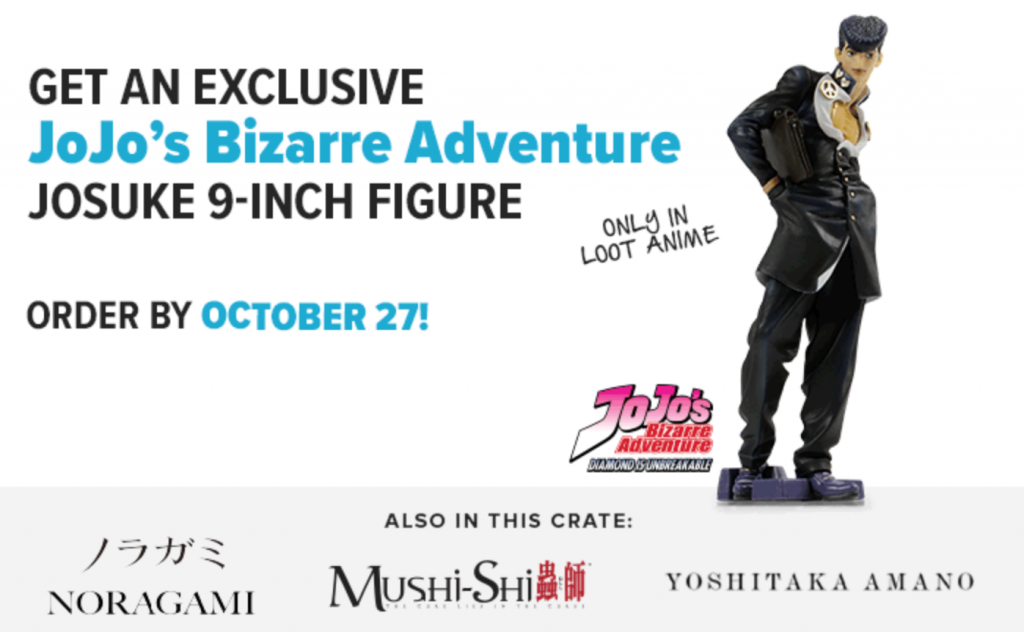 They can be benign and benevolent or your family might have to fight them for generations. #GODSANDSPIRITS are all around us and we honor them with October's theme featuring items from JoJo's Bizarre Adventure, Artist Yoshitaka Amano, Mushishi and Noragami! Subscribe by 10/27 to get yours!