When you explore the path less traveled, you never know what you'll #DISCOVER. Hidden truths, dark secrets and a touch of destiny all await you.
January's Loot Crate DX Looters journeyed into the unknown and uncovered illuminating collectibles and gear from Westworld, Bill & Ted's Excellent Adventure, Harry Potter and The Dark Crystal!
This crate featured a DYNAMITE assortment of loot:
Exclusive Bill & Ted "Wyld Stallyns" Raglan

That Dark Crystal: The Ultimate Visual History Book (LC Edition)

Exclusive Westworld Dolores SuperEmoPlush

Harry Potter Q-Fig

Exclusive CLUE Pins
Forget about those strange things afoot at Circle-K. This January, Loot Crate DX Looters practiced their best air guitar and DISCOVER(ed) their destinies like Bill & Ted with our most excellent Wlyd Stallyns concert-style raglan!
(MySubscriptionAddiction)

If you're not familiar with Bill & Ted, the Wyld Stallyns are the greatest band of all-time, not just because of its musical impact, but its societal impact as well, bolstering relations between nations and facilitating contact with extraterrestrial life (including Martians).
Check out what our Looters LOVED about discovering their destiny with January's Bill & Ted "Wyld Stallyns" Raglan!
Stay excellent Looter @masterflimflam! "My favorite new shirt #lootcratedx @lootcrate #billandted"
LOVING the whole outfit @ami_laurin picked out! "Outfit of the day featuring black leggings, converse, and the Loot Crate DX Wyld Stallyns Shirt"
Looks like we hit the nail on the heads for Looter @gnargnarjinx! "BY FAR, the best shirt I've received from #lootcratedx 😍😍😍 #wyldstallyns #billandted #stoked#lootcrate"
Thank you to all of the Looters who shared their pictures with us using
#lootcratedx
and
#lootcrate
on Twitter and Instagram.
Keep sharing and YOU could be featured on our blog, social pages or in our magazine!
(nerdy.collector)
(jackvegas83)
(blindbagtoyaddict)
(geeky_wife)
(bittermidget)
(thedishygeek)
Remember: Be excellent to each other, dudes!
---
---
Curious about what other loot our
Looters LOVE
?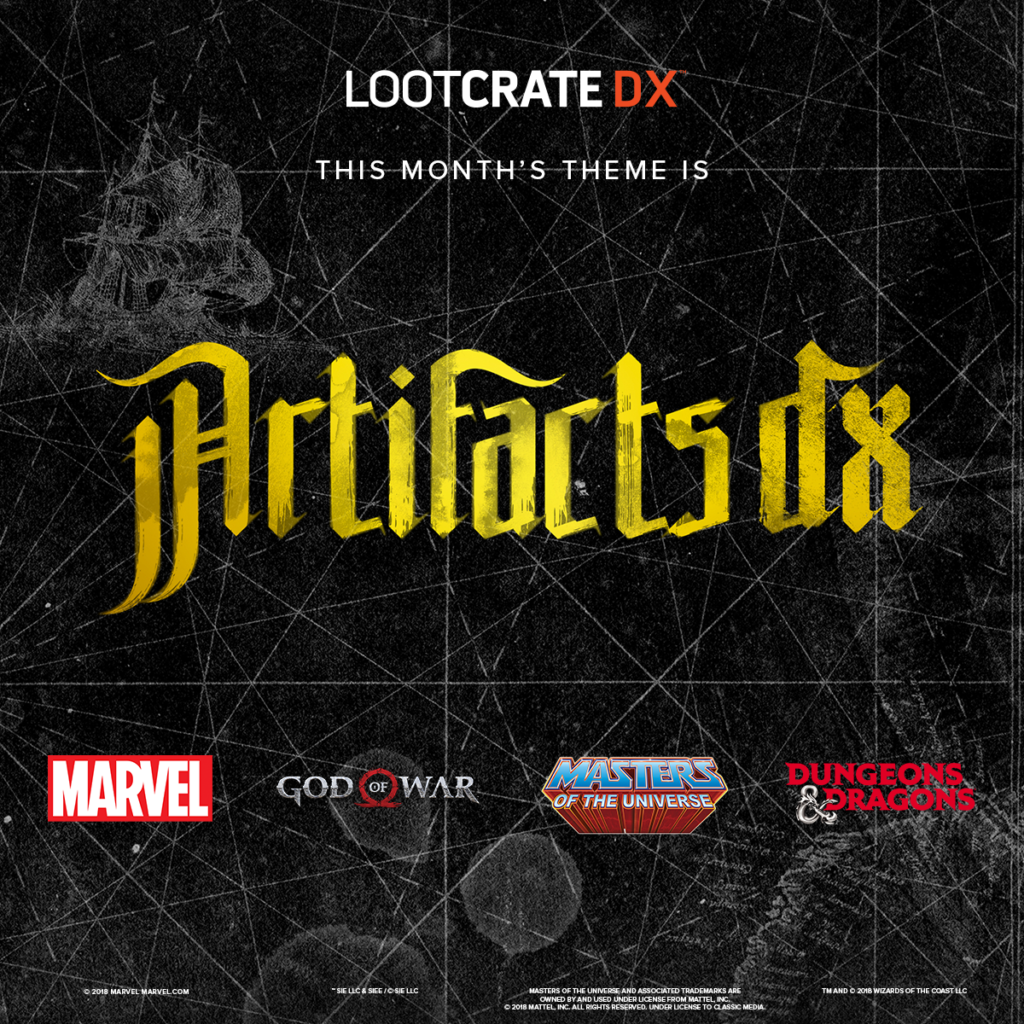 Passed down through the ages, ancient relics summon strength, courage and protection. Unearth storied #ARTIFACTS in this month's Loot Crate DX crate of EXCLUSIVE loot from Dungeons & Dragons, The Avengers, God of War and He-Man and the Masters of the Universe!