This past December, we wrapped up 2017 by opening up our vault of exclusives to Fallout fans! The VERY first
Fallout Crate,
"Vault-Tec"
had Looters cashing in their bottle caps for our LATEST gaming-themed crate!
We partnered with Bethesda in order to prepare everything we need for the Fallout Crate! Looters can NOW sign up for S.P.E.C.I.A.L surprises and EXCLUSIVE Fallout apparel, collectibles and MORE valued at $65+ every other month!
Did we mention that first YEAR of Fallout Loot Crates contain pieces of an original figure series featuring companions from the game with interchangeable weapons?! No? Well now we did.
Don't fret Vault Dwellers! If you miss a piece of power armor, you can complete your collection on the Loot Vault! (No one wants a headless figure).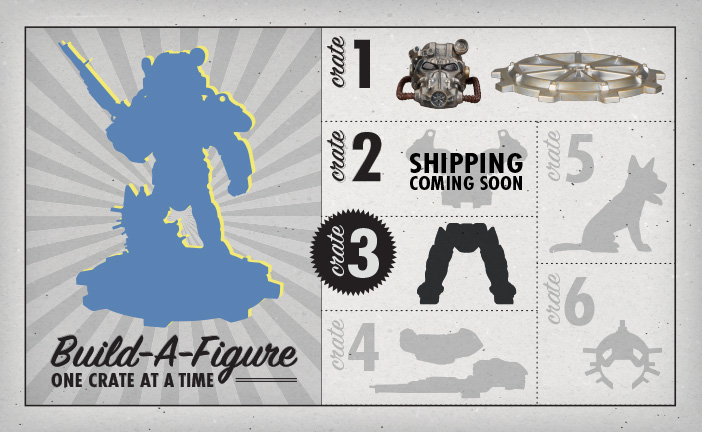 Looters were THRILLED with the first Fallout Crate theme: Vault-Tec! Here's what was inside this 100% exclusive crate!
Fallout 3 Tunnel Snakes Hoodie

Fallout 3 Fawkes Figure

Power Armor Build-A-Figure Helmet

Vault-Tec Schematic Mug

Vault-Tec Mouse Mat

Lone Wanderer Perk Pin
Check out what our Looters had to say about their very FIRST Fallout crate!
Looter @starry_eyed_fever came home to a S.P.E.C.I.A.L surprise! "There is nothing better to come home to after a 14-hr workday than my first fallout crate!!!!!!!!! Um, well okay, maybe my hubby, kids, and cat. but, look, it's fallout!!! #nerdlife #fallout"
Instagram Looter @wesjohnson‪ was STOKED to see his favorite character! "That happy moment when a favorite character you voiced arrives in the mail. #falloutcrate #Fawkes #IWINAGAIN!‬"
We're so excited to see @sassy_cas_ loving our exclusive hoodie! "The obsession is REAL! Thanks @lootcrate for my Tunnel Snakes hoodie and all my other goodies!! 😍#falloutcrate
Thank you to all of the Looters who shared their pictures with us using
#lootgaming
and
#falloutcrate
on Twitter and Instagram.
Keep sharing and
YOU
could be featured on our blog, social pages or in our magazine!
(madcatprimus)
(art.ruiz.y)
(martialgenest)
(artrexis_lives)
(spammi907)
(johanmikaelek)
(bizzarejojo.shenanigans)
(c_to_the_sea)
(kellsipeth)
(kaden_j_kremin)
(inkaria)
(braciolajack)
---
---
Get ready for fizzy fun for the whole family with the refreshing (possibly warm, flat, slightly irradiated) taste of NUKA-COLA! Zap that thirst with an EXCLUSIVE Fallout 4 Piper Figure, Nuka-World T-Shirt and more! Fallout Crate's theme: NUKA-COLA ENDS 4/3 AT 9PM PT