*Play Ghostbusters theme song to enhance blog experience.*
"Who you gonna call?" If you don't know the answer to this famous pop culture question, we're not sure what rock you've been hiding under for the past 30 years.
To commemorate three decades of proton packs, free floating apparitions and of course, slime, we curated a bundle of Ghostbustin' goodies in 2016 to create the Limited-Edition Ghostbusters Crate.
My Subscription Addiction

This terrifyingly terrific crate featured FIVE exclusive items for Ghostbusters superfans! Fans of both the original films and the recent rendition LOVED this crate!
This crate included:
-2016 Proton Pack Replica*

-2016 Uniform T-shirt*

-Die-Cut Logo Rug*

-Glow in the Dark Slimer Figure*

-Set of 2 Pre-Vis Art Prints*

-Ghostbusters Limited Edition Crate Enamel Pin




*loot is exclusive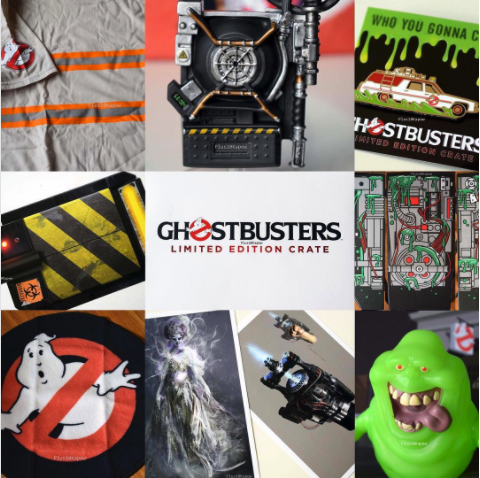 (plus10kapow)
Looters raved over the exclusive loot, and reversible #CrateCraft that turned into a personal proton pack. (STRAPS INCLUDED!) See what our Ghostbusters fans had to say about the May 2016 Limited Edition Ghostbusters crate:
@amisusanne LOVED the enamel pin!  "My favorite part of the #lootcrate!!! #ghostbusters #lootcrateexclusive"
Ghostbusters rugs also make for the perfect napping spot for @leggetme's kitty. "Dreaming of catching ghosts, and of catnip."
nativespirit27 is ready to take on Slimer! "Ready to fight any ghost that come around. #lootcrate #ghostbusterslootcrate"
Thank you to all of the Looters who shared their pictures with us using
#ghostbusterslootcrate
and
#lootcrate
on Twitter and Instagram.
Keep sharing and
YOU could be featured on our blog, social pages or in our magazine!    
And remember. Whatever you do….
nyphiria
ectocoolerghost
zuulfrenchie
pichogram
Curious about what other loot Looters love? Check out our Looter Love series for more insights on fan favorites.
---
---
Stay tuned for announcements about future Limited Edition Crates!