Hello Loot Crate Hello Kitty fans! WELCOME back to Loot Crate Love posts! I know it has been a long time coming but we really want to start posting Loot Crate Loves again so you guys can get excited for what is in our crates! Especially our Sanrio Hello Kitty and Friends Crates because come on everyone… they are unbelievably CUTEEEEEE!!!
HELLO VACATION! Go for a swim, catch some rays or just relax and recharge. Get ready to have some summer fun with exclusive collectibles and gear featuring Hello Kitty® and her Sanrio® friends!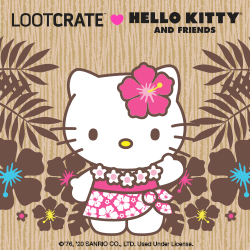 August's HELLO VACATION crate featured this assortment of supercute goodies:
Tiki Muglet Set 
Clinch Bag Towel 
Hello Vacation Wooden Sign 
Sunglasses 
Hello Kitty Charm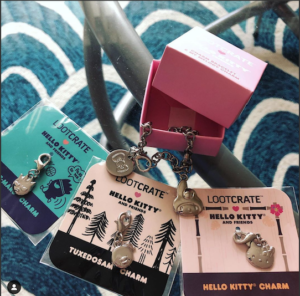 Thanks so much to everyone who shared and we are so glad you joined us for this Loot Crate Love blog! If you are interesting in signing up for our Hello Kitty and Friends Crate make sure you click on the link below! Have a great day!