Our spoopiest release of the year is finally out in the world, as our inaugural Loot Fright crate – themed TRICK OR TREAT – arrived in the hands of our Looters who can't get enough horror!
Looters were over the moon to discover a fright-filled crate featuring Trick 'r Treat, Evil Dead 2, Nightbreed and Night of the Living Dead!  
SPOILERS BELOW!
This very first assortment of Loot Fright features a killer (pun totally intended) collection of Loot to delight horror fans past and present, from an all-time zombie classic to one of the 21st century's most beloved cult hits. It includes:
Exclusive Trick 'r Treat T-Shirt
Loot Fright Edition Evil Dead 2 SuperEmoScenes Figure (Bloody Variant)
Exclusive Night of the Living Dead VHS Cover Pillowcase
Loot Fright Edition Clive Barker's Nightbreed Vol. 1 Graphic Novel
Exclusive Mummy Pin
BONUS: Lobby Card Replica From Night of the Living Dead
Subscribers to Loot Fright waited in anticipation through our pre-sale period over the summer for this first taste at our foray into horror; we're thrilled that so many of you seemed to enjoy grabbin' these treats for your very own!
Check out what our Looters had to say about their scary-awesome new favorite tee – this Trick 'r Treat tee was a BIG hit! – and October's Loot Fright crate!
Full season's spirit from skelling1o!: Always hand out candy to trick-or-treaters. Always wear a costume. NEVER blow out a Jack O'Lantern before midnight. Always respect the Dead. Always check your candy.
CUTE flannel accessorizing, peachesandquinn!: Going super casual for the day before I put my costume on in a couple of hours! Super obsessed with my #trickrtreat shirt from my first #lootfrightbox! 
"Hope everyone rocked out last night. ." – the_jeff_hall is definitely rocking this shirt!
Thank you to all of the Looters who shared their pictures with us using #lootfright and #lootcrate on Twitter and Instagram. Keep sharing and YOU could be featured on our blog, social pages or in our magazine!
(Instagram: pandora_danger)
(Instagram: horrorinthesquaredcircle)
(Instagram: huggsyootp)
(Instagram: wednesdays.braid)
(Twitter: @spurdermaniac)
(Twitter: @pteravictoria)
---
---
Check out what other past items our Looters love!
---
---
Get hacked for the holidays and chilled to the bone with SEASON'S GRIEVINGS! Unbox frightening collectibles and apparel featuring Krampus, H.P. Lovecraft, and other tales of winter terror!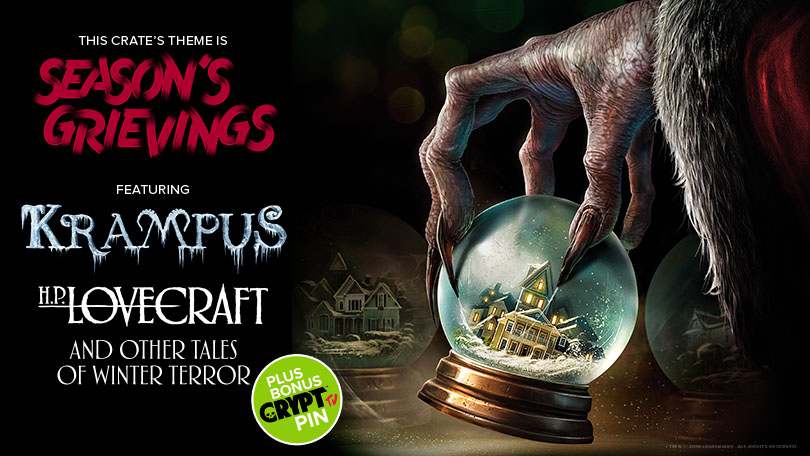 Order By November 15 At 9pm PT!