In a world where evil has won and the bravest of heroes have already fallen, Loot Gaming's NIGHTMARE Crate blew psyche into another dimension. 
Gaming Looters were ready to dive into the weirdest corners of the mind and fend off the looming darkness with gear from franchises like Psychonauts, SoulCaliber II, Silent Hill, and Cuphead.
October's NIGHTMARE Loot Gaming assortment featured:
SoulCaliber II T-shirt (Loot Gaming Exclusive)
Psychonauts Beanie (Loot Gaming Exclusive)
Silent Hill Coaster Set (Loot Gaming Exclusive)
Cuphead Air Fresheners
PAC-MAN Pin (Loot Gaming Exclusive)
Loot Gaming subscribers blew our minds all the love the Psychonauts Beanie from this crate! Seriously, so many people are rocking the heck out of it. You guys are on fire, and fire is pretty.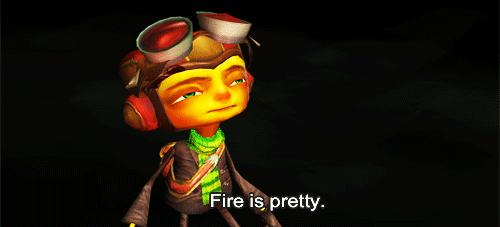 Here's what our Looters had to say about the Psychonauts Beanie!:
Looter Crytus said on Twitter: "Alright @lootcrate you really got me with this Psychonaughts Hat! Love it!" We got you, dude. We got you. <3
Ellie on Twitter was pleasantly surprised: "I don't think you understand how excited I was for some legit Psychonauts merch. Got this month's gaming crate solely for that, saw the beanie, thought nahhh, put said beanie on, and am now in love! It's so comfy and lovely! Plus a ghost I wasn't expecting, so bonus!"  You're so right: you can never have too much Psychonauts merch. Glad you love the beanie!
On Instagram, Looter Veronika shared her love for the beanie, too!: "please can you appreciate my new hat from gaming lootcrate❤️" 
And Donna shared this photo of her son on Twitter: "my son likes the hat lol #psychonauts #lootgaming" Even the young and growing Looters have the power to rock the Psychonauts beanie! 
HUGE thanks to everyone who shared their love for their NIGHTMARE Loot Gaming Crate on Twitter and Instagram! Share photos of you and your loot using #LootGaming and you could be featured in a future Looter Love post!
Twitter: 07Cougar717
Twitter: GamerDoctrine
Instagram: couch_gnomes
Twitter: AliveTakeAKnapp
Instagram: jpaw91
Instagram: dk.wata
Check out what other past items our Looters love!
---
---
Your enemies won't listen to reason. They only understand one thing: the BLADE! Cut them down with razor sharp gear from God of War, The Elder Scrolls, Kingdom Hearts and Assassin's Creed in November's crate. Order by 11/27!