Join us as we ring in spring with Hello Kitty and all your favorite Sanrio friends!
We surprised our Sanrio "Small Gift" Crate Looters with a #NATURALLYCUTE collection of items to help them enjoy the warm spring sunshine.
Whether they're planning a picnic or frolicking through the flowers, thanks to the spring Sanrio Small Gift Crate, our Looters are fully equipped with springtime essentials!
This NATURALLY CUTE assortment of exclusives included:
Multi-character Tote Bag

Sanrio Bamboo Travel Cup

Sanrio Embroidered Pin Set

Sanrio Trinket

Multi-character Crewneck Sweatshirt

Chococat or My Melody Baseball Hat
Looters LOVED this spring assortment of Sanrio goodies! From the comfy pullover perfect for chilly spring nights, to the adorable canvas tote featuring Hello Kitty and friends!
An adorable sweatshirt for an adorable @rabbitinrose! "I love my new sweater 💕🎀 Only one of the adorable things I got in my last #sanriosmallgiftcrate themed #naturallycute"
In addition to our warm and cozy sweatshirt, Sanrio Small Gift Crate Looters received a variant of our perfectly pastel baseball hat! Embroidered with Chococat or My Melody! The perfect accessory for a day of fun in the sun!
We are thrilled to have supplied @macaroonmondays with her one and only hat! "I love my new hat. It's also my only hat."
What's spring without a sweet drink to sip on? Thanks to our BPA-free travel cup, Looters can now take their Sanrio friends with them wherever they go!
Cheers to you Looter! Thanks for the picture @aerosyne! "My #SmallGiftCrate arrived in the mail and one of the items was this super cute bamboo travel cup."
This cup features a silicone top and grip and fun springtime print with Hello Kitty, My Melody, Chocolate, and Little Twin Stars.
Another fan favorite item from this crate is our super cute embroidered pin set featuring Hello Kitty, My Melody and Chococat dressed in their spring finest!
Try pinning one on your tote or hat! After all, you can never have too many accessories!
We love you Looter! @chelseachickapow "I'm so in love with this month's Sanrio Small Gift Crate!! So kawaii!!"
Thank you to all of the Looters who shared their pictures with us using
#SmallGiftCrate
and
#lootcrate
on Twitter and Instagram.
Keep sharing and
YOU
could be featured on our blog, social pages or in our magazine!  
(01beautifulyou)
(mufkin)
(hina_some)
(luckmode)
(hellojenny5309)
(brunchwithliz)
(pupslyfe)
(lifeaslollie)
(misskittywhite)
(kittyash2307)
(tonfapoo)
(jomjen)
(mauiandsari)
(xbetrayer)
(soul_bubble)
(proftumblebuns)
(dodger91)
(courtneyxx93)
What other loot do Looters love? Find out
here
!
---
---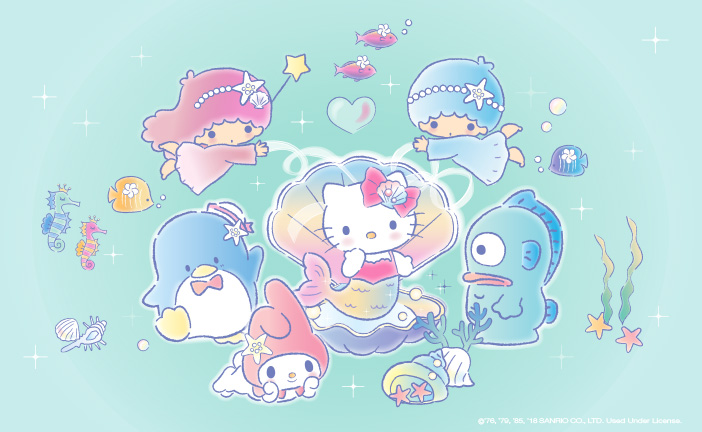 Make a #SPLASH this summer with all your favorite Sanrio friends! Dive into an underwater adventure full of beautiful mermaids, sparkling shells and fun new worlds to explore! Order By 6/15!