Now entering the ring at a whopping 7 X 11 inches! Sporting a sleek, square-shaped surface, with its intimidating yet, lovable presence, we present the WWE Slam Crate!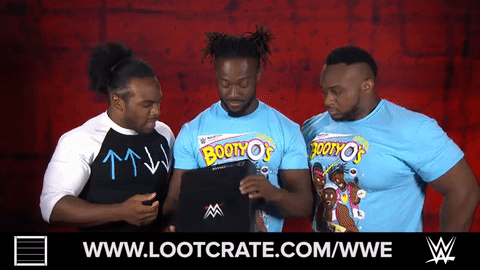 Every other month, some of our roughest and toughest Looters unbox the most hardcore collection of exclusive WWE items, including unique collectibles and ultimate super fan apparel! Each crate is valued at $60+ and is PERFECT for any fan who wants a piece of the WWE Universe.
We packed our bags and started our journey on the ROAD TO WRESTLEMANIA. Also known as, the action-packed theme for February's WWE Slam Crate. To celebrate every takedown, double-cross and unlikely pairing, we curated a crate with EXCLUSIVE items featuring The Rock, Seth Rollins, Charlotte Flair and other champion Superstars.
Not that Rock…
Looters were cheering EXTRA loud for our EXCLUSIVE World Heavyweight Championship Waist Pack. The World Heavyweight Championship in waist pack format features an adjustable belt, and can be worn over the shoulder, or around your waist. We'd be remiss if we didn't mention that a certain famous Superstar inspired this item's creation.
**Exercise caution when replicating moves**
Check out what some of our WrestleMania mega fans had to say about our exclusive loot!
WWE Superfan @fropromo said, "Best #fannypack ever!!!! #WWE #WWESlamCrate #SlamCrate"
Our next Looter is an ANIMAL in the ring. 😉 Or maybe, always. @jesskaine shared her picture saying, "And newwwwww WWE Champion!"
@rustfromtheroad has a permanent accessory for her look! "Thank You @LootCrate ! I am never taking this off! #WWESlamCrate #TheChampIsHere"
Thank you to all of the Looters who shared their pictures with us using
#wweslamcrate
and
#lootcrate
on Twitter and Instagram.
Keep sharing and YOU could be featured on our blog, social pages or in our magazine!
Photo by 'bigrckstr'
Photo by 'everydaygeektv'
Photo by 'wickedweeza'
Photo by 'michaelcwchan'
Photo by 'pgvildys'
Photo by 'pgvildys'
Curious about what other loot Looters Love? Check out what our fans had to say about our exclusive loot from Loot Crate, Loot Pets, Loot Wear, Loot Crate DX, Loot Gaming and MORE! Share your pics with us on social with the hashtag #LooterLove!
This month, we're featuring some of your favorite superstars that don't just hit hard, they talk hard, too. They're
MASTERS OF THE MIC
.
We're celebrating the Smack Talker Skywalkers with EXCLUSIVE loot including the first figure in our brand new "Attitude Era" series, featuring Stone Cold Steve Austin!
Order by April 15th at 9PM PT to get your WWE Slam Crate!