If your family is anything like the Griswolds, then the holidays are a crazy time. As insane and stressful as they may be, they're also all about family. Maybe you're looking for a dessert to hold your relatives at bay while you finish the fruitcake, or maybe you're looking for a safe way for the kids to help out in the kitchen. Either way, these peppermint creams are a quick treat to add to your holiday…and let your kids get a little messy.
Ingredients
3 tbsp cream cheese
2 cups powdered sugar
1/2 tsp peppermint extract
green food coloring
chocolate chips
vegetable shortening (1/2 tsp for every 1 oz of chocolate)
Step 1: Making the Cream
In a medium mixing bowl, combine the cream cheese, peppermint extract, and green food coloring. (Remember: with food coloring, a little goes a looong way. We only used one drop in our batch for a light, mint green.) Whisk together until you have a smooth cream. Then, bit by bit, add the powdered sugar and mix. Your end goal should be a light dough only just sticks to your hands.
Step 2: Minty Play-Doh
This is the fun part! Take a pinch of dough and roll it between your hands until you form a small disk. The size is entirely up to you and the family! You can make large 2″ circles like a full-sized York Peppermint Pattie, or small 1/4″ circles to stretch the dough out into more bites.
As you make them, lay them on a plate between sheets of wax paper. Then put in the refrigerator to chill.
Step 3: Melting Chocolate
Okay, this part is strictly for adults. To temper the melted chocolate, you're going to need either a double boiler, or two relatively similar pots. (WARNING: Just about every professional has told me not to use two pots as a double boiler. I have yet to listen, and still, I live. Would it be Christmas if we weren't MacGyvering last-minute solutions? Still, I'm putting this disclaimer here to absolve myself of any guilt. Be careful, my dudes.)
In the lower pot, bring water to a boil. In the top pot, combine your chocolate and vegetable shortening. The amount of chocolate you'll need depends on how many patties you made and what kind of coverage you want. For ours, we half-dipped the chocolate for a black-and-white cookie look, and used about 6oz of chocolate. If you're going for fully coated peppermint patties, you'll need more.
Keep a wary eye on the boiling water and steadily stir the chocolate until smooth. Chocolate moves fast, so once you have the right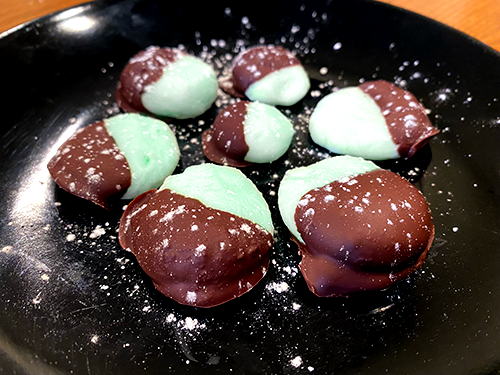 texture, it's time to dip! As you work, lay the patties out on wax paper once more. Then return to the refrigerator or freezer to chill again.
Step 4: Serve!
That's all, folks! Now you have a sweet, minty treat that's melt-in-your-mouth good. Make sure to serve cold, because that chocolate melts fast. Happy Holidays from the Loot Crate Crew!