You are WORTHY… of these cupcakes! To celebrate the God of Thunder in
October's
 #
MYTHICAL
Loot Crate
and
Loot Crate DX
, I whipped up another tasty treat that SCREAMS Asgard. (But tastes much better.)
These cupcake creations pay homage to the colorful "Rainbow Bridge" (AKA the Bifrost) with layers and layers of fluffy, vanilla rainbow cake! Even Heimdall can't keep his eyes of these cupcakes!
I must say, making miniature versions of Mjolnir was the highlight of my week. These cupcakes don't only LOOK Godsent, they taste heavenly! You'll surely be shouting for ANOTHER before you even finish your first one.
*Warning. Consuming back to back cupcakes can cause an upset stomach. Would not recommend doing. Again.*
Enough reading, let's get BAKING!
You will need:
Ingredients
1 White Cake Mix

14oz of Whipped Icing

Red, Yellow, Green and Blue Food Coloring

3 eggs

1 cup water

½ cup vegetable oil

Cupcake liners

Electric mixer

6 small bowls

Rainbow Sprinkles

12 marshmallows

Silver Food Color Mist Spray

12 pretzel rods

Toothpicks
How to Bake:
Follow cake box instructions for mixing batter.
2. Evenly separate batter into six separate bowls.
3. Add colored dye to each bowl. *Mix yellow and red to make orange. Mix blue and red to make purple.*
4. Line cupcake pan with liners.
5. Spoon about 1 tablespoon of batter into each liner, starting with purple.
6. Repeat steps with blue, green, yellow, orange and top with red batter.
7. Bake for 19-21 minutes, or until toothpick comes out clean.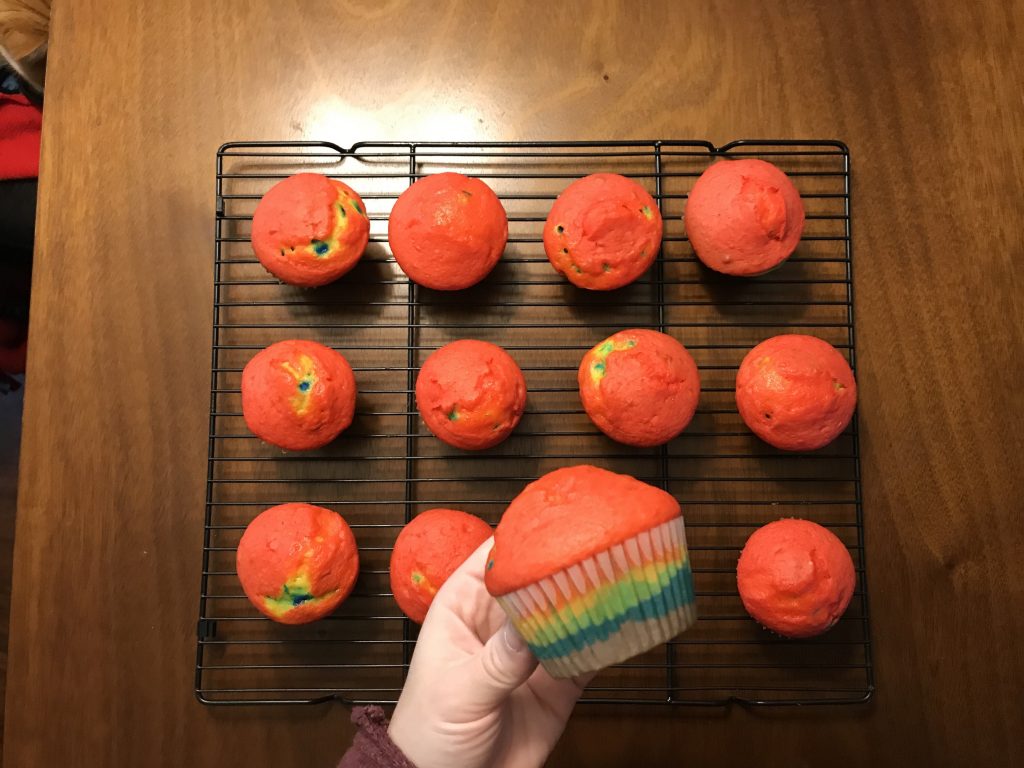 8. Let cupcakes completely cool before icing.
9. Take marshmallows and place on cookie sheet.
10. Spray all sides with Color Mist until covered. Repeat with remaining marshmallows.
11. Place pretzel rods into marshmallows to create tiny Mjölnirs.
12. Once cupcakes are cooled, ice with vanilla whipped icing.
13. Add rainbow sprinkles for Bifrost details!
14. Place toothpick inside of the top of the cupcake to prop up your Mjölnir.
15. EAT YOUR CUPCAKE CREATIONS! YOU ARE WORTHY!
16. Shout for ANOTHER!
Thanks for snacking with me! I'd LOVE to see what other geeky treats and recipes you have cooked up! Use #lootrecipes  or #lootcrate to share your cupcake creations!  
---
---
Don't be sad, even when all the cupcakes are gone, you can still get your filling of Thor with the Marvel Gear & Goods Crate: FOR ASGARD! Sign up by 11/15 to get this exclusive Mjolnir drinking vessel and much more!