As the cold weather continues to get colder, what better comfort food than some stew? Nikujaga is a beef and potato stew that's sure to warm you up in these cold days and colder nights.
Ingredients: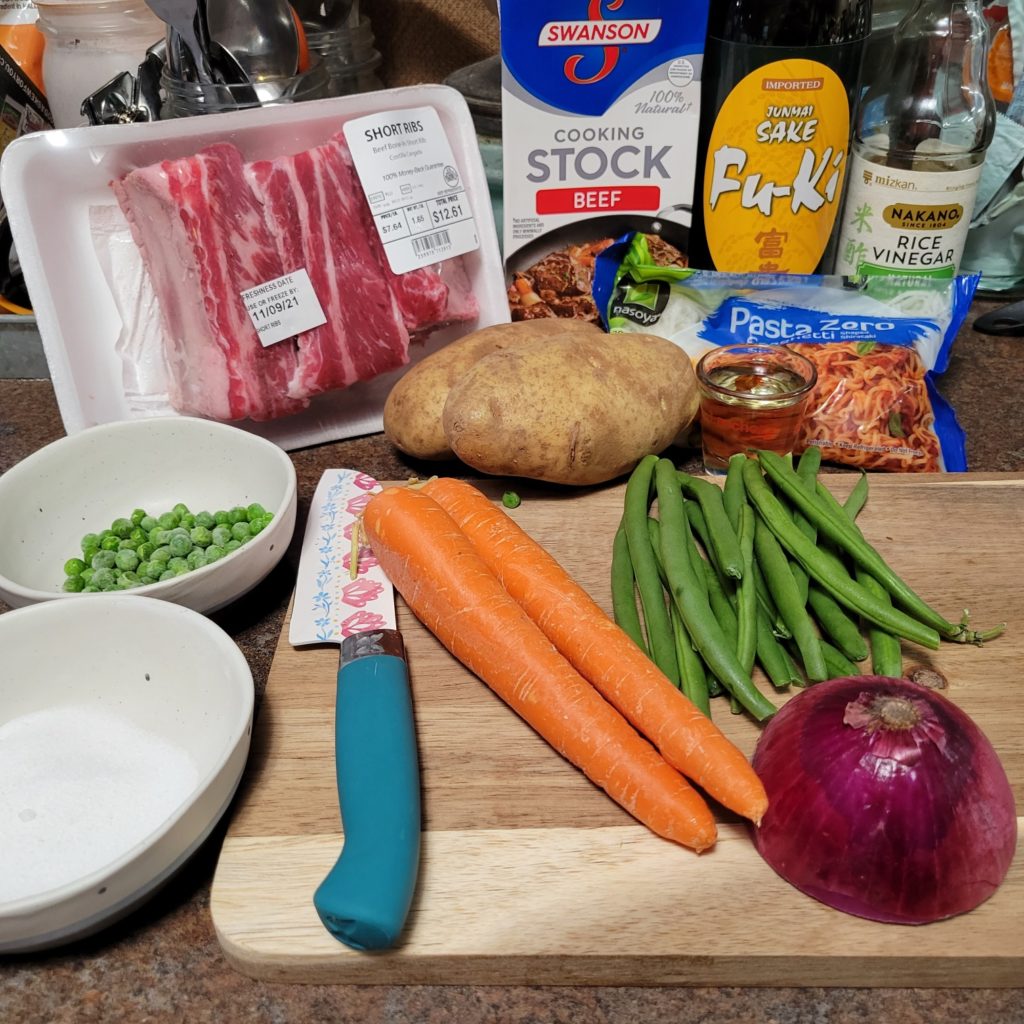 1 large potato, peeled
8 oz. shiritaki noodles, drained
1 cup beef stock (or Dashi Stock)
2 tbsp. soy sauce
2 tbsp. sake
2 tbsp. rice vinegar
1.5 tsp. sugar
1/2 large onion cut into wedges
1tbsp. vegetable or canola oil
1/4 lbs. beef short ribs sliced very thinly
1 large carrot or 2 small ones peeled and diced
8 green beans halved
1 tsp. frozen peas 
Step 1: Get the Potatoes and Noodles Ready
Cut the potato into rounded bite-size pieces. this will prevent them from falling apart when cooking. Place the potato pieces in cold water and set aside. Rinse your noodles under VERY hot water, drain them, then cut them in half.
Step 2: Mix ALMOST everything together
In a glass container combine your stock, soy sauce, sake, rice vinegar, and sugar. Then whisk-y business until the sugar is dissolved. in a large pot over medium heat, sauté your onion wedges in the oil until tender. This should take around 12 minutes. Add your meat and cook just until it's no longer pink. This should take about 4 minutes.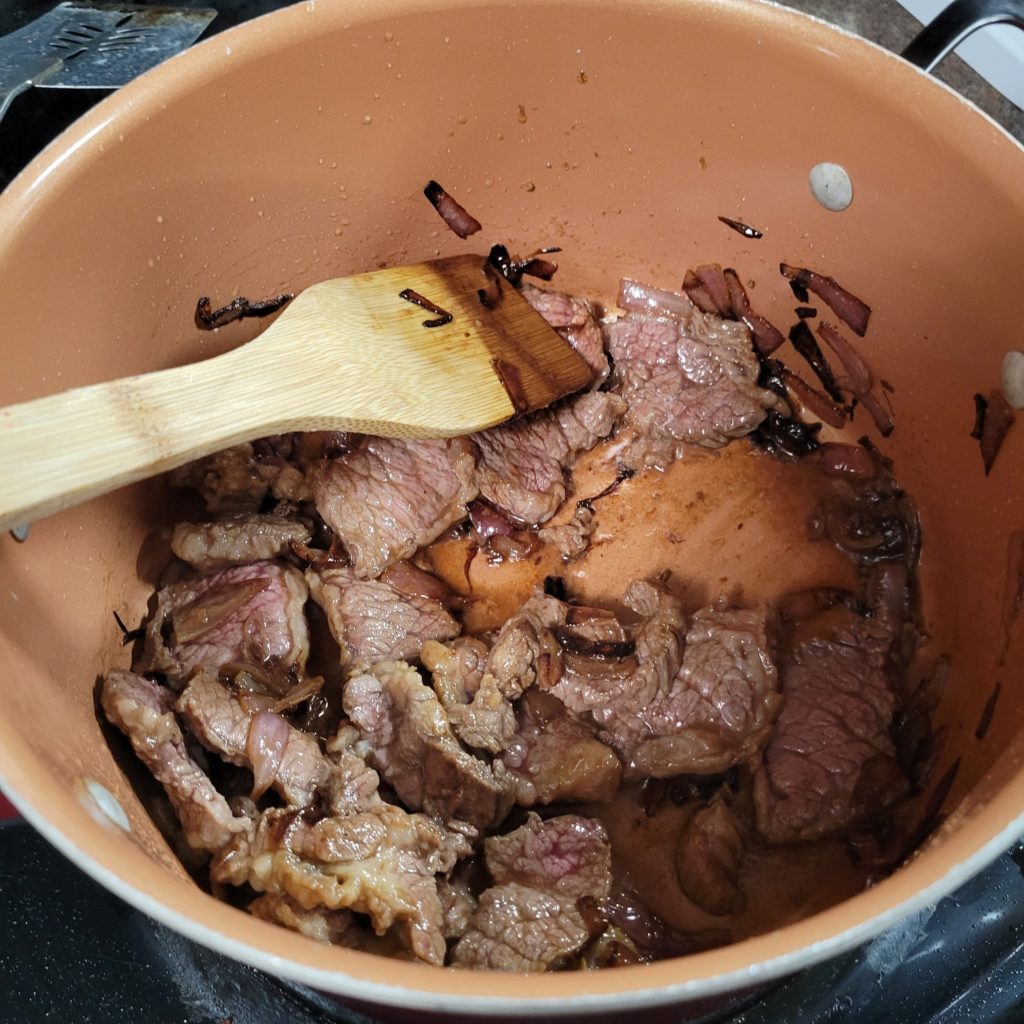 Add the carrot, potato, and noodles, then pour in your liquid mixture. Bring to a simmer over medium heat, skimming off any foam as needed, then reduce heat to medium low. Do not stir.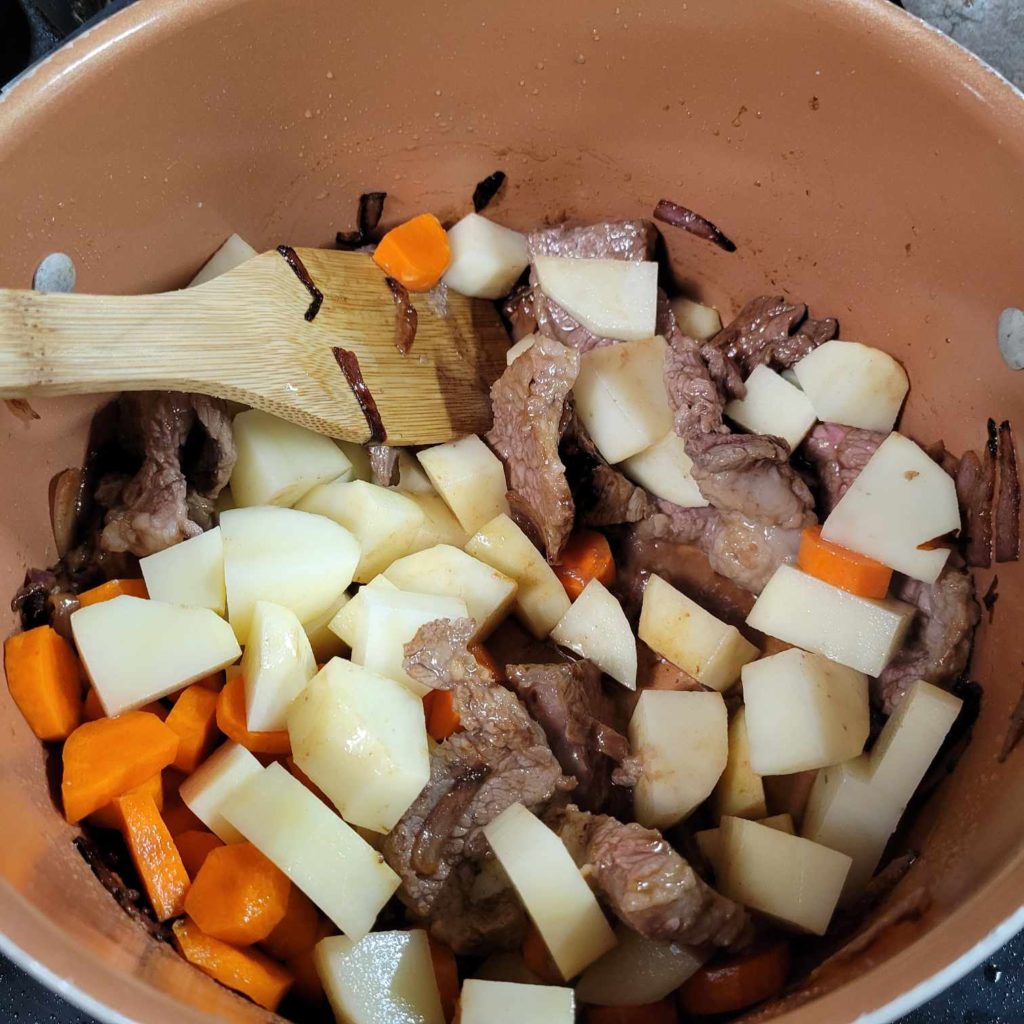 (This was pre juice mixture)
Step 3: To Disc or Not To Disc
Here's where some go the more traditional route and fold a piece of aluminum foil into a circle big enough to rest on top of the ingredients. You'll then poke a few holes in the foil and place it in the pot to simmer for 20 minutes, we just used the lid to our pot and it seemed to achieve the same outcome. Then you'll turn off the heat and let it cool for 30 minutes.
Step 4: Beans and Peas
In a pot of boiling water, blanch your green beans for 30 seconds. Add the peas and blanch for another 30 seconds. Then remove your cover and gently fold them into the stew and enjoy!